Published on September 15, 2016 by Rachel Williams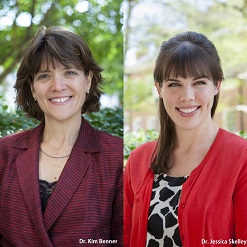 McWhorter School of Pharmacy faculty members Kim Benner and Jessica Skelley have been selected to serve on the executive committees of the American Society of Health-System Pharmacists practice sections.
"It is remarkable that Samford University's McWhorter School of Pharmacy has two representatives serving in these highly regarded positions. I know Dr. Benner and Dr. Skelley will use their unique talents to shape the national landscape of pharmacy practice," said Michael Thomas, chair of the Department of Pharmacy Practice. "Their election is a further testament to the pursuit of excellence within our department," added Thomas.
Benner has been elected as chair for the Section of Clinical Specialists and Scientists and her term began in August. In the past she has served as the chair of the Section of Educational Steering Committee, chair of the Council on Therapeutics and as a coordinator and judge for the ASHP National Clinical Skills Competition.
Skelley will serve a two-year term as director-at-large for the Section of Ambulatory Care Practitioners beginning in June 2017. Previously Skelley served as chair of the Section Advisory Group on Compensation and Practice Sustainability and she has held several leadership roles with the Alabama Society of Health-System Pharmacists.