Published on October 24, 2020 by Sarah Waller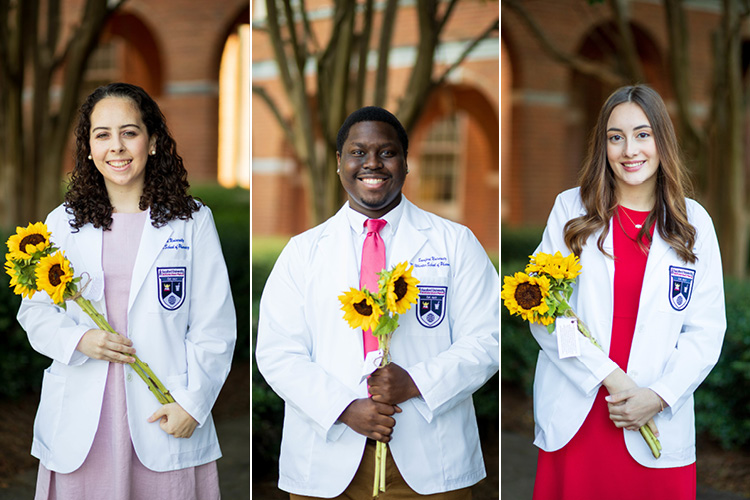 Samford University's McWhorter School of Pharmacy honored its first-year Doctor of Pharmacy cohort, comprised of 116 students, through a virtual White Coat Ceremony on Oct. 24. This prerecorded event premiered on the school's website and has been viewed by hundreds of individuals, including students, their family and friends, faculty, staff and alumni. 
The annual ceremony welcomed the class of 2024 to the profession of pharmacy and represented the first of many steps along the way to becoming a licensed pharmacist. 
McWhorter School of Pharmacy intentionally delayed its White Coat Ceremony, hosting it in October in collaboration with American Pharmacists Month. As a part of the ceremony, Michael Crouch, dean of McWhorter School of Pharmacy and associate provost of Samford's College of Health Sciences, explains the significance of a pharmacist's white coat.
"The white coat has humble beginnings as a protective garment when working in the lab or caring for patients, but it's now clearly an emblem of health care," Crouch said. "To some, the white coat is a symbol of knowledge, skills and abilities; to others a symbol of purity; and, yet to others a symbol of healing. But most importantly, it's a symbol of professionalism and trust. Students, your white coat is a covenant between you and the patients you serve."
During the recording of the ceremony, students wore their white coats for the first time. In a classroom setting with proper social distancing, they recited the American Pharmacists Association's Pledge of Professionalism.
While the ongoing pandemic did not make it possible for individuals to join them on stage, students were able to identify a virtual coater, honoring a pharmacist, faculty member or student pharmacist who has influenced their lives.
Assistant professor Stephen Brown, faculty advisor for the class of 2024, served as the ceremony's keynote speaker. "Your professional career does not begin when you graduate or when you receive your license. Your professional career begins right now," he said. "Today, I welcome you to the pharmacy profession. It is a profession with a proud past and a promising future. But most of all, it is one that imposes on us great responsibility. We're not pharmacists and student pharmacists for ourselves. We do what we do for the benefit of others."