Published on April 8, 2020 by Sarah Waller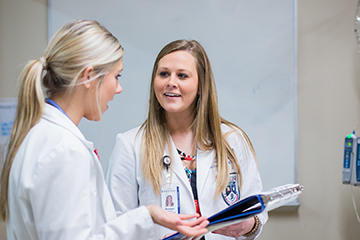 For the third year in a row, the results of the pharmacy residency match, facilitated by the American Society of Health-Systems Pharmacists (ASHP), set a new record at Samford University's McWhorter School of Pharmacy.
Comprising 35% of the class of 2020, 32 fourth-year Doctor of Pharmacy students matched with an ASHP-accredited postgraduate year one (PGY1) residency. 
In addition, 20 recent graduates secured an ASHP-accredited postgraduate year two (PGY2) residency—the highest number in the school's history.
"We're incredibly proud of all 52 students and graduates who matched with a residency program this year," said Michael Crouch, dean of McWhorter School of Pharmacy. "These numbers reflect the highest we've seen in our school's history, and they're a testament to the hard work and dedication of our students and graduates as well as the strong support they receive from faculty mentors." 
While Doctor of Pharmacy graduates are not required to complete a residency before they begin practice, pharmacy residencies are designed to provide additional pharmacy practice experience in a specific area of interest.
McWhorter School of Pharmacy students and graduates matched with PGY1 and PGY2 residencies in 18 states across the country with a diverse range of specialties, including managed care, community pharmacy, ambulatory care, infectious diseases, health system administration, oncology and more.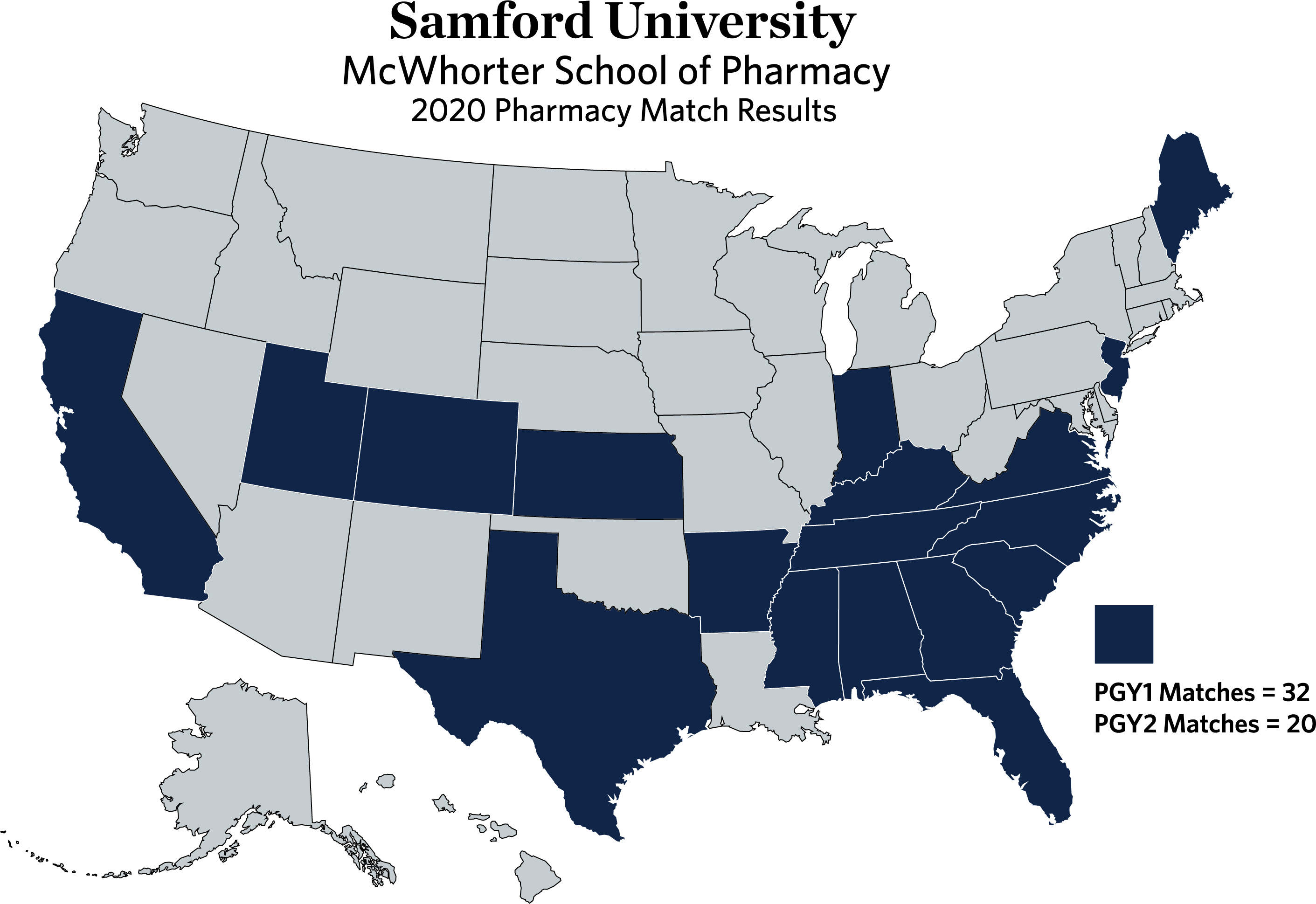 Fourth-year students who matched with a PGY1 residency include:
Abby Bradley, University of Mississippi Medical Center in Jackson, Mississippi
Beau Williams, Parkridge Health System in Chattanooga, Tennessee
Bobby Swanson, Gulf Coast Veterans Health Care System in Biloxi, Mississippi
Bria Lewis, University of Mississippi School of Pharmacy in Jackson, Mississippi
Brooke Seawell, DCH Regional Medical Center in Tuscaloosa, Alabama
Bryce Burkhart, Indiana University Health Arnett Hospital in Lafayette, Indiana
Caitlin Bowman, West Florida Hospital in Pensacola, Florida
Cameron Lee, University of Virginia Health System in Charlottesville, Virginia
Caroline Stephens, Baptist Health Floyd in New Albany, Indiana
Emelia Beam, Premise Health/University of South Carolina College of Pharmacy at Southwire in Columbia, South Carolina
Erin Creasy, Huntsville Hospital in Huntsville, Alabama
Gaybrielle Moore, Emory University Hospital Midtown in Atlanta, Georgia
Gracie Giang, Medical University of South Carolina (MUSC) Medical Center in Charleston, South Carolina
Hali Swanson, Tuscaloosa VA Medical Center in Tuscaloosa, Alabama
Hunter Johnston, Tuscaloosa VA Medical Center in Tuscaloosa, Alabama
Jacquie Downey, Princeton Baptist Medical Center in Birmingham, Alabama
Jonathan Ennis, Birmingham VA Medical Center in Birmingham, Alabama
Kalyn Davis, Atlanta VA Medical Center in Atlanta, Georgia
Katie McCrory, Emory Saint Joseph's Hospital in Atlanta, Georgia
Kelsey Ryan, Wolfson Children's Hospital/Baptist Health in Jacksonville, Florida
Liz Parker, Sacred Heart Health System in Pensacola, Florida
Montana Fleenor, Vanderbilt University Hospital in Nashville, Tennessee
Mark Caddell, Wesley Medical Center in Wichita, Kansas
Mary Ables, Baptist Memorial Hospital Golden Triangle in Columbus, Mississippi
Megan Cooper, Tuscaloosa VA Medical Center in Tuscaloosa, Alabama
Mitchell Hutson, University of Tennessee Medical Center in Knoxville, Tennessee
My An Pham, Mobile Infirmary in Mobile, Alabama
Nazy Talebdoost, CareMore Health in Cerritos, California
Robert Garland Green, Jr., Indiana University Health in Indianapolis, Indiana
Sarah Grace Betts, Ascension Sacred Heart Hospital in Pensacola, Florida
Trey Van Dyke, Medical City Plano in Plano, Texas
Whitley Tassin, The University of Mississippi Medical Center in Jackson, Mississippi