Published on August 21, 2020 by Sarah Waller  
Jillian Walters, a fourth-year Doctor of Pharmacy student in Samford University's McWhorter School of Pharmacy, was selected as one of ten graduate students in the country to receive the Gateway to Research Scholarship from the American Foundation for Pharmaceutical Education.
This prestigious award honors Walters for her academic performance as well as her commitment to pharmaceutical research, which Walters says is the result of a lifelong passion.
 "I've always been interested in research. I like the idea of contributing to knowledge and the scientific community," she said. "One of the main reasons I pursued pharmacy was the science. Research became this perfect intersection for me—where a career in health care meets an opportunity to dive even deeper into science."
In applying for the award, Walters submitted a proposal entitled, "Comparing Cancer Vaccine Adjuvant Efficacy Across Species and Gender," which is based on the research she has worked on with McWhorter School of Pharmacy professor Bernadette D'Souza for the past three years. Walters began working with D'Souza as a first-year student through the school's pharmaceutical sciences summer internship. This 10-week program allows students to work alongside faculty in their ongoing bench-based research.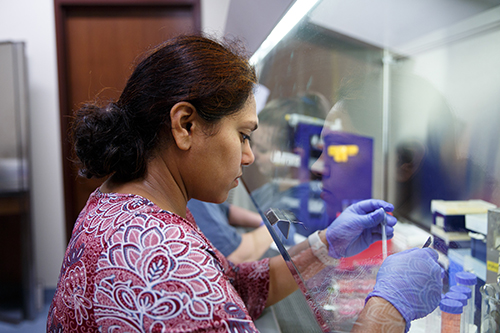 Since joining Samford's faculty in 2011, D'Souza has focused her research on cancer and immunotherapies, and in 2018, she incorporated a new approach, looking at adjuvants and their role in boosting an immune response. "Essentially, an adjuvant is something that you add as a supporting molecule or chemical to trigger a better response by the immune system," she said. 
Supporting the research of immunotherapy, or the concept that a therapeutic treatment could boost the body's own immune system, like a vaccine, to fight against cancer, D'Souza studies ways an adjuvant—and more recently, herbal extracts as adjuvants—could support these treatments and improve vaccine efficacy. 
"A lot of cancer treatment nowadays is very nonspecific, and it's very hard on the human body. Our research is more focused on harnessing the body's own capabilities to fight cancer," Walters said.
Walters joined D'Souza in the lab at the early stage of this new approach. In initial trials, D'Souza identified Echinacea, an herbal medication found over-the-counter, as one with promising results. Working with Walters, they began to test Echinacea as an adjuvant in mouse models—in combination with tumor cell fragments—as a therapeutic treatment for skin and breast cancer.
As they entered their third year working together, D'Souza and Walters planned to run a reproducible study this summer, repeating the work Walters did last year to ensure the results can be reproduced under the same conditions, but COVID-19 limited their time in the lab. Through one of her APPE rotation blocks, Walters was able to return to campus and finish her work with D'Souza, and today, they are collecting their data with the goal of publication.
For Walters, one of the greatest rewards of this work has been the faculty mentorship. "Dr. D'Souza is a phenomenal resource. She has really allowed me to take a leadership role in this position and, in a way, direct my own project," Walters said. "She's a great support system for me in the lab—answering my questions and encouraging me to pursue something interesting. She has been 100% behind me and very willing to let the project go where it needs to go."
D'Souza shares the same sentiment. "Having effective student-faculty collaboration on research is the most rewarding experience," she said. "With Jillian, it was a very good working experience because she is professional and meticulous. Research can be disappointing—rarely does something work the first time—but Jillian has been a model student, showing determination, enthusiasm and perseverance."