Are you interested in continuing your studies in piano performance while learning effective teaching strategies?
This multi-focused degree provides students the opportunity to develop two areas of piano study—performance & teaching—equally throughout their four years.
Students study with experienced and diverse faculty, perform individually as well as with chamber and large ensembles, and gain exposure to international concert artists and pedagogues. Instruction occurs through individual private training, master classes, seminars, workshops, teaching practicums, and recitals. Our unique Catalyst program allows students to collaborate across disciplines and engage in senior projects that provide real-world experiences.
Objectives and Curriculum
Career Preparation
We prepare our graduates for careers in performing, teaching, and church ministry. Students in our B.S. program move on towards medical degrees but remain arts enthusiasts and stay connected with life-long musical endeavors.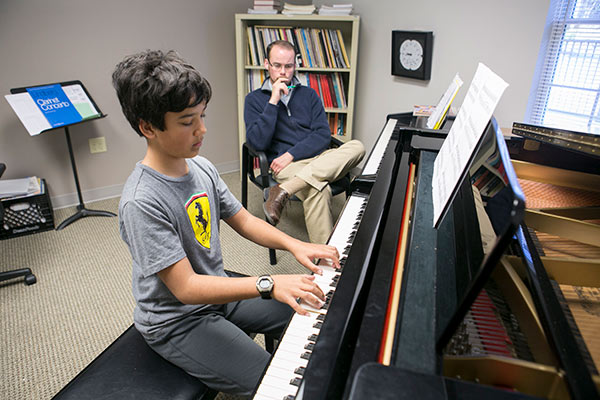 In addition to numerous performance opportunities, students work with local churches and/or teach pre-college students at the Academy of the Arts or in private studios. There are opportunities to attend and present at conferences, perform with a cross section of ensembles, and travel and participate in a variety of organizations including the MTNA, AMEA and AMTA.
My studies at Samford has helped me grow as a person and as an artist, musician, and teacher. I've been equipped equally in both the performance and pedagogical aspects of the Piano Performance and Pedagogy degree program. At Samford, the two are not seen as separate entities, but as equal aspects of musicianship. My time here has helped me become a better musician: it has prepared me for further graduate study, enabled me to perform more artistically, and developed me into a more effective teacher. There are other schools that promise a good education, but Samford exceeds in providing an excellent education in a nurturing and encouraging environment in which students, faculty, and staff can all thrive. No amount of tuition dollars, special programs, or state-of-the-art facilities can promise this. Rather, this environment is reflective of the Christ-like hearts of the students, faculty, and staff that comprise the School of the Arts. Cora Elmore '20, Bachelor of Music in Piano Performance with Pedagogy Emphasis
Catalyst
The School of the Arts Catalyst curriculum enhances professional development through core classes and experiences. Students in their senior year undertake a capstone project that challenges them to apply their talents and skillsets in a real-world application. Piano students can elect to combine the Catalyst project and their senior recital or develop a custom project. For example, Spencer Mosley (Class of '22) is combining performance, research, and pedagogy skills to highlight pressing social justice issues.
Performance Opportunities & Venues
At Samford, we value student performance opportunities and help students promote themselves as performers and teachers.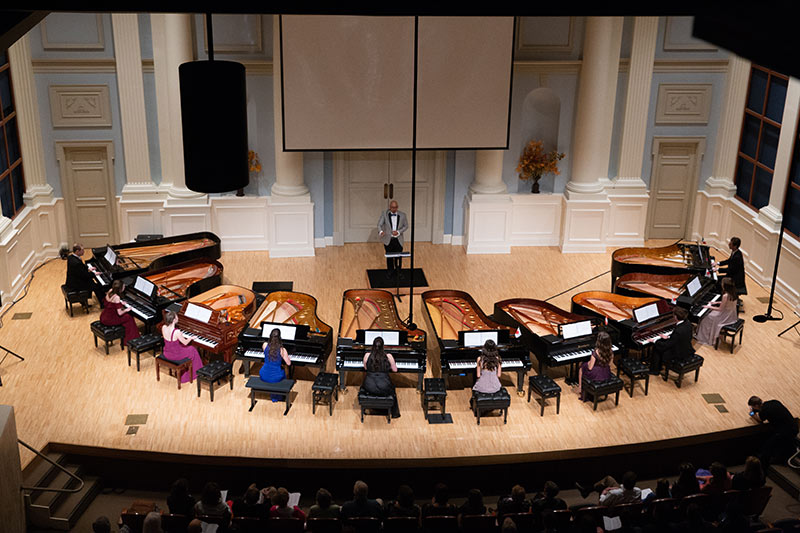 Elite 88 Piano Concert
Samford piano students performed on 10 of the world's best pianos all on one stage in our Elite 88 Piano Concert. This event launched the initiative to invest in our piano inventory and provide our students with the highest quality instruments for instruction and performance.
Student Ensembles
Piano students perform in a variety of ensembles including the Jazz Band, Orchestra, chamber ensembles, worship arts ensemble, and campus worship teams. These groups also serve musical and opera needs for live productions. Not only do these ensembles perform on campus but also offer opportunities to travel both nationally and abroad.
Competitions
Students are prepared to compete in local, regional, and national piano competitions and festivals. Additionally, students have access to participate in Samford's annual Morris Piano Competition and Festival as well as in the concerto competition.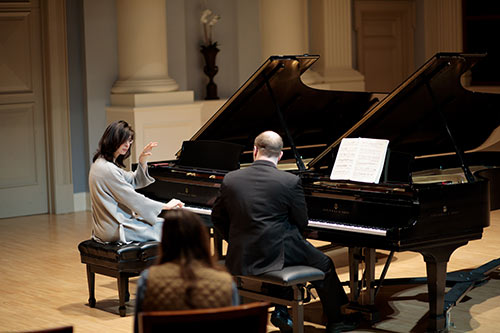 Guest Artist and Masterclasses
Samford invites concert artists to interact with students, providing essential networking experience with industry professionals. Over the years, Samford has hosted some of the world's best artists including Leon Fleisher, Jon Nakamatsu, Vadym Kholodenko, Jeremy Denk, Robert Plano, Gabriela Montero, and Marina Lomazov.
2020-21 guest artists and clinicians include:
Misha Dichter
Brian Nabors
Kaju Lee
Karen Taylor
Performance Venues
Piano students have access to a variety of instruments and performance locations on campus. Students enjoy applied lessons in large studios equipped with two grand pianos. Additionally, Brock Recital Hall, Bolding Studio, Reid Chapel, and the Wright Center for Performing Arts all have concert grands and are renowned for their aesthetics and superior acoustics. Students also have access to practice and perform on an Italian modeled two-manual harpsichord. Graduates are prepared for careers as performing artists, pedagogues, church musicians, and/or advanced degree programs.
Learn more about our performance venues.
Piano Faculty
2020-21 Student Recitals
Fall 2020
Rachel Misheff, graduate recital
Cora Elmore, senior recital
Zac Wang, graduate recital
Spring 2021
Jessica Lien, junior recital
Pierce Moffett, junior recital
Joshua Davis, senior recital
Rachel Misheff, graduate recital
Zac Wang, graduate recital
Wei "Max" He, graduate recital