Published on October 14, 2016 by Katie Stripling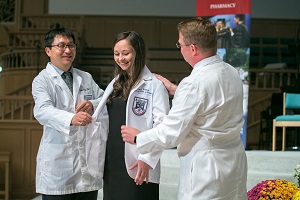 Members of Samford University's McWhorter School of Pharmacy Class of 2020 were recognized during the school's annual White Coat ceremony on Oct. 7 at Shades Mountain Baptist Church.
The ceremony included a presentation of a white coat to each student and students reciting the American Pharmaceutical Association's Pledge of Professionalism. Students were presented their white coats by the dean and a pharmacist, faculty member or pharmacy student of their choice. Coaters included numerous McWhorter School of Pharmacy alumni as well as parents, siblings, employers and other professional and student mentors.
The induction ceremony was led by pharmacy dean Michael A. Crouch and pharmacy professors Amy Broeseker and Peter J. Hughes. Jared K. Johnson, president of the Alabama Pharmacy Association and C. Whitney White, president of the Alabama Society of Health-system Pharmacists and associate professor of pharmacy also participated in the inductions and offered remarks. Patricia Jumbo-Lucioni offered the invocation. Pharmacy professor Charlie Sands served as keynote speaker for the event.   
In August the 99 member class began a four-year professional curriculum that leads to a Doctor of Pharmacy degree. The students completed two or more years of undergraduate coursework prior to entering pharmacy school.