Published on October 7, 2021 by Sarah Waller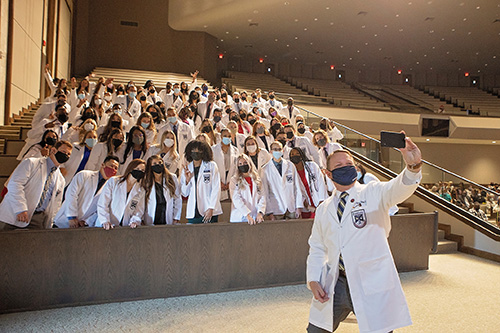 Samford University's McWhorter School of Pharmacy began its celebration of American Pharmacists Month with its annual white coat ceremony on Oct. 1, which honors its class of first-year Doctor of Pharmacy students.
During the ceremony, which represents the first of many steps to becoming a licensed pharmacist, students are presented with their white coats by the dean and a pharmacist, faculty member, or pharmacy student of their choice. Coaters included several alumni, as well as parents, siblings, employers, and other professional and student mentors.
Alumna Vanessa Gray '91 served as the ceremony's keynote speaker. In her remarks, she reminded students that membership into the profession of pharmacy is a privilege.
"Pharmacy is a noble and trusted profession, guided by regulations, rules and laws we must follow and ethical standards to which we must adhere," she said. "As a pharmacist, the work we do is important. Being medication experts comes with great responsibility. Recognizing the importance of the work we do should strengthen our drive to achieve excellence and reinforce our commitment to always operate with integrity."
And this career, she continues, is one that comes with its privileges too. "People entrust their personal health information to you, so that you can positively impact their health care goals and outcomes," she said. "The white coat symbolizes purity of purpose. You being here today represents that you have not only discovered your purpose, but you are actively pursuing it."
For the first time, McWhorter School of Pharmacy asked its alumni and friends to sponsor a white coat by making a financial gift that covered the cost of a student's coat and contributed to student scholarships. The school's alumni responded in a big way; every white coat was sponsored. When students arrived at the ceremony, they received a note from the individual who sponsored their coat, offering words of encouragement and congratulations. 
"I'm incredibly thankful for the support of our alumni and friends, especially here at the beginning of these students' pharmacy journey," said Michael Crouch, dean of McWhorter School of Pharmacy and associate provost of Samford's College of Health Sciences. "The school and university are known for a strong community and student engagement, and the sponsorship of these white coats is another example of how we support our students throughout both their education and career."
McWhorter School of Pharmacy's class of 2025 is the most diverse class in the school's history with 44% of new students comprised of historically underrepresented racial groups. Read more.