Tiered Levels of Campus Engagement
All campus events and opportunities for engagement sponsored by Counseling Services & Wellness Programs are intended to promote wellness of heart, mind and body among Samford students. Educational events are designed to foster understanding, personal development, growth and healing. Our office utilizes 5 different levels of engagement in addressing mental health and wellness to meet the diverse needs and accessibility of our student population. In addition to individual counseling, we also facilitate Support Groups, Workshops, Cadres and Seminars to raise awareness about mental health issues on campus.
Support Groups
Support Groups are weekly, open groups, facilitated by members from the Counseling Services staff and develop each semester as need dictates. Examples of support groups offered in the past include Anxiety, Grief, and Addiction Recovery. If you have an interest in a group on a particular topic, please contact Counseling Services & Wellness Programs. If no group is available on campus at the time of a request, Counseling Services & Wellness Programs will assist in trying to locate one in the community. Available groups are listed and advertised on campus at the beginning of each semester.
Anxiety Discussion Group
Tuesdays, 10-10:45 am, January 29th- April 30th
Meeting Location: DBH 201
Facilitated by Counseling Services Staff
This group exists to help students who experience frequent and severe anxiety to cultivate mental rest and focus, find social support, increase coping skills, and deepen knowledge around the issue of anxiety and its many symptoms that can disrupt one's life and goals.
56.9% of the general college student body report overwhelming levels of anxiety within the past year.National College Assessment Survey by ACHA (2015). Retrieved from www.elementsbehavioralhealth.com
LGBTQ+ Support Group
Wednesdays, 4-5 pm, January 29th- April 30th
Meeting Location: DBH 201
Facilitated by Counseling Services Staff
This group exists to offer mental health support to individuals who identify as LGBTQ+. Come find a space where you can share in confidence, access resources, and cultivate community that helps you thrive during your time at Samford.
LGBTQ+ youth seriously contemplate suicide at almost three times the rate of heterosexual youth, and are almost five times as likely to have attempted suicide compared to heterosexual youth.Center for Disease Control & Prevention (2016). Retrieved from www.thetrevorproject.org
Workshops
Workshops are 6-8 week topic-driven therapeutic studies led by community experts/professionals, to take a more in depth approach with a given wellness-related issue in a semester. Because of this, they are closed groups once they begin, and a $75 fee will be charged to your Banner account upon registration. Please visit Banner>Office of Spiritual Life>Workshops to register & gather more information on dates, location, time.
Discerning through the Stress of Vocational Calling
6-week workshop
Dates: Wednesdays, 6:00 - 7:00pm, February 13 – March 27 (off March 13 for spring break). 
Facilitator: Suzanne Simmons
Location: TBD
This workshop provides up to 6 convocations depending on attendance.
If you find yourself often asking "What is my calling?" or "What am I supposed to do with my life?" you are not alone. We all desire to live with purpose and find meaning in our life's work. Unfortunately for some those questions, and the lack of answers, become a paralyzing source of anxiety. We feel pressure to have all the 'right' answers about our future and map out an exciting life that embodies our highest values. Failure to meet our own expectations can lead to immense stress and even shame.  Why is it so difficult? Maybe we are looking for direction in the wrong places. Or, maybe we aren't being honest about who we are and how we are made? When making decisions about our future, we often try to will ourselves into a certain career path or vocation because it's what we feel we "ought" to do.  What if the clues to your life's calling have already been placed within you? What if the "missteps" along the way are actually leading you deeper into who you were made to be? This 6-week group will begin a conversation about vocation along with Parker Palmer's book "Let Your Life Speak." Our aim in this group is to reframe what can be very daunting questions about vocation and work to see our life's calling as a gift to be received rather than a goal to be achieved.
Suzanne Simmons is originally from central Florida but transplanted to the Magic City to attend Samford. After completing undergrad, she attended Beeson Divinity School and graduated in 2011. She has served in college ministry and currently works as a hospital chaplain at UAB. Suzanne works with the young professionals at her church as a Sunday School teacher and enjoys processing the unique joys and challenges of discerning vocation with others. She is married to the very funny Jacob Simmons and they have a son, John who is two years old.
Real Relationships 101: Let's Get real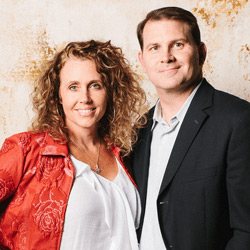 6-Week Workshop
Dates: Wednesdays, 6:30 - 7:30pm, February 13- March 27 (off March 13 for spring break)
Facilitators: Tray & Melody Lovvorn
Location: Business School (BSOB) Room 105
This workshop provides up to 6 convocations depending on attendance.
Discover and understand the power of meaningful and lasting relationships. This 6 week crash course will help you gain new insights, build real connection, and unlock the keys that will help you create successful, fulfilling and lasting relationships with those you love. This course is full of wisdom, taught by relationships experts, Tray and Melody Lovvorn from years of walking individuals and couples through proven relationship tools and practical tips on building healthy relationships, real connection and intimacy that lasts a lifetime.
Weekly topics include: A Guide to a Lasting Relationship, Love vs Infatuation, Sex vs. Sexual Intimacy, Pornography vs Intimacy, Perfectly Imperfect, Conflict & Resolution
7 Habits of Emotionally Resilient People
8-Week Workshop
Dates: Wednesdays, 5:00 - 6:00pm, February 13 - April 10 (off March 13 for spring break)
Facilitator: Melody Lovvorn
Location: Business School (BSOB) Room 105
This workshop provides up to 6 convocations depending on attendance.
Are you overwhelmed by feelings of stress and anxiety? Are you able to resist distractions while in class or at work? Can you control the impulse to binge on Netflix, Fortnite or Social Media in order to stay in and study? Do you find yourself provoked by an argument and saying things that you regret? From these few examples, it is easy to see how emotions can get out of control and how managing your thoughts, emotions and behaviors is necessary for success in school, work, relationships and life.
In this workshop, we will discuss the importance of emotional resilience, how it can be developed and the skills to grow our resiliency. And because stress and change are a part of life, there are many opportunities to practice resilience—because the payoffs are significant!
Weekly topics include: Cultivating Emotional Attitude, Emotional Awareness, Emotional Support, Emotional Intelligence, Emotional Intentionality, Spiritual Connection, and Sharing Your Story
Cadres
Cadres are small group discussion groups that center around a particular topic or book. They are organized and advertised through that Office of Spiritual Life and listed online each semester under Banner. Counseling Services & Wellness facilitate various wellness-related options that integrate mental and spiritual health. Faculty, staff, and students lead 45-minute discussion gatherings for 8 weeks in a semester on the given topic. Direct all questions to the Office of Spiritual Life concerning groups and convocation credit.
A Grace Disguised: How the soul grows through loss
Thursdays at 10 am
Instructor: Hunter Lovett & Grace Pritchard
Grief and loss are aspects of everyone's life that are manifested in different ways. In this cadre, we will go through the book A Grace Disguised: how the soul grows through loss, by Jeffrey Sittser. Sittser details his own experience of grieving the loss of his mother, wife, and daughter after a tragic car accident. We will discuss not only the book and the journey of grief Sittser travels through, but we will explore how grief and loss impact our own lives. We will have weekly discussion, and will explore more ways and models of understanding grief as well. This cadre is open to anyone who has experienced loss in their own lives, as well as to anyone who simply wishes to learn more about grief and loss and how it impacts all of our lives at some point.
Friendship in the Digital Age – Is it possible?
Tuesdays at 10 am, Brooks 223
Facilitator: John David Corwin
Our lives today have become increasingly bound to technology and so provide us with constant availability to connect with others, friends and strangers alike. Yet despite this ceaseless connection, more and more people find themselves experiencing loneliness. This raises the question - Is technology and this constant connection good for us? Does technology create better relationships, especially friendships? Through readings on the topic of friendship by Christian thinkers and others, we will explore what friendship is, why it is valuable, and how to be one. We will consider these questions while reflecting on both John 15:15 where Christ tells his disciples "I have called you friends" and our experience of digital friendship through Facebook, Twitter, Instagram, etc. so as to understand how to develop true friendship in this digital age.
Mindful Contemplation
Thursdays at 10 am, CHS building
Instructor: Lyndsay Cogdill Clark
In this 8 week gathering we will define Mindfulness and Contemplative Practice; their similarities and differences. Most importantly, we will practice what we learn. Mindfulness practice has been found to be a powerful tool in anxiety and depression management. Contemplative practice uses silence as a tool in becoming more aware of the Divine presence. There is a lot of internal and external chatter that gets in the way of being present to ourselves and being present in relationship with God. This kind of disconnect fuels distress and perpetuates the need for distraction and avoidance as [destructive] coping skills. Come slow down with me and learn to reconnect!
Boundaries: The how, when, why of relationships?
Tuesday at 10 am
Instructor: Tracy LaForty
This small group discussion is designed to help students nurture a healthy identity in Christ, and understand why and how personal boundaries are relevant in the life of faith. Boundaries are not just physical, and they serve to keep individuals emotionally safe and balanced. Sometimes the concept of being an ideal servant, hospitable and present to others erodes the sense of self in a toxic way. Come learn how to find your God-given voice, be confident in relationships and understand where you can invite more balance into your interpersonal life.
Seminars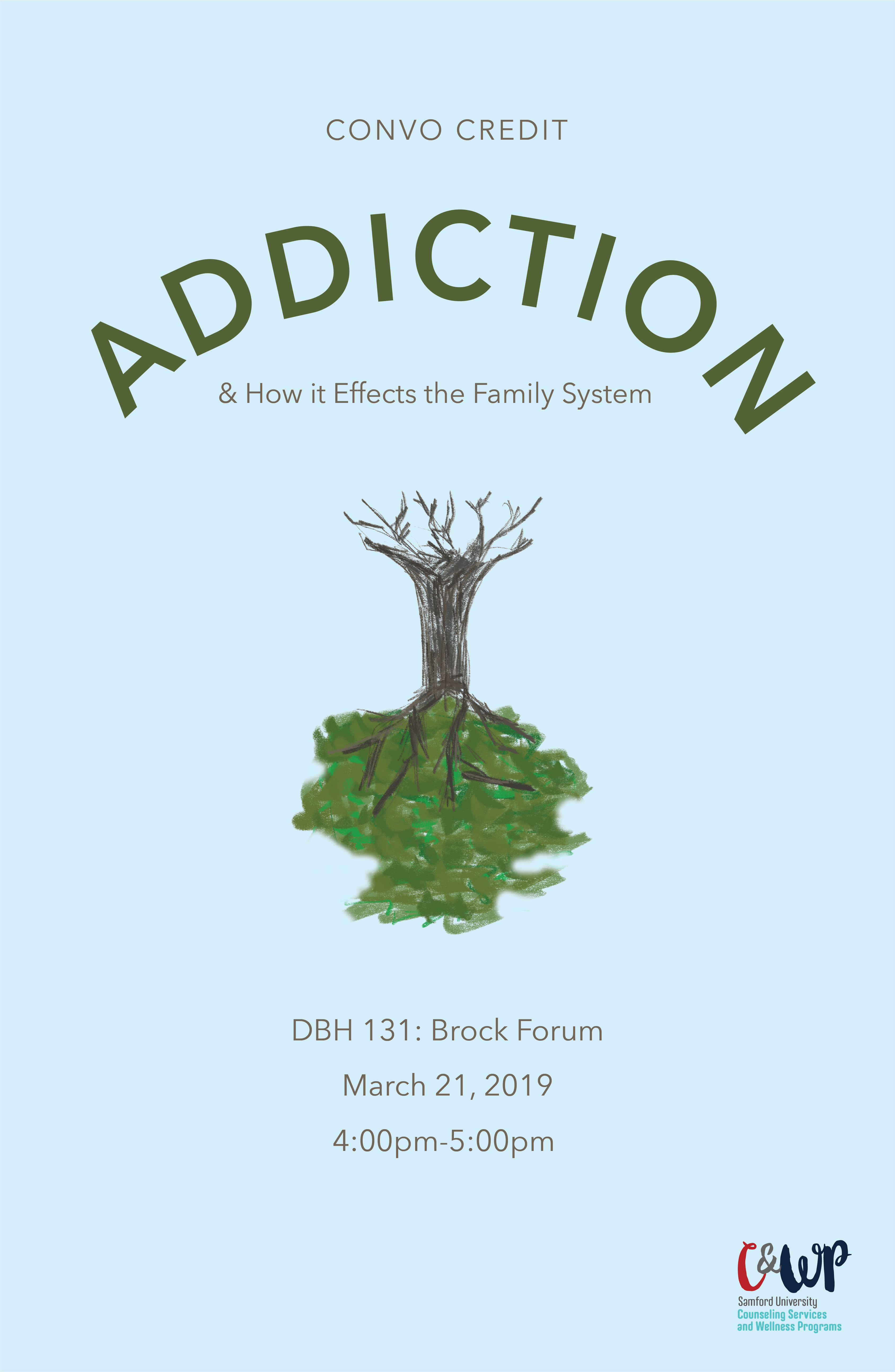 Seminars are typically single events offered on campus, often in partnership with other community or campus organizations and offices. Community experts, panels and documentaries are common platforms used in this setting to raise awareness about a specific topic related to mental health and wellness. They are open to all eligible students, faculty, and staff, who may attend any and all they wish. Please direct requests and questions to the office of Counseling Services & Wellness Programs. These events are advertised around campus on a rolling basis each semester.
*Convocation credit offered
March
*Addiction: What is it, how does it affect my family system, and me?
April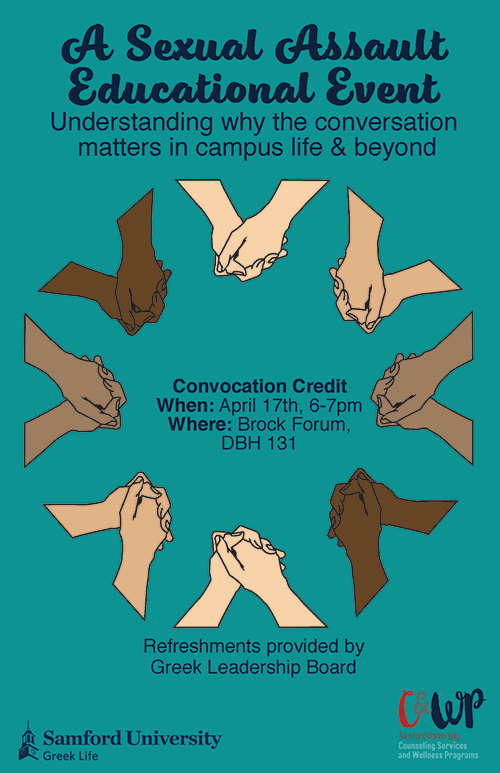 *
A Sexual Assault Educational Event: Understanding why the conversation matters in campus life & beyond
Brock Forum (DBH 131)
Wednesday, April 17 , 6-7 p.m.
Past Events