Get Involved, Get Well!
All campus events and opportunities for engagement sponsored by Counseling & Wellness are intended to promote wellness of heart, mind and body among Samford students. Educational events are designed to foster understanding, personal development, growth and healing. Our office utilizes five different levels of engagement in addressing mental health and wellness to meet the diverse needs and accessibility of our student population. In addition to individual counseling, we also facilitate support groups, workshops, wellness cadres and seminars to raise awareness about mental health issues on campus. Contact Lyndsay Cogdill Clark at lncogdil@samford.edu with questions.
Seminars and Workshops
Seminars are free, campus-wide, one-time events. Workshops are 6-8 week topic-driven therapeutic studies led by community experts/professionals, to take a more in depth approach with a given wellness-related issue in a semester. Because of this, workshops are closed groups once they begin, and a $75 fee is charged at the time of registration.

Out of the Darkness Virtual Walk
November 8, 2 p.m. – 3 p.m.
Location: Virtual

Join the Samford Bulldogs Team for the American Foundation of Suicide Prevention's annual walk.
Groups
Support Groups are open, weekly groups, facilitated by members of the Counseling & Wellness staff and develop each semester as need dictates. You can attend groups as able each week, no registration needed. If you have interest in a group on a particular topic, and it is not available on campus at the time of a request, Counseling & Wellness will assist in trying to locate one in the community.
Quarantine Support Group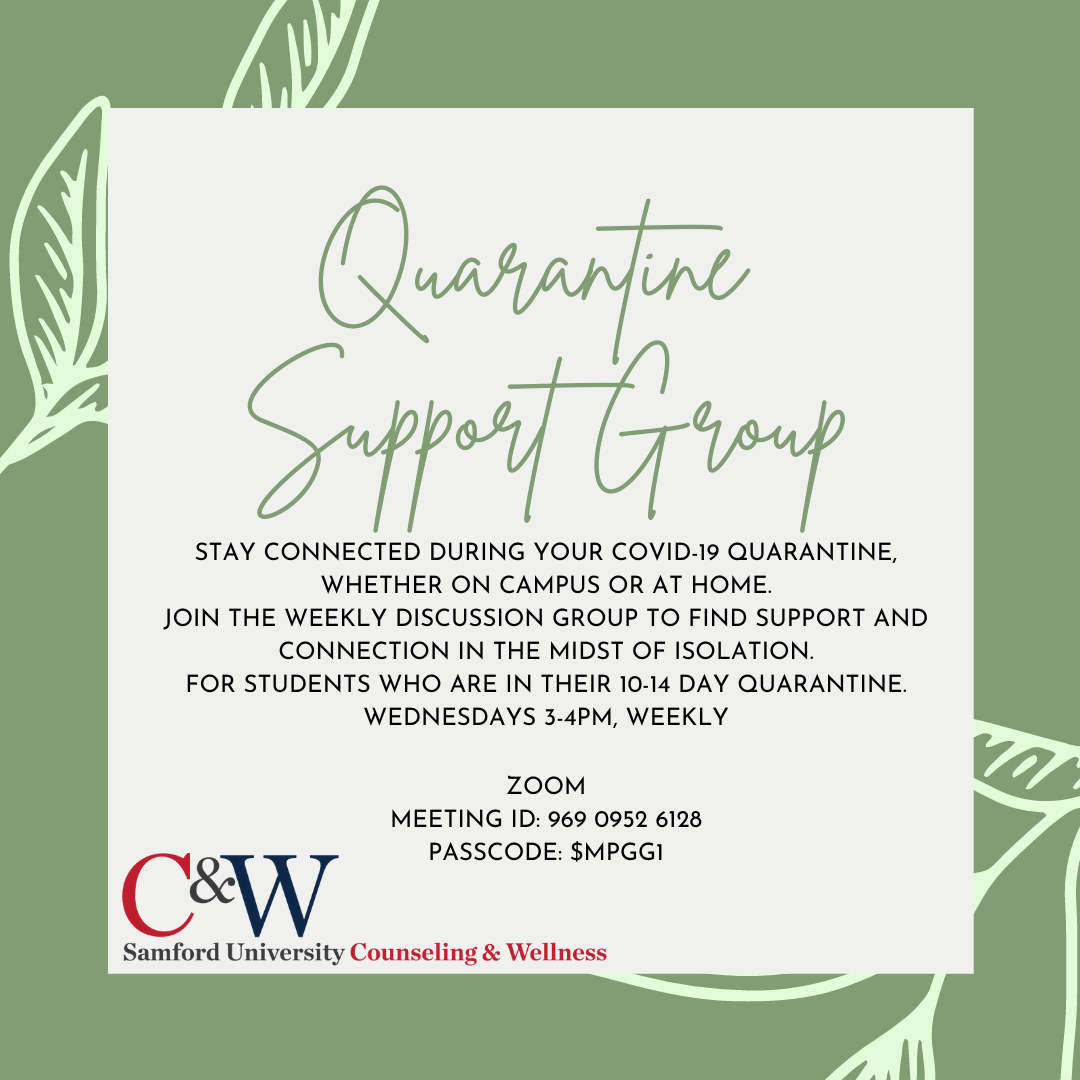 Location: Virtual
Day/Time: Wednesday, 3-4 p.m., weekly
Facilitated by Counseling & Wellness Staff/Lyndsay Clark
Stay connected during your COVID-19 quarantine, whether on campus or at home. Join the weekly discussion group to find support and connection in the midst of isolation.
For students who are in their 10-14 day quarantine. Note: Passcode is case sensitive.
Local DBT Group
Facilitator: Maggie Klyce LICSW, PIP, CEDS
Location: off campus
Dates: Thursdays, August 27-October 1, 11:30-12:30 p.m. (6 weeks)
What is DBT? Dialectical behavioral therapy (DBT) is a type of cognitive behavioral therapy which attempts to identify and change negative thinking patterns and pushes for positive behavioral changes. It teaches individuals skills to cope with, and change, unhealthy behaviors and increase emotion regulation.
LGBTQ+ Support Group
Location: Virtual; email Lyndsay in advance at lncogdil@samford.edu for details on joining the call.
Day/Time: Mondays, 3-4 p.m.
Facilitated by Counseling & Wellness Staff/Lyndsay Clark
This group exists to offer mental health support to individuals who identify as LGBTQ+. Come find a space where you can share in confidence, access resources, and cultivate community that helps you thrive during your time at Samford. Contact lncogdil@samford.edu with questions.
"LGBTQ+ youth seriously contemplate suicide at almost three times the rate of heterosexual youth, and are almost five times as likely to have attempted suicide compared to heterosexual youth"
Center for Disease Control & Prevention (2016). Retrieved from www.thetrevorproject.org
Alcoholics Anonymous Support Group
"Substance abuse does not discriminate. No one, regardless of whether they come from a good family or have a high GPA, is immune to drug abuse. There is no 'type' of drug addict, as substance abuse can affect anyone"
https://www.addictioncenter.com/college/facts-statistics-college-drug-abuse/
Find a Local Gathering Al-Anon for Family & Friends
Eating Disorder Support Group
"Eating disorders have the highest mortality rate of any mental illness"
Smink, F. E., van Hoeken, D., & Hoek, H. W. (2012)
Epidemiology of eating disorders: Incidence, prevalence and mortality rates. Current Psychiatry Reports,14(4), 406-414
Cadres
Cadres are 8-week discussion groups that focus on a particular topic or book organized through the Office of Spiritual Life and listed online each semester under Banner. Counseling & Wellness facilitates and advertises various wellness-focused options that integrate mental and spiritual well-being. For more details, questions, or registration interests contact the Office of Spiritual Life. Log into Banner and go to the "Spiritual Life" tab for this semester's offerings.
Show Your VOICE [Seek His Peace]: Managing Stress and Anxiety (Fall 2020)
Rich Yoakum, Teresa Prince, Kendra Buckley
Thursdays @ 10am, DBH
According to the American College Health Association (2020), stress and anxiety were the most commonly reported issues affecting performance for undergraduates. 36.4% of undergraduate students reported stress, 26.4% reported anxiety, and 19.4% reported depression as negatively impacting performance in class. For 8 weeks we will seek to see the world behind these numbers by interacting and having dialogue with you via pictures and other relevant ideas. These can be drawings, paintings, or photos! Your creativity will help prompt the topic and dialogue each week.
It is Well: Exploring 8 components of holistic wellness (Fall 2020)
Lyndsay Clark
Thursday, 10 am, DBH 201
This cadre will be discussion and practice driven. Each week we will explore an area of life that is directly correlated with our overall sense of health and wellness as human beings. Throughout the weeks we gather, 8 components of holistic wellness will be explored so that students have a greater understanding of how to cultivate their own balanced wellness. Additionally, this cadre seeks to broaden student understanding of factors that contribute to other's sense of well-being, or the lack thereof. The 8 components include: Spiritual, Emotional, Social, Environmental, Physical, Financial, Vocation/Occupation, Academic.
Wellness Ambassador Program
Thank you for your interest in Samford's Counseling & Wellness Office's new Wellness Ambassador program! This program provides a new leadership opportunity for enrolled undergraduate students who are interested in and committed to raising awareness about mental health and holistic wellness among Samford's student body. After completing a Wellness Ambassador Cadre in the spring semester of one's freshman, sophomore, or junior year, the C&WP Wellness Coordinator will make final selections from the remaining interested students who have submitted an application for the Wellness Ambassador Program set to serve during the following academic year. Exceptions to the cadre requirement are at the discretion of the Wellness Coordinator. Wellness Ambassadors serve one entire academic year as a campus leader and facilitator of wellness-related education, advocacy, awareness, and involvement. Participants work directly with Samford's C&W office staff to enhance the wellness programs provided each semester.
Wellness Ambassador Program Applicaton Wellness Ambassador Program Manual