Get Involved, Get Well!
All campus events and opportunities for engagement sponsored by Counseling & Wellness are intended to promote wellness of heart, mind and body among Samford students. Educational events are designed to foster understanding, personal development, growth and healing. Our office utilizes five different levels of engagement in addressing mental health and wellness to meet the diverse needs and accessibility of our student population. In addition to individual counseling, we also facilitate support groups, workshops, wellness cadres and seminars to raise awareness about mental health issues on campus. Contact Lyndsay Cogdill Clark at lncogdil@samford.edu with questions.
Seminars and Workshops
Seminars are free, campus-wide, one-time events. Workshops are 6-8 week topic-driven therapeutic studies led by community experts/professionals, to take a more in depth approach with a given wellness-related issue in a semester. Because of this, workshops are closed groups once they begin, and a $75 fee is charged at the time of registration.

Nevertheless Film and Panel Discussion
April 22, 7 p.m. – 8:30 p.m.
Location: Virtual Event

Join us virtually from the comfort of your own room on Thursday April 22nd at 7pm for a Convocation Credit event! We are showing a documentary called Nevertheless, a film-based education program taking a look at the problem of sexual harassment and assault in today's culture.
Groups
Support Groups are open, weekly groups, facilitated by members of the Counseling & Wellness staff and develop each semester as need dictates. You can attend groups as able each week, no registration needed. If you have interest in a group on a particular topic, and it is not available on campus at the time of a request, Counseling & Wellness will assist in trying to locate one in the community.
Quarantine Support Group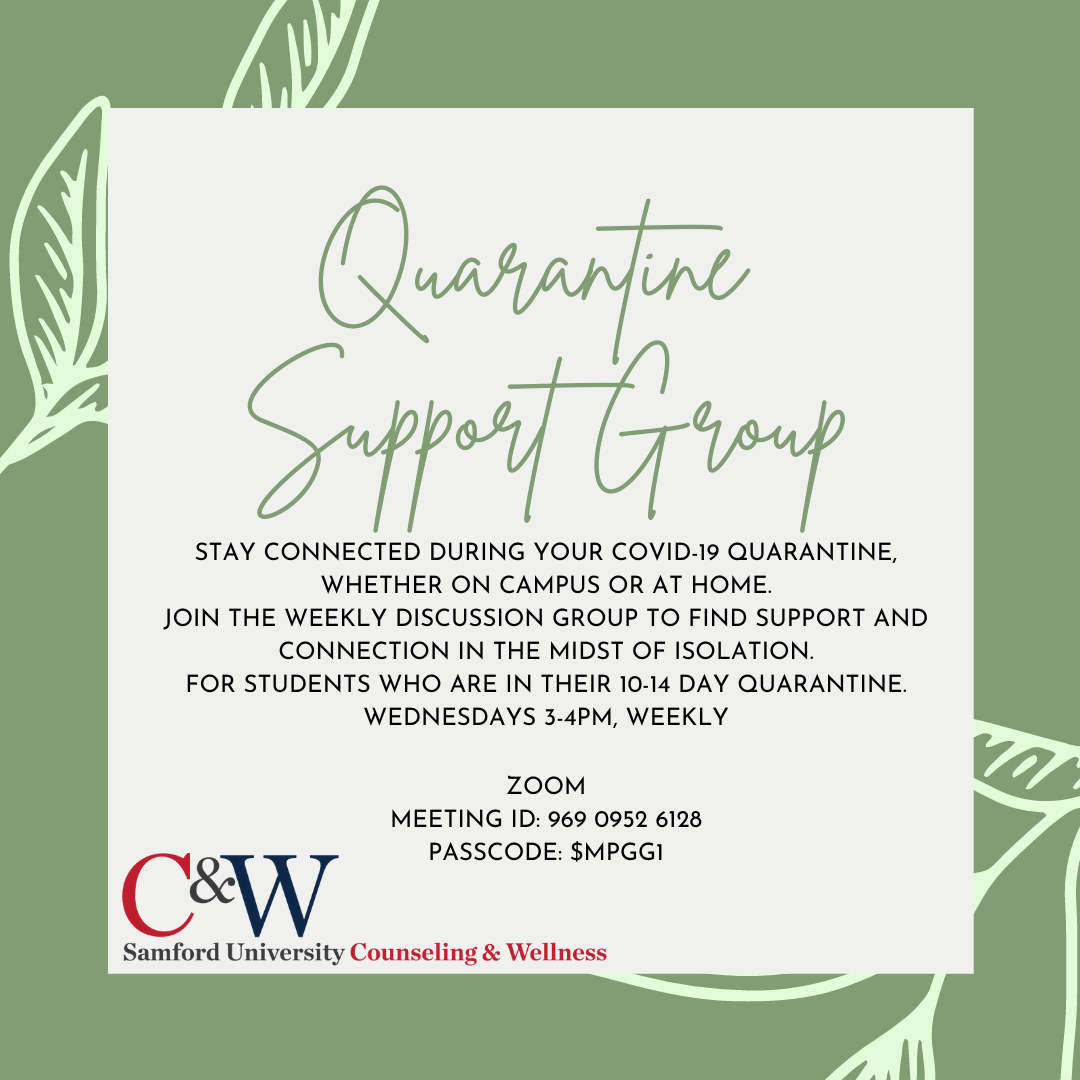 Location: Virtual
Day/Time: Wednesday, 3-4 p.m., weekly
Facilitated by Counseling & Wellness Staff/Lyndsay Clark
Stay connected during your COVID-19 quarantine, whether on campus or at home. Join the weekly discussion group to find support and connection in the midst of isolation.
For students who are in their 10-14 day quarantine. Note: Passcode is case sensitive.
LGBTQ+ Support Group
Location: Virtual; email Lyndsay in advance at lncogdil@samford.edu for details on joining the call.
Day/Time: Mondays, 3-4 p.m.
Facilitated by Counseling & Wellness Staff/Lyndsay Clark
This group exists to offer mental health support to individuals who identify as LGBTQ+. Come find a space where you can share in confidence, access resources, and cultivate community that helps you thrive during your time at Samford. Contact lncogdil@samford.edu with questions.
"LGBTQ+ youth seriously contemplate suicide at almost three times the rate of heterosexual youth, and are almost five times as likely to have attempted suicide compared to heterosexual youth"
Center for Disease Control & Prevention (2016). Retrieved from www.thetrevorproject.org
Alcoholics Anonymous Support Group
"Substance abuse does not discriminate. No one, regardless of whether they come from a good family or have a high GPA, is immune to drug abuse. There is no 'type' of drug addict, as substance abuse can affect anyone"
https://www.addictioncenter.com/college/facts-statistics-college-drug-abuse/
Find a Local Gathering Al-Anon for Family & Friends
Eating Disorder Support Group
Consider virtual support this year, offered and facilitated by the Alliance for Eating Disorders.
Time: Monday evenings 6 p.m. CST & Saturday mornings 10 a.m. CST
https://www.allianceforeatingdisorders.com/programs-services/
"Eating disorders have the highest mortality rate of any mental illness"
Smink, F. E., van Hoeken, D., & Hoek, H. W. (2012) Epidemiology of eating disorders: Incidence, prevalence and mortality rates. Current Psychiatry Reports,14(4), 406-414
Cadres
Cadres are 8-week discussion groups that focus on a particular topic or book organized through the Office of Spiritual Life and listed online each semester under Banner. Counseling & Wellness facilitates and advertises various wellness-focused options that integrate mental and spiritual well-being. For more details, questions, or registration interests contact the Office of Spiritual Life. Log into Banner and go to the "Spiritual Life" tab for this semester's offerings.
It is Well: Exploring 8 components of holistic wellness
Lyndsay Clark
Thursdays, 10 a.m., Zoom
This cadre is discussion and practice driven. Each week we explore an area of life  directly correlated with our overall sense of health and wellness as human beings. Throughout the weeks we gather, 8 components of holistic wellness will be explored so that students have a greater understanding of how to cultivate their own balanced wellness. Additionally, this cadre seeks to broaden student understanding of factors that contribute to other's sense of well-being, or the lack thereof. The 8 components include: Spiritual, Emotional, Social, Environmental, Physical, Financial, Vocation/Occupation, Academic.
Self-Care in the Christian Life
Mary Emeline Dawson, Support Coordinator
Wednesdays, 1 p.m., Zoom
This Cadre explores the importance of self-care and its role in Christian life. Each week breaks down types of self-care, including physical, mental/emotional, spiritual, and social. These are discussed within the context of the original topic – the importance and role in Christian life of self-care.
Relationships: From Friendships and Family, to Roommates and Dating – Understanding Communication, Boundaries, and Self-Care within Relationships
Zelda Peach, Support Coordinator Intern
As humans we are social and cultural beings who are consistently communicating and building relationships with one another. From interacting with our families to meeting new friends, the way we build relationships with others is extremely important and can be foundational in establishing boundaries and ensuring self-care. In this cadre, we explore relationships from a Christian perspective, focusing on creating healthy environments that stimulate connectivity and love of thy neighbor.
Get Out of Your Head
Teresa Prince, Counseling & Wellness Intern
Thursdays, 10 a.m., Zoom
We will use the video teaching series by Jennie Allen for this cadre, followed by weekly group discussion. We will consider together what it is to "transform our emotions, our outlook, and even our circumstances" by taking control of our thoughts.
Emotionally Healthy Spirituality
Lydia Johnson, Counseling & Wellness Intern
Tuesdays, 10 a.m., Zoom
Emotional Healthy Spirituality is an eight-session video-based study on the integration of emotional health and contemplative spirituality. Many sincere followers of Christ, followers who are really passionate for God, join a church, participate weekly in a small group, serve with their gifts, and who are considered "mature," remain stuck at a level of spiritual immaturity--especially when faced with interpersonal conflicts and crises. The Emotionally Healthy Spirituality video study and companion study guide offer a strategy for discipleship that address this void, offering powerful pathways to transformation that will help people mature into a faith filled with authenticity and a profound love for God.
Christian Contemplation
Lyndsay Clark
Tuesdays, 10 a.m., Zoom
In this 8 week gathering we will define Mindfulness and Contemplative Prayer/Centering Prayer, discussing their similarities and differences.  Most importantly, we will practice what we learn.  Mindfulness/Contemplative practice has been found to be a powerful tool in anxiety and depression management. It also has a long standing history within Christian practice that starts with the early Desert Fathers.  Contemplative practice uses silence as a tool to becoming more aware of the Divine presence. There is a lot of internal and external chatter that gets in the way of being present with ourselves and being present in relationship with God these days. This kind of disconnect fuels distress and perpetuates the need for distraction and avoidance as [destructive] coping skills.  Come slow down with me and learn to reconnect!
Wellness Ambassador Program
Thank you for your interest in Samford's Counseling & Wellness Office's new Wellness Ambassador program! This program provides a new leadership opportunity for enrolled undergraduate students who are interested in and committed to raising awareness about mental health and holistic wellness among Samford's student body. After completing a Wellness Ambassador Cadre in the spring semester of one's freshman, sophomore, or junior year, the C&WP Wellness Coordinator will make final selections from the remaining interested students who have submitted an application for the Wellness Ambassador Program set to serve during the following academic year. Exceptions to the cadre requirement are at the discretion of the Wellness Coordinator. Wellness Ambassadors serve one entire academic year as a campus leader and facilitator of wellness-related education, advocacy, awareness, and involvement. Participants work directly with Samford's C&W office staff to enhance the wellness programs provided each semester.
Wellness Ambassador Program Applicaton Wellness Ambassador Program Manual