Get Involved, Get Well!
All campus education and events sponsored by Counseling & Wellness are intended to promote wellness of heart, mind and body among Samford students. Opportunities are designed to foster understanding, personal development, growth and healing with five unique levels of engagement: individual therapy, support groups, workshops, wellness cadres and seminars. Contact Lyndsay Cogdill Clark at lncogdil@samford.edu with questions.
Seminars and Workshops
Seminars are free, campus-wide, one-time events. Workshops are 6-8 week topic-driven therapeutic studies led by community experts/professionals, to take a more in depth approach with a given wellness-related issue in a semester. Because of this, workshops are closed groups once they begin, and a $75 fee is charged at the time of registration. 
All workshops start the week of September 27.

Divorce Is Not the Final Word
September 28, 1 p.m. – November 9, 2:30 p.m.
Location: Cooney Hall/BSOB 351
Cost: $75
Tuesdays, 1-2:30p.m. This 6-week workshop is designed for students interested in conversing and reflecting on their personal experience with divorce--being a part of a broken family. Weekly topics will vary to facilitate a time of learning and healing. Facilitator: Jennifer Griffith, LPC/ Sparrow Counseling, Homewood

Everything You Need to Know about Anxiety
September 28, 2 p.m. – November 9, 3:30 p.m.
Location: Cooney Hall/BSOB 185
Cost: $75
Tuesdays from 2-3:30 p.m. This workshop offers a 6-week in-depth look at different types of anxiety (such as testing or social anxiety), how to recognize it in your life, steps for choosing the best coping strategies for yourself, and many cognitive behavioral and mindfulness techniques to add to your toolkit. You will leave this workshop with a better understanding of anxiety, faith integration, as well as increased confidence to overcome it. Facilitator: Hannah Hughes, ALC/ Freedom Professional Counseling, Mountain Brook.

Grieving What We Lost in The Pandemic
September 28, 4:30 p.m. – November 9, 5:30 p.m.
Location: Zoom
Cost: $75
Tuesdays, 4:30-5:30 p.m. Where did 2020 go? So much has happened since the COVID-19 Pandemic hit last March and many of us are still trying to figure out where we are, how we are, and where we go next. This 6-week workshop will look at the grief we've incurred over the last year, and help us make sense of what we've lost. Facilitator: Becca Paul, ALC /United Counseling, Mountain Brook

Breaking Free From Body Shame
September 28, 6:30 p.m. – November 9, 7:30 p.m.
Location: Cooney Hall/BSOB 185
Cost: $75
Tuesdays from 6:30-7:30 p.m. What if we viewed our bodies as God saw them? In a culture where we are constantly being told our bodies are projects, or as a thing to be changed, we've become trapped in our thinking of what God has called good. Join us for a 6-week conversation on how body image is a spiritual issue. You will need to order a copy of Breaking Free From Body Shame by Jess Connolly. Facilitator: Mallory Lamm, LICSW /Mallory Lamm Counseling, Birmingham

Enneagram, I Am
September 29, 4 p.m. – November 3, 4 p.m.
Location: Cooney Hall/BSOB 185
Cost: $75
Wednesdays, 4-5 p.m. Are you searching for a deeper understanding of who you are and your specific purpose for your life? Do you find yourself falling into the same defeating thoughts unhealthy behaviors, and ready to learn how to grow into a better version of yourself? If so, this 6-week workshop is for you! Facilitator: Melody Lovvorn, Relationship Coach, Undone Redone, Vestavia Hills.

Why Can't We All Just Get Along?
September 29, 5 p.m. – November 3, 6 p.m.
Location: Cooney Hall/BSOB 185
Cost: $75
Wednesdays, 5-6 p.m. Why can't we all just get along? We have all asked ourselves this question more times than we can probably count on our hands. Sometimes it is a difference of opinions, someone cutting us off mid-sentence or just trying our best to understand one another. If you're interested in learning how to better navigate interpersonal conflicts with others and be successful in relationships, this 6-week workshop is for you. Facilitator: Melody Lovvorn, Relationship Coach /Undone Redone, Vestavia Hills
Support Groups
Support Groups are open, weekly groups, facilitated by members of the Counseling & Wellness staff and develop each semester as need dictates. You can attend groups as able each week, no registration needed. If you have interest in a group on a particular topic, and it is not available on campus at the time of a request, Counseling & Wellness will assist in trying to locate one in the community.
LGBTQ+ Support Group
Location: Please contact Lyndsay, lncogdil@samford.edu for on-campus location details.
Day/Time: Mondays, 3:30 p.m.
Facilitated by Counseling & Wellness Staff/Lyndsay Clark
This group exists to offer mental health support to individuals who identify as LGBTQ+. Come find a space where you can share in confidence, access resources, and cultivate community that helps you thrive during your time at Samford. Contact lncogdil@samford.edu with questions.
"LGBTQ+ youth seriously contemplate suicide at almost three times the rate of heterosexual youth, and are almost five times as likely to have attempted suicide compared to heterosexual youth"
Center for Disease Control & Prevention (2016). Retrieved from www.thetrevorproject.org
Pandemic Loss
Location: DBH 201
Day/Time: Wednesdays 3:30pm-4:30pm
Facilitated by Counseling & Wellness Staff/Lyndsay Clark
This group will gather weekly to make space for the ongoing loss and grief related to all-things-Pandemic. Over the last year and a half, many of us have had to deal with unmet expectations, a disappointing senior year, cancelled plans, debilitating illness and real death of loved ones. Pop into this time and space any week to process, connect, and find healing.
"Many people are experiencing grief during the COVID-19 pandemic. Grief is a normal response to loss during or after a disaster or other traumatic event. Grief can happen in response to loss of life, as well as to drastic changes to daily routines and ways of life that usually bring us comfort and a feeling of stability." – Center for Disease Control & Prevention (2021)
Alcoholics Anonymous Support Group
"Substance abuse does not discriminate. No one, regardless of whether they come from a good family or have a high GPA, is immune to drug abuse. There is no 'type' of drug addict, as substance abuse can affect anyone"
https://www.addictioncenter.com/college/facts-statistics-college-drug-abuse/
Find a Local Gathering Al-Anon for Family & Friends
Eating Disorder Support Group
Consider virtual support this year, offered and facilitated by the Alliance for Eating Disorders.
Time: Monday evenings 6 p.m. CST & Saturday mornings 10 a.m. CST
https://www.allianceforeatingdisorders.com/programs-services/
"Eating disorders have the highest mortality rate of any mental illness"
Smink, F. E., van Hoeken, D., & Hoek, H. W. (2012) Epidemiology of eating disorders: Incidence, prevalence and mortality rates. Current Psychiatry Reports,14(4), 406-414
Wellness Cadres
Cadres are 8-week discussion groups that focus on a particular topic or book organized through the Office of Spiritual Life and listed online each semester under Banner. Counseling & Wellness facilitates and advertises various wellness-focused options that integrate mental and spiritual well-being. For more details, questions, or registration interests contact the Office of Spiritual Life. Log into Banner and go to the "Spiritual Life" tab for this semester's offerings.
Calm in the Storm: Coping and Management Skills for Finding Hope While Living with Anxiety
Chandler Cahoon & Amber Chesser
Thursdays, 10 a.m.
This cadre will be a weekly group conversation on how to increase coping and management skills for anxiety, and find hope while living with its symptoms. Participation in this group will include reviewing and discussing articles and other reading materials focused on coping skills, learning exercises on how to manage anxiety and incorporating God's Word through scripture readings and devotionals.
Dealing with Anger, Resentment and Disappointment
Facilitated by Richard Yoakum & Laura Garrett
Thursdays, 10 a.m.
This cadre is designed to help students take a deeper look into ways you can better manage the powerful emotions of anger, resentment and disappointment.  We will discuss what these emotions mean to us and how they impact our interactions day to day.  Scripture will be used to help us understand and navigate these strong emotions in healthy ways. In doing so, the goal is to gain empowerment, finding closure and resolve in relationships that have been painful and more fully experience the love of Christ.
It is Well: Exploring 8 Components of Holistic Wellness
Facilitated by Wellness Ambassadors
Thursdays, 10 a.m.
This cadre is discussion and practice driven. Each week we explore an area of life  directly correlated with our overall sense of health and wellness as human beings. Throughout the weeks we gather, 8 components of holistic wellness will be explored so that students have a greater understanding of how to cultivate their own balanced wellness. Additionally, this cadre seeks to broaden student understanding of factors that contribute to other's sense of well-being, or the lack thereof. The 8 components include: Spiritual, Emotional, Social, Environmental, Physical, Financial, Vocation/Occupation, Academic.
Understanding the Need for Self-Advocacy
Facilitated by Brenna Vincent and Lyndsay Clark
Thursdays, 10 a.m.
This cadre will examine why it is important to be your own advocate and how to navigate self-advocacy in different settings with different people. Throughout this cadre we will examine our own needs to determine how to set boundaries and communicate effectively with others. We will incorporate our faith as we become more self-aware and seek to conduct ourselves in a courageous, bold, and self-aware Christ-like manner.
Wellness Ambassador Program
Thank you for your interest in Samford's Counseling & Wellness Office's new Wellness Ambassador program! This program provides a new leadership opportunity for enrolled undergraduate students who are interested in and committed to raising awareness about mental health and holistic wellness among Samford's student body. After completing a Wellness Ambassador Cadre in the spring semester of one's freshman, sophomore, or junior year, the C&WP Wellness Coordinator will make final selections from the remaining interested students who have submitted an application for the Wellness Ambassador Program set to serve during the following academic year. Exceptions to the cadre requirement are at the discretion of the Wellness Coordinator. Wellness Ambassadors serve one entire academic year as a campus leader and facilitator of wellness-related education, advocacy, awareness, and involvement. Participants work directly with Samford's C&W office staff to enhance the wellness programs provided each semester.
Wellness Ambassador Program Application Wellness Ambassador Program Manual
Ambassadors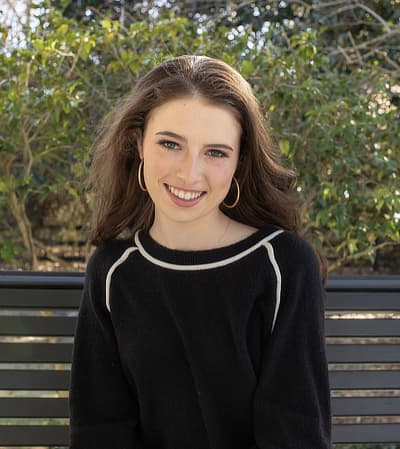 Katherine Cowger is a sophomore from Jackson, Mississippi, studying Health Sciences and Nutrition. In her free time, Katherine enjoys running, cooking, and spending time with friends!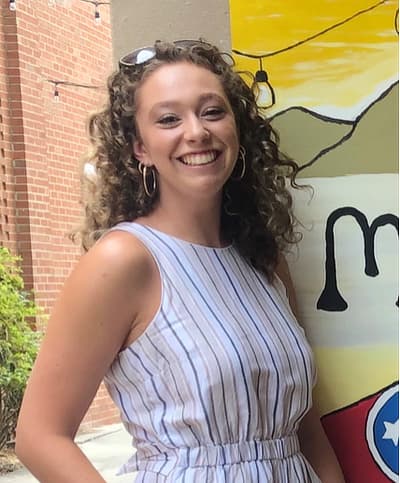 Rebecca Noble is originally from Tennessee and currently on the fast-track for the Doctor of Physical Therapy program as well as minoring in Spanish. Her own experience with an injury requiring physical therapy fuels her passion for her career path, and her desire to help people recover who are in similar situations and find themselves discouraged.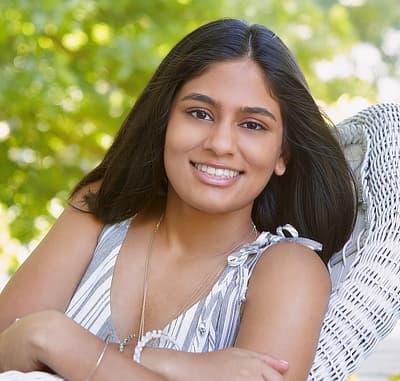 Serena Patel is a sophomore Nursing major from Marietta, Georgia. She enjoys spending time with family and going out with friends on drives and to favorite lunch spots.