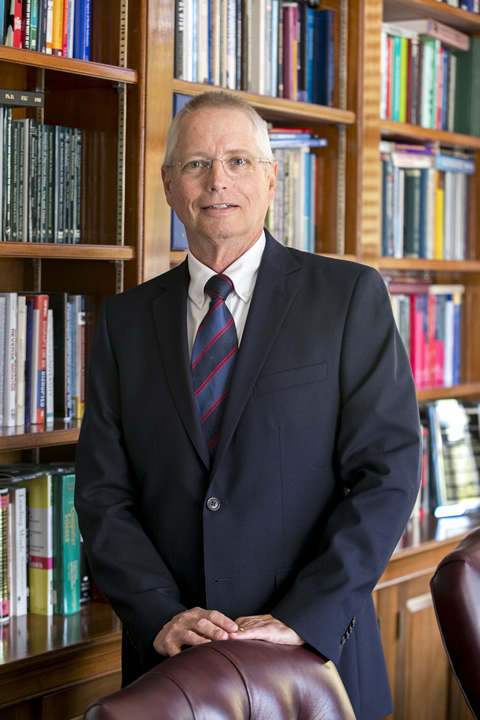 Senior Associate Provost, Professor of Quantitative Analysis and Biostatistics
Academic Affairs
Office: Samford Hall 218
Following 23 years as a highly-esteemed Samford faculty member, Dr. Woolley in 2016 accepted the additional responsibilities of senior associate provost. He currently serves as professor of quantitative analysis for Samford's Brock School of Business, professor of biostatistics for Samford's School of Public Health, fellow for Samford's Center for Sports Analytics and as both founding member and senior fellow of Samford's Center for Science and Religion. This former director of institutional research for Samford has also served in other notable positions, including research fellow for Brock School of Business and faculty fellow for Orlean Bullard Beeson School of Education.
Dr. Woolley came to Samford in 1993 from the University of Alabama at Birmingham (UAB), where his distinguished biostatistics career there included service as the vice chair of UAB's Department of Biostatistics and Biomathematics, head of Public Health Biostatistics at UAB's Birmingham Medical Center, professor and core biostatistician for the UAB Department of Optometry, School of Medicine scientist for UAB's Comprehensive Cancer Center and scholar for UAB's Center for Health Risk Assessment and Disease Prevention.
In addition to the three-year postdoctoral fellowship he completed as a Templeton Fellow in Science and Christianity at the University of Oxford, Dr. Woolley holds a Ph.D. in Statistics and Research Design, M.S. in Biological Science/Education, and B.S. in the Biological Sciences, all from Florida State University.
Dr. Woolley has been honored nationally and internationally for his contributions to the fields of statistics and its applications, research design-analysis-interpretation for business and medical applications, science and religion, chance and Christianity and statistical education/literacy.
Dr. Woolley's numerous honors for both exemplary scholarship and teaching include more than five faculty teaching awards from Samford, the UAB President's Excellence in Teaching Award and 2000's Carnegie Foundation/CASE Alabama Professor of the Year. He was named the A. Gerow Hodges Research Fellow for Samford's Brock School of Business for 2016 through 2017.
Dr. Woolley has published or presented nearly 250 works before scientific conferences, served as a professional reviewer for more than a dozen professional journals and served on multiple dissertation/thesis committees. He has also served as a biostatistics consultant for numerous national entities, including the National Institutes of Health. He is a member of more than 25 national and international professional and scholarly organizations. His current research interests include indeterminacy in business, experimental design, applied Bayesian analysis, outlier methodology, theology of chance and contingency in the theology of Saint Thomas Aquinas.
Dr. Woolley has shared his expertise as an adviser, member or moderator with more than 100 community and professional service committees. He and his wife Mary Lyn are members of Birmingham's Cathedral of St. Paul. They have two grown children, Drew and McKenzie.