FlipGrid – Remote Working Tips
March 30, 2020: Steven Potaczek, Assistant Professor of Commercial Music and Director of Commercial Music Program, School of the Arts, Division of Music
Communications, Discussions
One of my courses relies heavily on viewing and listening to high quality multimedia, and having meaningful dialogue surrounding what we just experienced. This is just not feasible given the unknowns of my students' network connections. While I had initially tried to use Canvas, Zoom, and WebEx to facilitate these discussions, it was just cumbersome and not efficient. What to do?
Enter FlipGrid. FlipGrid allows me to post a file, or even create a video from my laptop detailing instructions, and then allows students to upload a 2-3-minute video response to the topic. Everyone in the class can see one another's videos and can even respond to them via video. For students with only an iPad or mobile device, it makes conversations much easier than trying to do something synchronous via traditional tools. If dialogue is an integral part of your classroom activities, be sure to take a look at FlipGrid, and see what it can do for you.

Free Adobe Scan App – Remote Working Tips
March 27, 2020: Jennifer R. Taylor, Chair, Special Collection and University Archives, Samford University Library
Communications, Tips
The faculty and staff of the Special Collection Department and University Archives brought home some materials we felt comfortable taking out of the library. Some of the materials we took home were audio files for transcription, old inventories of our collection, and The Alabama Baptist Historian journal. The papers and journals have duplicates in the library but are not digitized. We are using the free Adobe Scan app on our phones to digitize these records. We hope to make some of these materials accessible online in the future. The app allows us to adjust curves and skewing on pages and delete fingers that got in the way. The app has been great because it lets us capture several pages within one file. It even recognizes text for keyword searching. The app does not offer ideal archival scanning, but it is working. We hope what we are doing at home will be a benefit to researchers in the future.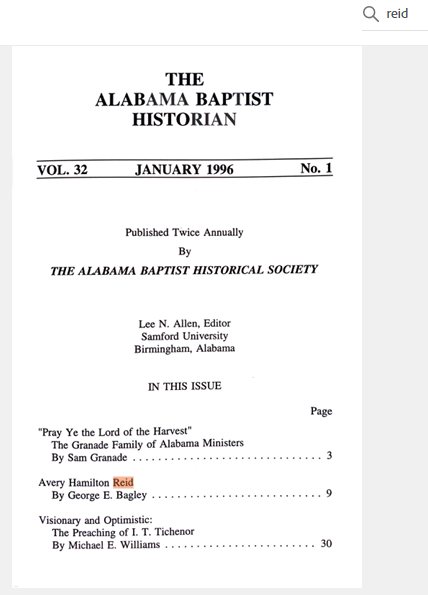 Resource: Vander News
March 24, 2020: Dr. Betsy Holloway, Vice President for Marketing and Communications and Professor of Marketing, Brock School of Business
Communications, Vander News
From: Vanderbloemen - Remote Working Tips
To support you during this time of uncertainty, Vanderbloemen created ChurchCovid19.com, your comprehensive guide to resources that will help you continue operating in this unprecedented time. This page includes everything from our recommended remote working tools to tips on how to stay connected through social distancing and helpful and encouraging guides from external sources.
Video: Studio in Canvas
March 23, 2020: Dr. Lisa E. Gurley, Associate Professor, Chair of Samford University's Faculty Senate 2019-2020, Ida Moffett School of Nursing
Communications, Virtual Lunch
The classes that I teach are already delivered in an online format. One routine that I started this semester is posting a weekly "welcome to week _" video. For example, this morning I recorded a "welcome to week 12" video using Studio in Canvas. I used the screen capture and camera so students could see my face and our course in Canvas. I shared a Bible verse from my personal devotional and thanked our students for their service in caring for our population (my students are registered nurses pursuing graduate education; some are serving in the military as well). Then, I navigate through our Canvas course to recap what we did last week and introduce our topics/assignments for this week. The videos are between 2 to 5 minutes in length. To my surprise, I have had several students email me very personal messages about how the weekly words of encouragement and prayer are helping them cope with this very difficult situation. Really, it is the students that provide me with support and encouragement.
Improving Your Chair
March 20, 2020: Donna K. Fitch, Digital Communications Specialist, Web Services, Department of Marketing and Communication
Workspace, Ergonomics
My office chair at home was doing me more harm than good. A small investment in a seat and back cushion have improved my health and attitude!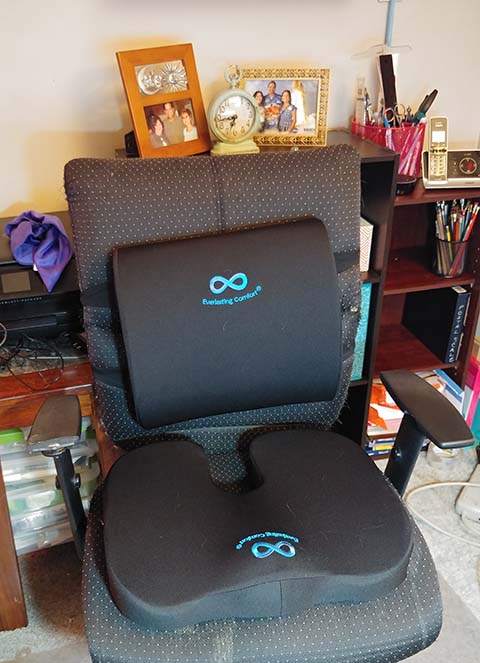 Scheduling Group Meetings with Calendly
March 20, 2020: Dr. Art Carden, Associate Professor, Brock School of Business, Department of Economic, Finance and Quantitative Analysis
Communications, Scheduling
I bought a month of Calendly premium version to schedule check-in meetings with my students over and above office hours (which are on WebEx) and class (which is asynchronous, but I log in to Canvas Conferences during normal class hours to answer questions).The basic version of Calendly allows you to schedule unlimited one-on-one meetings. The premium version allows me to schedule meetings with multiple attendees and to collect a bit of information. Both versions auto-populate your calendar with meetings. The premium version is $10. Here's a screenshot for next week.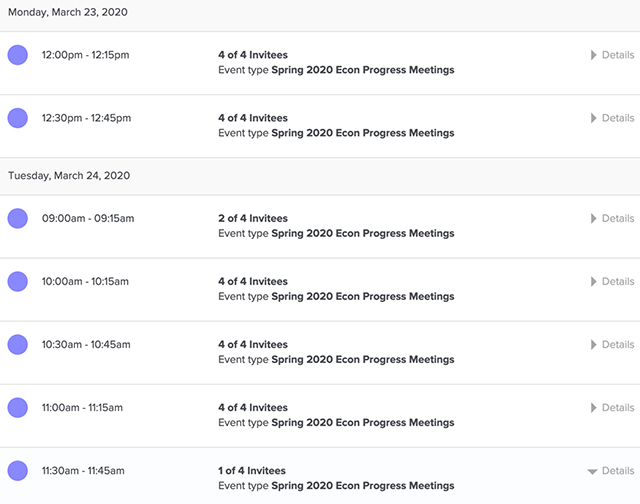 Zoom and Microsoft Teams
March 20, 2020: Julie Fletcher Mincey, Director of Greek Life, Student Affairs and Enrollment Management
Communications, Virtual Lunch
Hey everyone! We are still rolling along in Greek Life. Luis Aponte and myself are engaging students in Zoom Calls regularly since we've been remote. Our main focus has been virtual engagement and a sense of community (as best we can). We are working closely with chapter presidents to continue to engage the 1750+ fraternity/sorority community from afar. I also recorded our Zoom call with chapter presidents and advisors and then emailed it out for those who missed.
Chapters are getting really creative with connection options other than social media. They are also brainstorming ideas to honor seniors in their chapters.
Today I had a virtual lunch with a colleague at Purdue. It feels like a great time to share a meal and time with colleagues to learn about what's going on with their institution/department etc. If you're hungry and want to catch up, let me know!
Zoom has been really helpful, but also MS Teams for office business. Within our "Team" we've created to do lists and tasks in "Planner" and "staff notebook". I believe we will continue to use MS Teams once we return to campus. OneDrive has also been great! I feel like we are creative and adaptable. I'm also determined to figure out a way to virtually play a game of "Family" that we learned how to play at a recent student conference.
Mathematics of Social Distancing
March 19, 2020: Dr. Joy Buchanan, Assistant Professor, Brock School of Business, Department of Economic, Finance and Quantitative Analysis
Social Distancing, Research
This Flatten the Curve (PDF) might be helpful for any quantitative–leaning courses. Happy to share it.
New Home Office
March 19, 2020: Allison Brymer, Director of Events Management, Operations and Planning Division
Workspace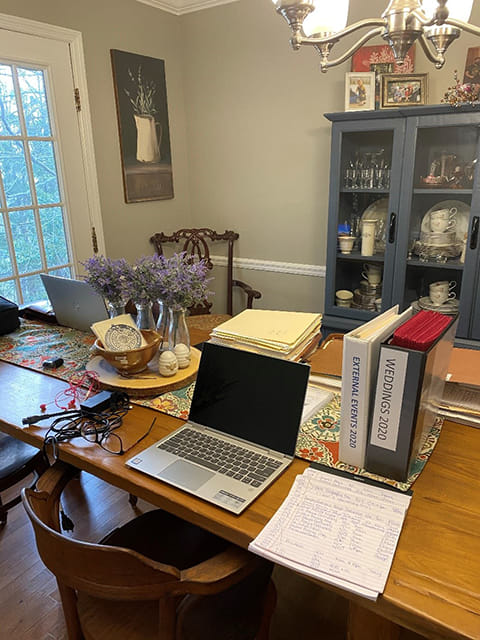 Our dining room table is housing Events Management and the Planned Giving offices! Sharing opposite sides of the table!
Video Feature
March 19, 2020: Dr. Art Carden, Associate Professor, Brock School of Business, Department of Economic, Finance and Quantitative Analysis
Communications, Humor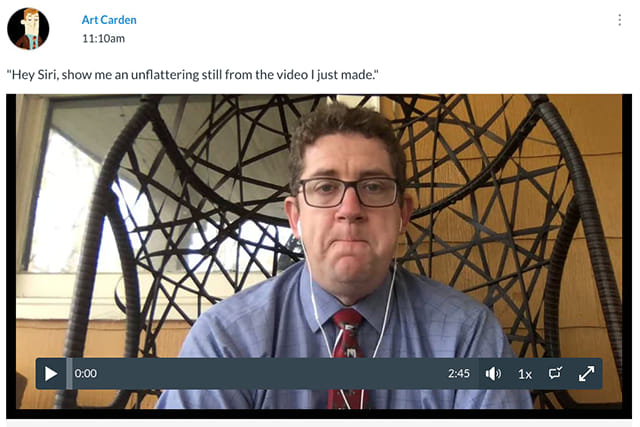 For my intermediate macroeconomics students today.
Video Feature Via Skype for Business
March 19, 2020: Marcie Harchuck, Director of Graduate Student Services, Orlean Beeson School of Education
Communications, Collaboration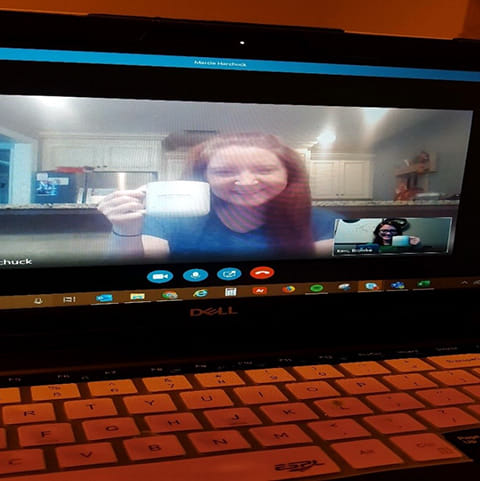 Brooke Karr and I have almost daily morning meetings to talk about on-going projects, student concerns, updates etc. We call our meetings "Coffee Talks" because we usually have our first cup of coffee with us. To maintain a schedule and to keep up with each other while working from home we've decided to utilize the video feature via Skype for Business. Each morning at 8 a.m. to start our day we've been video chatting. We've also used the IM feature on Skype for Business throughout the day. It's been quicker than email for those questions that would have usually been an in-person inquiry. We highly recommend Skype for Business for those who work closely with a co-worker all throughout the day!
Maintain Patience and Humor
March 18, 2020: Dr. Anthony Minnema, Assistant Professor of History, Howard College of Arts and Sciences
Motivation, Humor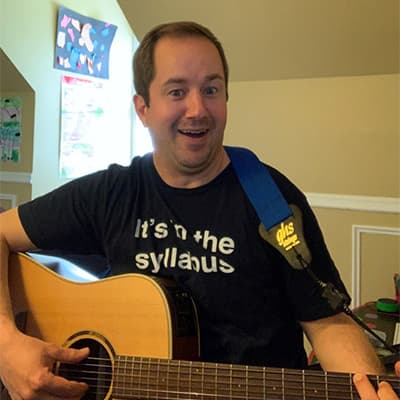 Cultural Perspectives Sing-a-Longs.
Microsoft Teams, WebEx and VPN
March 18, 2020: Julie Stewart, Director of Payroll, Human Resources
Communications, Cudos
Some of us have been using Microsoft Teams, WebEx, VPN and other tools to connect to each other and remotely to campus for a long time.  The need for this to instantly be used globally has put great demands on our IT staff at what is also a difficult time for some personally. They have responded in the same exceptional way we have come to know. Their attitude, skill and hard work has given us the tools to overcome obstacles and accomplish the things we need to do to take care of our students and each other.  We are all a part of the body of Christ ministering to others. These folks must surely be the backbone. Thank you all!!!
WebEx
March 18, 2020: Joel R. Windham, Assistant Vice President, Human Resources
Communications, Cudos
In our Team WebEx this morning everyone wanted to recognize the great job being done by Technology Services.
Video Conference
March 18, 2020: Dr. Jennifer Beall, Professor, McWhorter School of Pharmacy, Department of Pharmacy Practice
Communications, Etiquette
During video calls—especially if you're sharing screens—no one wants to see your notifications or hear those dings and rings. So mute! In Windows 10, go to System > Notifications & Actions and turn them off. On MacOS 10.8 Mountain Lion or later, click the three lines in the top right corner, then swipe down then turn on Do Not Disturb. Just don't forget to turn your notifications back on once the call is over.
Canvas Conference and Start of Day Routine
March 18, 2020: Dr. Kristen Johnston, Assistant Professor, Ida Moffett, School of Nursing, Nurse Practitioner Department
Communications, Family Routine
Our department is meeting via Canvas Conference once a week.  Thankfully we were already an online program. Today I started a discussion board for my classes called COVID 19- a place to share, vent, pray, or laugh.  Our family has started a daily schedule that starts with family Bible reading/study and prayer.  We are also including a time for exercise each day.  We have a Samford student adjusting to online classes, a high school student, a 9th grade assistant principal and me.  So, it is taking grace and adjusting.
Stay at Home Tips
March 18, 2020: Dr. Cassandra Adams, Assistant Dean, Public Interest Program and Director of Community Mediation Center
Motivation, Workspace
Dr. Adams would like to share an article from CEO of 15Five, David Hassell as follow:
As coronavirus continues to spread throughout the country, companies are asking employees to work remotely to help control contagion.
At first, working from home might seem like a dream: no commute, no distracting co-workers and think of all those chores you'll be able to sneak in!

But after the novelty wears off, things get real. It can be lonely. Your home suddenly feels a lot smaller. And there's no real end to your workday.
"I think the biggest thing that is underestimated is the psychological impact of being alone," said David Hassell co-founder and CEO of 15Five, a performance management software provider, where 40% of the workers are remote.
Here are some tips to stay well-balanced:
1. Take a break
Let's be honest: You don't work eight hours straight in the office. There are coffee breaks, lunch walks and chats with co-workers that give some respite from work.
Just because you are working from home doesn't mean you aren't entitled to the same breathers.
"There is a tendency to work throughout the day to overcome some stigma that you aren't working when not in the office," said David Rabin, vice president of global commercial marketing at Lenovo. Hitting the pause button throughout the workday can be a boon to productivity.
"It's not going to take anything from your effectiveness," said Julie Morgenstern, an organization and productivity consultant and author of "Organizing from the Inside Out." "Stepping away for breaks are part of productivity; they actually make you smarter and give you perspective and answers."
2. Get structured, but not too much 
It will take a little time to get into your groove working from a different environment.
If you were the office worker who liked to bounce around from your desk to a conference room table to a private meeting room to get your work done, don't feel like you have to limit yourself to one spot in your house, advised Rabin.
But be thoughtful about where you choose to work and make sure to match the environment to the type of work you are doing, suggested Morgenstern. For instance, find a quiet area to work for some deep thinking, while sitting outside on your patio might work to respond to emails and other housekeeping-type tasks.
And make sure to designate some places as work-free zones.
"You should preserve some spaces in your home that you never do work in," she added. "It is very hard to relax at night when you start to associate those spaces with work."
3. Repurpose your commute 
A major perk of working from home is ditching the commute. But that doesn't mean your workday can start earlier.
"Use your commute time in the morning for self-renewal or family time, not work," recommended Morgenstern.
4. Set very clear boundaries
"Working from home doesn't mean you are working more hours," warned Morgenstern. Be clear with your manager and coworkers of your schedule and stick to it.
And when your workday ends, put away your work equipment and change into your evening or lounge clothes to help signal the shift to personal time.
You also have to be clear with the other members of your household who might be wanting your attention during the workday. This could be particularly challenging if schools close.
"Create some structure to the day and designate play and work time while organizing space into work and play areas, recommended Morgenstern. "You have to impose some order."
5. Show your face
When possible, use video over the standard conference call to help create more interactions and avoid loneliness.
Three times a week all the employees at 15Five, whether they work from home or are in the office, get on a video call, for an all-hands meeting.
"We can see everyone's faces since everyone is on their own laptop with their own camera -- that is really important," said Hassell.
"We can see everyone's faces since everyone is on their own laptop with their own camera -- that is really important," said Hassell.
6. Force social collisions 
Working from home means no popping into your colleague's office to chat or running into someone on your way to the bathroom and discussing weekend plans.
"When those drive-by connections are missing," said Morgenstern, "If you are energized by being around other people, it can be despairing."
But social interaction can still happen from home -- you just have to be more proactive. Set up regular check-ins with your team or manager that allows you to not only provide progress updates, but also sort through any problems or brainstorm ideas.
Use FaceTime, Zoom and other video tools during meetings or just to chat with coworkers to help avoid loneliness.
At 15Five, there are two Slack channels that provide a discussion space for workers.
One is more formal where people discuss what they are working on and other business-related subjects while the other one, called "water-cooler," is more casual, where people post more personal messages and funny images.
Maintain Focus and Reduce Stress
March 18, 2020: Dr. Lynn Hogewood, Director of Academic Support and Instructor of LLR and Non-Profit, Cumberland School of Law
Motivation, Workspace
Day Three of Quarantine and Online Learning
We have skipped spring and landed in some summertime weather around here, reaching 80ish degrees today.
Tip of the Day
Enjoy it! Your focus and well-being can highly benefit from a sometime outdoors -- to sit and read but also to move with a little walk or whatever suits you. For those of you who struggle sitting in silence preparing for, taking, and reviewing after your class, break up the time with something outside. And, don't forget that you can enjoy field trips with carry out and curbside service of local businesses.
Bonus Information
Jeena Cho, the author of The Anxious Lawyer, has a website with many wellness resources which is linked on the Academic Support Canvas page. I reached out to Ms. Cho today, and she has provided the Cumberland and Samford community with a discount code for a daily 10-minute session of guided mindfulness—to reduce stress and to maintain focus with online learning during this time.
She is discounting the program for $30 off—just $19 to register. Please use the Code: MINDFULSAMFORD if you would like to register. Also, if you cannot afford the program but would still like to join, Ms. Cho has asked that you email her at hello@jeenacho.com. She is glad to work with you so you can participate.
Keep a Schedule
March 18, 2020: Ian Philips, Manager of Performance Venues, School of Arts
Motivation, Workspace
For many years I ran a business that was primarily online in nature, so I did a lot of working from home.  I always find lists and notes to be vital to my daily work in the office.  That practice becomes even more important for staying on task at home.  I make multiple to-do lists (today, this week, and long term).  As I accomplish tasks, I note them in a daily logbook, so I can go back and reference it if needed.  I keep a separate notebook of, well, notes!  Every time I speak with a client, go to a meeting, or even when I just need to do some calculations, I write down the important stuff, label it and date it.  Much of what I do revolves around logistics and scheduling, so keeping good, organized notes is critical to keeping up with the wide variety of tasks that have to be accomplished for each client/event.  In short, keep up as many of your "Best Practices" as you can and do your best to stay positive and adaptable. 

We can do this!
Maintain Patience and Humor
March 18, 2020: Dr. Lydia Thurston, Assistant Professor, School of Health Professions, Department of Physical Therapy
Motivation, Workspace
A great piece of advice came by text from my co-worker Dr. Sarah Ross. She shared it with our department, and it originated somewhere on the inter-web. 
Pro-tip for families suddenly working from home together: Get yourselves an imaginary co-worker you can blame for things. 
For instance, in my house, Barbara likes to eat crunchy foods in our shared makeshift office space. It is loud and results in crumbs everywhere. We just don't know what to do about Barbara <shakes head>.  The dog is happy, though!
I hope you enjoyed this!
New Home Office
March 17, 2020: Stephen Watson, Assistant Professor, School of Art
Workspace, Humor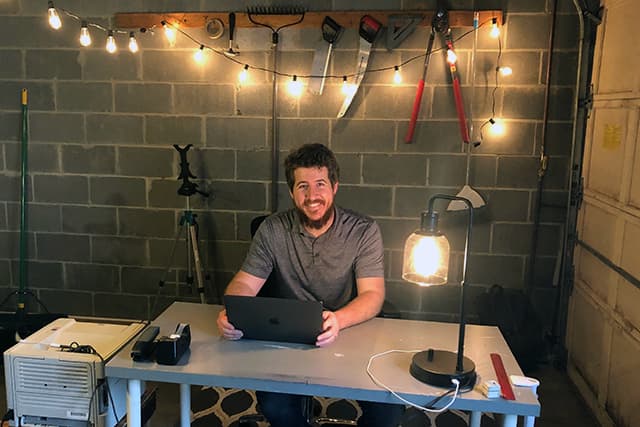 My new garage office for teaching online. We can do this, Samford!
Software for Visual Art
March 17, 2020: Dr. Larry, Thompson, Associate Dean, Visual Art
Workspace

The Art Lofts Version 2.0 is up and running for Art and Design instruction.
Keep a Schedule
March 17, 2020: Elizabeth Blackmon, Administrative Assistant, Career Development Center
Motivation, Workspace
I had to work from home at a previous job and the biggest things I learned that work was keeping a schedule and keeping a separate location. You need to keep your same alarms, same lunch hour, same break from the computers or you will feel like you're in limbo. It's also important to avoid doing your work from your tv watching spot on the couch as it becomes difficult to keep work and home separate. I encourage people to find a corner in their home and turn it into their working zone. I live in a 700 sq. ft apartment, so if I can find a space, anyone can.
Maintain Patience and Humor
March 17, 2020: Dr. Marci Johns, Associate Provost for Accreditation, Online and Professional Studies, and SACSCOC Liaison
Motivation
Day 1 of working remotely has been interesting. I immediately learned that this experience is going to require two important things: patience and humor. I would encourage everyone to learn to laugh at yourself as we work through these issues. While fumbling your way through a web conference, it's ok if your dog barks uncontrollably, if your child runs downstairs singing loudly (that's me), or if you forget your video is live! It's all ok. And, entertaining.
We are in this together and while reporting to a common location each day is temporarily cancelled, our relationships are not! This shared experience will continue to be challenging, but it will bring an opportunity to learn new technology, enhance efficiency (we already learned how to sign documents electronically - yay!), and work with new colleagues across campus that we might not ordinarily depend on quite as much in our regular work day. These are all opportunities for tremendous growth as an institution. We will survive! That's my perception after surviving Day 1. 🙂 Hang in there!
TVs Make Great Monitors
March 17, 2020: Karen Bost, Administrative Assistant III, School of Business
Workspace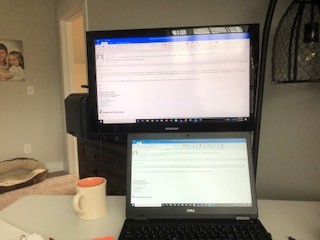 Start of Day Routine
March 17, 2020: Maggie Rountree, Director of Bulldog Club, Athletic Marketing
Motivation
I saw this on social media and think this insight could prove to be very useful for us all - "I've worked from home for 7 years. Here's some free advice if you never have. Start the day with a shower and then dress like you normally would for work. I love pajama pants too, but they're a breeding ground for depression. Flannel feels like failure by day 3."
My Ten Years of Working from Home Tips
March 17, 2020: Allison Nanni, Director of Frances Marlin Mann Center for Ethics and Leadership
Motivation, Workspace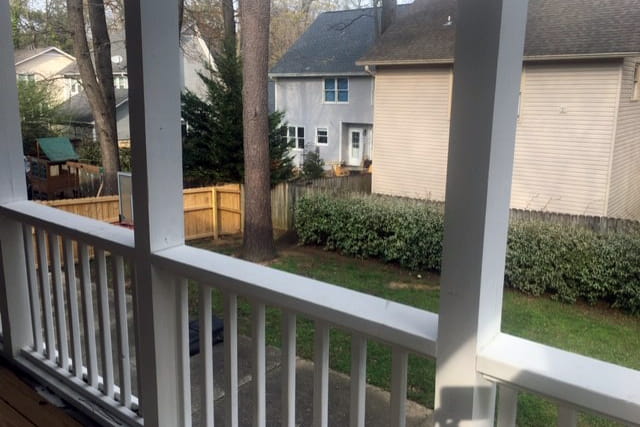 Weather permitting, work outside when possible if the outdoors bring you
peace.
Set boundaries with family members who might be at home.
Walk outside or around the house during a phone call to get moving.
Shower and "dress" for work each day – comfortable but presentable. It helps you and those you interact with.
Exercise during lunch – get moving – even if briefly.
Don't forget to eat.
Shut it down – try to set work boundaries and "turn off." Work hard to respect those boundaries by not emailing or texting team members outside work hours. If sending an email, time it's reception or indicate (FOR TOMORROW) in the subject line.
Team-wide Communication
March 17, 2020: Allison Nanni, Director of Frances Marlin Mann Center for Ethics and Leadership
Communications, Motivation
Utilize outlook invitations to invite your team to daily, brief WebEx check in meetings first thing in the morning. Include a basic routine format so team members know what to expect and so they can ask questions.
Is daily too much? Not, especially in the beginning. We need to set our own and help our teams set good routines and habits for a healthy and productive home and work life as much as we can.
Utilize and share via Google drive the task assignment sheet HR sent out to all of your team after morning check ins so everyone is clear on the day's and week's individual and team priorities.
Share links to articles and tips for working remotely and how to combat distractions, isolation, etc. Ask your team to share a strategy they are using this week that working for them.
Check in on team members individually. I'm setting up individual check ins every few days via outlook to make sure folks have what they need technology and otherwise, are adjusting well, etc.
GroupMe, WebEx, FaceTime, Canvas Conference
March 17, 2020: Dr. Jill Cunningham, Department Chair, Professor, Nurse Practitioner Department
Communications
My department is using the GroupMe app on our phones to stay connected outside of just email. Especially for updates, prayer requests, and non-business communication. We are doing a WebEx every Monday (and as needed) with the faculty and staff in the department. We did one already and we could all see and hear each other great. We will hold our official monthly department meeting by WebEx next Monday. I used FaceTime this morning with a faculty member. I will use Canvas Conference this afternoon for a student appointment.
Group Chat, FaceTime, Voom, Skype, WhatsApp
March 17, 2020: Felicia Belter, Program Assistant, Office of Spiritual Life
Communications, Encouragement
I am coordinating the GMS (Global Missions Scholars) out of the Office of Spiritual Life. We are a program that supports students who feel called to live as global disciple makers after graduation and who are leveraging their major for the sake of the gospel. We typically meet as a cadre for an hour to study Jeff Lewis's God's Heart For The Nations. We decided to meet online today! I put everyone in a group chat and because we all had iPhones, we FaceTimed our meeting. However, this could have been held on Voom, Skype, WhatsApp, etc. They each have maximum participants, length of call, etc.
Students shared their challenges (being home, being away from Samford, online class platforms, fears, anxieties, family dynamics, etc.). We prayed together, laughed together and talked about God's sovereignty through all of the changes. I encourage other staff/faculty to reach out to small groups (we had 14) to connect, pray and support one another. Students are as anxious about these days as the rest of us. Even in the challenges of these days, we are able to live out: For God, For Learning, Forever!
Microsoft Teams and WebEx
March 17, 2020: Lane Smith, Director of Student Financial Services
Communications
Some on my team are using Microsoft Teams. The chat, file sharing, and communications features are really good. We've also tested out WebEx meeting and that is good as well.
Microsoft Teams
March 17, 2020: Dr. Kimberly H. Wood, Assistant Professor of Department of Psychology
Communications
Conducting live-stream video classes using Microsoft Teams without a hitch and the students feedback stated it was a good experience. I was able to share my screen with students and a student shared their screen to ask a question; Two sections of Research Methods students have been using this platform all semester so they can collaborate and meet remotely (around everyone's schedules). The students have found it user friendly and given positive feedback. Microsoft Teams is a commonly used platform in the corporate world and Microsoft ramped up their streaming support 50% prior to March 16 in preparation for an online transition.
Canvas
March 17, 2020: Dr. David Parks, Director of Global Center
Communications, Encouragement
I'll go first…Even though we all thought Hell would freeze over before Beeson Divinity School went online, I had my first class today over Canvas Conference. We spent the first half of the class sharing concerns and praying for each other, then we proceeded with an abbreviated version of the scheduled lesson. A student wrote me soon after class and said, "Thank you for class today-it was a welcome dose of community and normalcy." Grab your coats, demons!