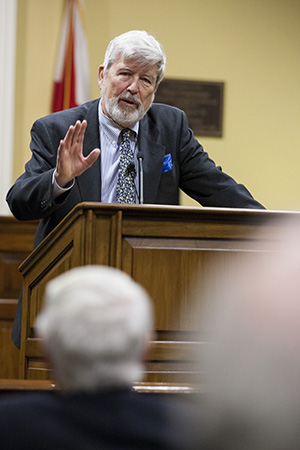 Those who think about the 100 Years War all tend to think more of longbows and knights than submarines and machine guns. That's not unreasonable if we're talking about the conflicts between England and France in the 14th and 15th centuries, but U.S. Ambassador Thomas D. Boyatt would like to expand our historical thinking. Boyatt, Woodrow Wilson Visiting Fellow at Samford March 4-8, views the almost constant international conflicts of the 20th century not as separate wars, but as enormous battles in a modern 100 years war.
Boyatt's diplomatic career included postings in Chile, Luxembourg and Cyprus, and ambassadorial service in Columbia and Burkina Faso. He served almost to the end of what he characterized as a century-long struggle for European freedom, characterized in each case by aggression from the east to the west, and shaped, in turn, by Kaiser Wilhelm II, Adolf Hitler and Joseph Stalin.
In a March 7 lecture at Samford, Boyatt said the advent of industrialized militaries in the early 20th century coincided with, and drove, binding alliances between the world's superpowers. England, France and Russia allied on one side and Germany, Austria-Hungary and the Ottoman Empire allied on the other. Each party committed its vast imperial possessions, so a single act of terrorism in Sarajevo set the world aflame in August, 1914.
Although the U.S. was a minor power at the time of the first world war, its delayed entry onto the field proved to be decisive in breaking the aggressive "central powers." But when a forward-looking U.S. president, Woodrow Wilson, proposed a 14-point plan to rebuild Europe and prevent future wars, Europe's victors preferred to cripple the vanquished economically and carve up their empires, virtually ensuring further conflict.
Hitler arose from the economic crisis that followed, and this time Germany took almost all the available spoils of the continent. Stopped at the English Channel by the British under Winston Churchill–a defiance Boyatt described as "the apogee of the English speaking peoples"–Hitler made the fatal error of turning against the Soviet Union. Once again, America entered the war and tipped the balance against a weakened enemy.
This time, the U.S. led the reconstruction efforts and ensured that those efforts included the defeated enemies whose economic success and political stability would set the tone for their respective regions. Then the Soviet Union dropped what Churchill described as "an iron curtain" and emerged as the new threat to Europe's freedom.
Boyatt said centrist U.S. domestic politics in the postwar period solidified both an official U.S. posture—anti-communism—and a strategy—containment. The U.S. finally triumphed in the ensuing geopolitical chess games due to superior economic and political structure, military, intelligence and diplomacy as well as a more aggressive opposition to Soviet expansion after 1980, Boyatt said. He acknowledged that a new generation of Soviet leaders sought to modernize in order to better compete with the U.S., but by that time it was too late to save what Ronald Reagan famously called "the evil empire."
Looking ahead to the next century, Boyatt foresees another long struggle, this time involving Asia and Islam. "We need to remember the lessons of the 20th century," he said. "We need to remember the agonies and the length of that struggle and we need to remember why we were victorious."
"I like the cards we've been dealt," Boyatt concluded, "but we still have to be courageous, we still have to have stamina and we still have to see far."