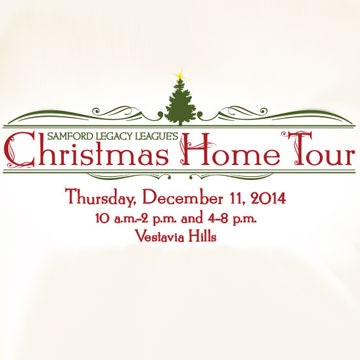 Posted by Philip Poole on 2014-12-02
Five homes in the Birmingham suburb of Vestavia Hills are featured in the Samford University Legacy League's 2014 Christmas Home Tour.
The homes will be open Dec. 11 from 10 a.m.-2 p.m. and 4-8 p.m. Tickets are $25 in advance or $30 at the door.
This is the fourth year for the Legacy League's home tour. Proceeds support the League's scholarship program. The 2013 Christmas Home tour raised $11,000 to provide scholarships.
Homes on the tour include Alisa and David Belcher, 3632 Altadena Drive; Dixie and Tom Brannon, 2104 Hickory Ridge Circle; Laura and Larry Merrill, 1647 Panorama Lane; Denise Upton, 1638 Panorama Lane; and Jeanna and Andy Westmoreland, 1994 Shades Crest Road.
Holiday hors d'oeuvres will be served at the Samford president's home.
Advance tickets can be purchased online through Dec. 9. Tickets also will be available at each home during tour hours.
The Legacy League, which traces its history to the early 20th century, is a volunteer organization that works to provide scholarships for Samford students with financial need.