Samford in the News, 4th Quarter, 2016
Published on February 7, 2017 by Philip Poole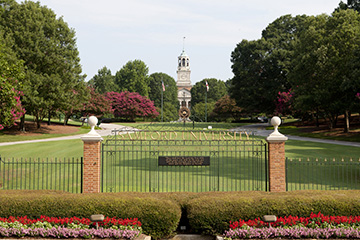 A compilation of selected Samford University references in media outlets around the nation. Below are selected stories that generated significant media attention for the university.
October 2016
Alumnus Featured as Sports Marketing "Up and Comer"
Kyle George, a 2011 Samford graduate was featured recently as an up and comer in sports marketing. He is associate athletics director of marketing and communication for the University of Southern Mississippi, where he is involved in marketing, promotion and storytelling for all Southern Miss sports. "I get to work in college athletics for a living, and I love every minute of it."
Law Professor Part of Legal Brief Opposing Circuit Court Rehearing
A story widely circulated nationally announced that Firearms Policy Foundation joined Brannon Denning of Cumberland School of Law and several other attorneys in filing a legal brief opposing a full Ninth Circuit rehearing in the Second Amendment lawsuit Teixeira v. County of Alameda, which was decided by the Ninth Circuit Court of Appeals in May 2015.
Student's Hurricane Matthew Experience Gets National Attention
Samford student Jeffrey Seitz was featured in a story first reported by the Birmingham Fox affiliate and picked up by several stations nationally. Seitz's family evacuated their South Florida home ahead of Hurricane Matthew in early October. "The Samford community in general, all my friends and teachers have been really aware what has been going on down there. People have been coming up to me, 'Hey, I'm praying for your family,'" Seitz said.
Westmoreland Speaks to New CCCU Membership Guidelines
Samford President Andrew Westmoreland was quoted in a story distributed by InsideHigherEd about the council for Christian Colleges and Universities' new requirements that would ban member institutions that support same-sex marriage. Westmoreland said the study committee faced "divergent views of our constituents" but worked to find "a holistic framework" for membership. Westmoreland said that the process "was long and our conversations were robust, covered in prayer before, during and after our meetings."
Football Player's On-Field Proposal Gets International Attention
Samford football player Deion Pierre simply wanted to propose to his girlfriend with the help of his teammates. He had no idea that the videotaped proposal would go viral and generate international media attention in what became the most-watched Samford YouTube video of all time.
Alumnus Named Board Chair for Artificial Intelligence Provider
David E. Young, a 1985 graduate, was named chairman of the board for Faros Healthcare, an artificial intelligence and data analytics provider. "I have seen and employed various technologies used in health care to improve care, but I am convinced the use of artificial intelligence will create a sea of change in care delivery, and I am delighted to be part of that change," Young said. The story of Young's appointment mentioned his Samford connection and generated widespread media attention.
Law School Alumnus Named General Counsel for Sonoco
Sonoco, one of the largest diversified global packaging companies, named 2004 Cumberland School of Law alumnus John Florence as corporate vice president, general counsel and secretary. The story, which mentioned his Samford connection, was picked up globally.
Other stories that generated multiple local, regional and/or national mentions for Samford included the Samford football team's game against Mississippi State University, arts, alumni involved in various local elections, several alumni appointed to local/regional boards, and hometown news stories about students in various scholars programs.
November 2016
George Discusses Impact of Reformation Leaders
In a story widely distributed by Baptist Press, divinity school dean Timothy George discussed the impact of key leaders of the Protestant Reformation. "It's a great mistake to think that the Reformation just kind of happened de novo, out of nothing," George said. "There was a context," of people like Luther, Calvin and Menno, who wanted to "purify the church" and "reform the church" as it existed in 1516.
Alumnus Uses Experiments to Peek Students' Interest in Science
Jeff Sharpton, a 2003 graduate, was featured in a story distributed by several media outlets in North Alabama about his philosophy of teaching science to high school students. "My favorite thing about teaching is when students think they are not smart enough to do something, and I guide them to a point where they realize that they can," Sharpton said. "The look of achievement on a student's face is indescribable."
Williams Compares Titanic Sinking Aftermath to Flight MH370
In a story distributed by the Christian Science Monitor and other media outlets, journalism faculty member Julie Williams compared media response to the disappearance of Malaysia Airlines flight 370 to the sinking of the Titanic. "My great-uncle could buy a Titanic postcard as soon as he arrived on the dock from the rescue ship. It says something about how quickly an entrepreneurial person swept up the idea and took a supposed picture of the Titanic—it was probably actually Olympic, the sister ship with the name painted over it . . . But the same thing happened in social media with the Malaysian airliner."
Alumna Featured as One of Georgia's "Young Gamechangers"
Meg Greer, a 2013 law school graduate, was featured in a story distributed statewide as one of 48 Young Gamechangers in Georgia involved in a project to improve Augusta. "Living in Dublin, I've seen changes that have directly resulted from the Young Gamechangers program," Greer said. "Plans for the renovation of our downtown skyscraper came from the group, as well as ideas for our new riverwalk. It's exciting to know that our ideas for Augusta may come to fruition, too."
Alumnus Named to Key Chamber Post in Fort Worth
Brandom Gengelbach, a 1998 journalism graduate, was named executive vice president for economic development by the Fort Worth (Texas) Chamber of Commerce. The story was distributed widely and mentioned Gengelbach's Samford connection. "He is a proven achiever in the public and private sectors who is praised as a decisive team player with competitive drive, outstanding leadership skills and communications expertise," said Chamber CEO Bill Thornton.
Ross Comments on Proposed Amendment to Eliminate Electoral College
In a story distributed widely through Legal Monitor Worldwide, law school professor William Ross said recently that although there are sound reasons for both its retention and abrogation, no change in the method by which Americans elect their president is likely. The context was a proposed constitutional amendment by a Tennessee representative that would eliminate the electoral college.
Adoption Not Always Easy, Smolin Says
Law professor David Smolin, an adoptive parent, was featured in a story first aired by the Birmingham Fox affiliate and picked up widely by other media outlets nationally. Smolin discussed the importance of safeguards in the adoption process. "It's not a fairy tale. People want adoption to be a fairy tale. That's why people are so startled when something goes wrong with adoptions," said Smolin.
First Game in Legion Field Recalls Samford Connection
In a story distributed by the Birmingham Fox affiliate and picked up by other outlets nationally, Samford's involvement in the very first game played in historic Legion Field was mentioned. The Bulldogs defeated crosstown rival Birmingham-Southern College on Nov. 19, 1927. The current story was about the Birmingham Youth Football League championships being played on the 89th anniversary of that first game.
Hartzog Speaks to Proposed Rule Changes for Computer Crime Laws
Law professor Woodrow Hartzog, who specializes in privacy law, said in a recent story that the history of computer crime law shows that vague language can lead to unintended consequences as technology evolves. "Even slight vagaries or miscalculations can result in dramatic expansions of power," he said, citing language in the Computer Fraud and Abuse Act, passed in 1986, that has created "an incredible amount of confusion" over what constitutes a crime. Given the stakes, Hartzog says, the changes to Rule 41 "would seem to require more deliberation and probably some sort of legislative corrective."
Other stories that generated multiple local, regional and/or national mentions for Samford included the conference championships and NCAA appearances by the volleyball and soccer teams, football and the NCAA playoffs, other athletics stories, homecoming, alumni involved in various elections, several alumni appointed to new positions or local/regional boards, and the proposed Young Americans for Freedom student organization.
December 2016
McDermott Discusses "Christian Zionism" in New Book
"The church needs to realize the importance of Israel as a people and a land to the whole Bible—not just the Old Testament" said divinity faculty member Gerald McDermott in an interview about a new book discussing Christian Zionism. McDermott is editor of the volume. The interview was distributed widely. "We also wanted to show that we are Zionists who do not regard today's Israel as a perfect state. We are willing to criticize it when we think it makes mistakes. At the same time, we believe that it is a light of freedom and democracy in the vast darkness of Middle Eastern tyranny and oppression."
175th Anniversary Noted by Birmingham Business Journal 
The Birmingham Business Journal noted the university's 175th anniversary on Dec. 29 by posting a special anniversary video message from President Andrew Westmoreland. "175 years of service, and it's just the beginning," Westmoreland said in the video. "Samford friends, we look forward to a brighter future than we have known." Alabama News Center and Yellowhammer News also featured the anniversary.
Law Alumnus Elected Speaker of Kentucky House
Jeff Hoover, a 1987 Cumberland School of Law graduate, was elected speaker of the Kentucky House of Representatives. He is the first Republican speaker in 95 years. "We have tremendous challenges facing us, but I like to say we have even greater opportunities," said Hoover. "We are up to the task." The story received widespread coverage and included references to his Samford degree.
Bakkegard's Spider Research Cited in Nationally Distributed Story
Research by biology faculty member Kristen Bakkegard was cited in a story picked up by at least 32 media outlets nationwide. The story referenced an orb spider infestation in Conagree National Park. Bakkegard studies the spiders' movement.
Nursing Alumnus Named to National Health Board
Susan Stillwell, a 2009 Doctor of Nursing Practice graduate, has been named to the nursing board of the National Health Council. The story of her appointment, which referenced her Samford degree, was picked up by several dozen regional and national media outlets. She is associate dean for graduate education at the University of Portland.
Alumni Involvement with Work of Worth Featured in Business Alabama
What started as a research project in an undergraduate social entrepreneurship class has turned into a postgraduate job and volunteer opportunity for two alumni with the Birmingham-based nonprofit Work of Worth. As students, Ben Goolsby and Madison Kerns helped write a business plan for the new organization. Goolsby is now an invested partner with the organization, and Kerns continues to volunteer. Business Alabama magazine featured them in a story that included quotes from faculty members Franz Lohrke and Jeremy Thornton.
Pharmacy Research Story Gets Media Attention
Research by students and faculty members in the pharmacy school was highlighted in a story picked up by Yellowhammer News and other outlets. The research, in collaboration with Children's of Alabama, focused on pediatric cancer patients and the way they receive medication and nutrition. "What makes this research so unique is that we are evaluating up to seven medications along with nutrition all combined together, so we're getting questions answered that you can't get from a textbook or other medical literature," said faculty member Greg Gorman.
Other stories during the month that generated media attention to Samford included several alumni professional appointments, new books by alumni and holiday messages featuring faculty.
#####
ABOUT SAMFORD UNIVERSITY -- Samford University is a premier nationally ranked private university deeply rooted in its Christian mission. Founded in 1841, Samford is the 87th oldest institution of higher education in the United States. U.S. News & World Report ranks Samford 3rd among regional universities in the South. Samford enrolls 5,509 students from 45 states, the District of Columbia and 29 other countries in its 10 academic units: arts, arts and sciences, business, divinity, education, health professions, law, nursing, pharmacy, and public health. Samford also fields 17 NCAA Division I teams that compete in the tradition-rich Southern Conference.