Published on December 12, 2018 by Sarah Cain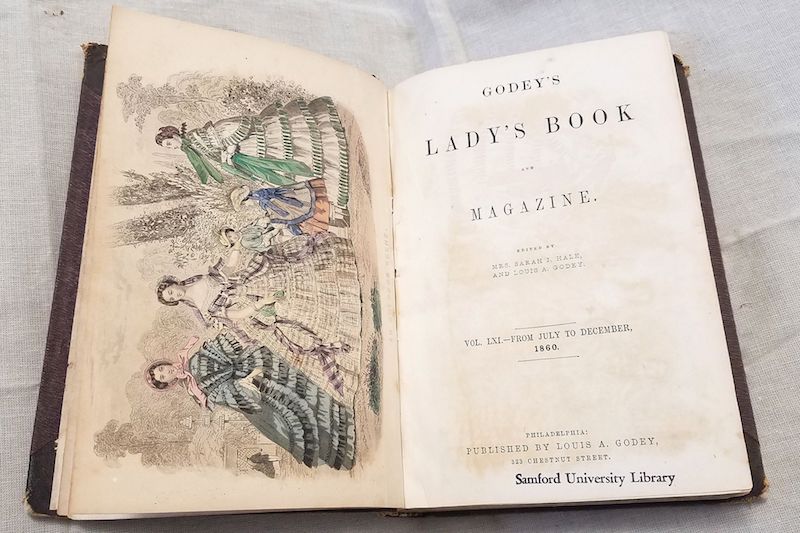 Travel Channel fans may have recently spotted a familiar view on campus during an episode of Mysteries at the Museum, featuring Harwell Goodwin Davis Library and the Special Collection department.
Mysteries at the Museum is a series known for its historical twist on adventure as host Don Wildman visits museums across the country to discover the deeper stories behind artifacts on display. 
The recent episode, "Spacecraft Heist, A Brush with Anthrax and Lift Like an Egyptian," spotlighted the library's expansive special collection including an 1860 copy of Godey's Lady's Book, which Wildman describes as a "seemingly ordinary book" that helped to spread the concept of the Thanksgiving celebration as it is known today. 
The book, alternatively known as Godey's Magazine and Lady's Book, was an American women's magazine published from 1830 to 1878. It was the most widely circulated magazine of the period before the Civil War. Well-known editor of the book Sarah J. Hale used its pages as a vehicle for her campaign to have Thanksgiving designated as a national holiday to bring unity to a struggling nation. The episode calls it, "a story of war, reconciliation, and Thanksgiving."
To find out future airings of the show, visit the Travel Channel.