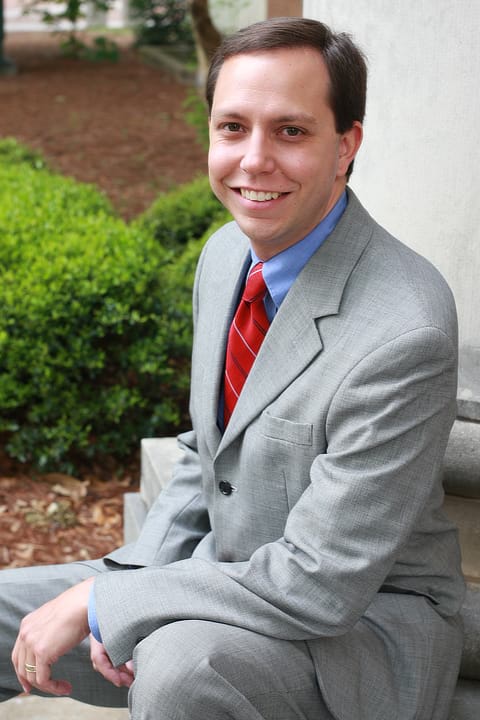 Title
Director of Student Financial Services
Working at Samford Since
November 1, 2007
What does your job involve?
I work with a talented and compassionate team of individuals who help students and families determine whether or not they can afford a Samford education. Student Financial Services was created in the summer of 2013 when, as the director of financial aid, I accepted the additional responsibilities of overseeing the bursar's office and the loan office. Since then, we have completely transformed student financial services by creating the Samford One Stop, financial aid processing and compliance, student accounts processing and compliance, and the university teller. Through these teams we annually strive to make $144 million in student financial aid available to our students. We also manage the billing and collection of over $205 million in annual charges for our students. Recently, we added to our team a dedicated professional who assists our military veterans and veterans beneficiaries utilizing state and federal veterans benefits. Last year we also began printing and distributing all student IDs and in conjunction with transportation services served a distribution hub for student parking decals at the start of fall and spring terms. At the end of the day, we like to say we are here to help our students with the business of being a Samford student. There are numerous moving parts that are continually being observed and manipulated to ensure our students can enroll, remain enrolled and reach their goals of earning a Samford degree.
What specifically lead you to your role?
In the summer of 1997, I was living in Memphis, Tennessee, and looking for my first job after having just graduated from Ouachita Baptist University. While completing that job search I recognized God was calling me to Christian higher education as a career and as a place of service. I reached out to Ouachita's then-Vice President of Development, Andy Westmoreland for some advice and mentoring. After earning a master's degree in higher ed administration/college student personnel at the University of Tennessee, I headed back to Ouachita to work from 2000 to 2007. In 2007, I was hired at Samford as the director of financial aid and the rest is history.
What is your favorite part about working with Samford students?
Knowing that we play an integral role in helping someone's dream of earning a Samford degree come to fruition. I think because we are here day after day working behind the scenes and dealing with the good and the bad, we sometimes grow numb to how special Samford is and how people long to be part of it. I love the first day of Bulldog Days, and, even more so, Move-in Day each fall. The excitement on the faces of the students who have finally arrived at this place is one of the great joys of serving at Samford. In those moments, you see them satisfy that longing to be here and can enjoy the mystery of what all lies ahead in the coming four years or so.
What is the best piece of advice you were ever given and by whom?
My grandfather on my mom's side of the family became the head of his household when he was 13 or 14 years old. With a mother in her mid-30s and two younger brothers when his father suffered an early and unexpected death, my grandfather was required to grow up quickly. He attended Mercer University in the 1930s relying on a basketball scholarship and four part-time jobs to stay enrolled and send money home. His example of hard work and determination has always played a role in how I approach my work and life in general.
However, it was how he treated others with compassion and respect that I believe has the greatest impact in how I face my responsibilities in serving our students and families at Samford. He started two banks in East Tennessee during his career. He would often tell stories of regular, everyday working folks who, from time to time, would need access to funds at the bank in order to "make it." One story in particular was about a man who stopped by the bank on Christmas Eve needing a $50 loan in order to buy Christmas for his children and wife. The man had no connection with the bank other than living or working nearby. After a conversation with the man, my grandfather gave the man a loan based on a handshake and reliance on a belief the man would be back in the new year to make good on his pledge.
With all the different students on our campus and the myriad financial situations they represent, I hope my team and I are able to take the same approach my grandfather took—to see the good in every person and work to meet their needs to the best of our abilities. I have a picture of him at age 10 or so and his dad standing in their country store in Dooly County, Georgia, and sitting just across my desk to remind me of his work ethic and compassion for his fellow man.
What is one thing others may not know about you?
On June 2, 2016, our family got a call from Jefferson County DHR saying an almost three-year-old girl needed an emergency foster care placement. We had just completed all our training and paperwork in order to be certified as a foster family. Fast forward to today, that almost three-year-old girl is our almost seven-year-old daughter. We completed her adoption in April 2019 and she is the fourth and final child in our family. She was our first and only foster placement. We know God had her picked for us way before June 2, 2016 and we are so glad He did.
Bonus Fact
In spring 2020, I had the opportunity to step into the classroom as an adjunct instructor for a Masters of Studies in Law course that explored the financial compliance in higher education. It was a great learning experience to have a small taste of how Samford's faculty serve on a day-to-day basis.