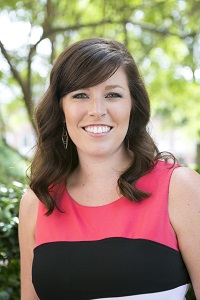 Assistant Professor
McWhorter School of Pharmacy
Department of Pharmacy Practice
Office: 1436 CHS Building 1
Born and raised in Birmingham, Ala., Katie Boyd's education and career have taken her to several interesting places including the National Cancer Institute, New York-Presbyterian Hospital, outpatient cancer clinics as well as inpatient stem cell transplant centers.  Her favorite scripture, Romans 12:12, "Be joyful in hope, patient in affliction, and faithful in prayer," is one she enjoys sharing with her patients.  As a member of the McWhorter School of Pharmacy faculty, Boyd hopes to continue the legacy that was shared with her as a student.  In her spare time, she enjoys traveling, running, cooking with friends and volunteering in various capacities in Birmingham and across Alabama.  
Degrees and Certifications
Pharm.D., Samford University
PGY1 Pharmacy Practice Residency, New York Presbyterian Hospital
B.A., dance, University of Alabama
Board Certified Pharmacotherapy Specialist, Board of Pharmacy Specialties
Expertise
ambulatory care, hematology/oncology, stem cell transplant, critical care, smoking cessation
Publications
Boyd K, Hilas O.  a-Adrenergic Blockers for the Treatment of Lower-Urinary-Tract Symptoms and Dysfunction in Women. Ann Pharmacother. June 2014; 48(6):711-722.
Involvement
American Society of Health System Pharmacists
American College of Clinical Pharmacy
Hematology/Oncology Pharmacists Association
Junior League of Birmingham