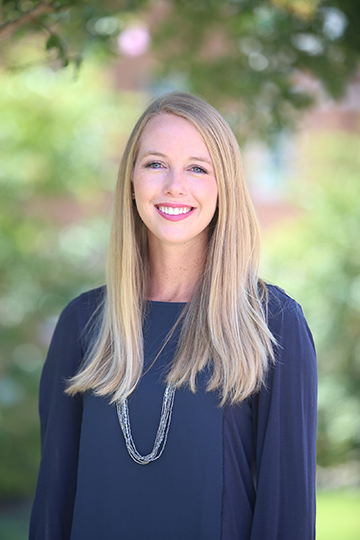 Assistant Professor
McWhorter School of Pharmacy
Department of Pharmacy Practice
1436 CHS Building 1
Melanie Manis joined McWhorter School of Pharmacy family in 2018 after completing her postgraduate training at MUSC in Charleston, South Carolina. She values teaching at Samford University where she can serve the Lord through student education, innovative research and clinical practice. Manis enjoys sharing her passion for pharmacy and inspiring students to become life-long learners. Melanie enjoys playing golf in her free time.
Degrees and Certificates
Doctor of Pharmacy, University of Tennessee Health Science Center
PGY1 Pharmacy Practice Residency, Medical University of South Carolina
PGY2 Internal Medicine Pharmacy Residency, Medical University of South Carolina
Board Certified Pharmacotherapy Specialist
Awards and Honors
ACCP Adult Med PRN Poster of the Year, 2019
ALSHP New Practitioner of the Year, 2019
ACCP Adult Med PRN FIT/MeRIT Scholarship, 2019
MUSC Health Pharmacy Residency Research Excellence Award, 2017
Merck Manual Award for Academic Excellence, 2016
Publications
Roberts MZ, Manis MM, Sebaaly JC, Tran E. Postgraduate year two pharmacy residents' perceptions of pursuing board certification during residency training. J Am Coll Clin Pharm. 2019 Oct 22.
Seymore RJ, Manis MM, Coyne PJ. Dexmedetomidine use in a case of severe cancer pain. J Pain Palliat Care Pharmacother. 2019 Jun 26:1-8.
Brown CB, Manis MM, Bohm NM, Curry SR. Oral vancomycin for secondary prophylaxis of clostridium difficile infections. Ann Pharmacother. 2019 Apr;53(4): 396-401.
Involvement
Alabama Society of Health-System Pharmacists (ASHP)
American Association of Colleges of Pharmacy (AACP)
American College of Clinical Pharmacy (ACCP)
Ladies Professional Golf Association (LPGA) Amateurs - Birmingham
Expertise
Adult inpatient medicine
Transitions of Care