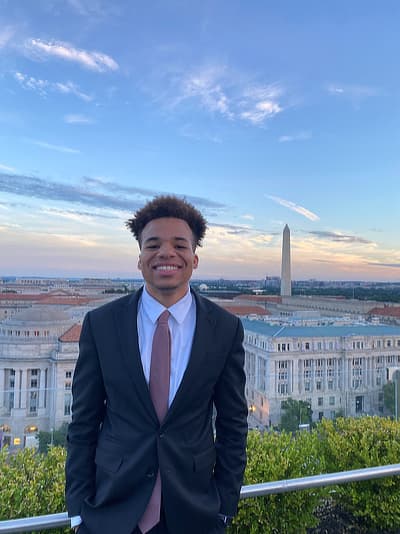 David's Experience
Internship Location
Patriotic Millionaires. Patriotic Millionaires is a nonpartisan member organization of high net-worth individuals in the U.S. and the UK who advocate for the restructuring of their respective tax systems so that wealthy people contribute a large portion of their income in taxes.
Evening Class
International Business: Case Studies in Strategic Trade Management
What types of things did you work on in your internship?
I was responsible for creating content for our social media platforms (LinkedIn, Instagram, and Twitter). In addition to handling social media marketing, I also wrote and edited blogs and newsletters focused on socioeconomic inequality. I also handled various administrative duties and tasks.
What was your favorite part of the experience and/or what recommendations you have for future interns?
My favorite part about spending my summer in D.C. was the people that I met while at the Washington Center. Receiving the opportunity to live and work with people from across the world was a truly unique experience that I'll never forget. I was surprised by the sheer amount of diversity that the Washington Center had. I was able to meet people from all over the world, and now not only have lifelong friends all around, but I also have a place to stay if I ever decide to visit France or the Virgin Islands!