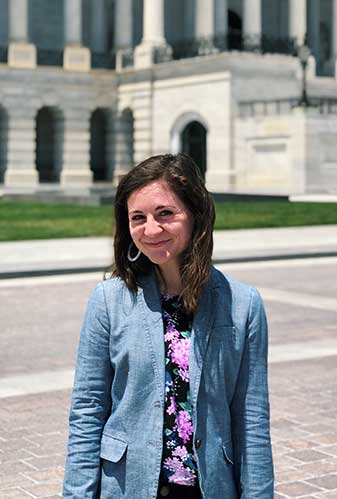 Major: Political Science and Spanish
Minor: Math
Juliana's Experience
Evening Class
Political Psychology
What kinds of things did you do at your internship site?
I primarily conducted research for the lobbyists and their clients. This included transcribing congressional hearings, compiling backgrounders on various topics relevant to clients' areas of interest, and researching organizations and businesses that could be potential clients. I also attended various events, meetings, and hearings to take notes for the lobbyists. Towards the end of the summer, I had the opportunity to assist in the lobbying efforts in favor of the Improving Access to Medicare Coverage Act of 2019 in multiple representatives' offices on Capitol Hill. 
What was your favorite part of the experience and/or what recommendations do you have for future interns?
I would definitely recommend getting out and exploring DC as much as possible, even if you don't have anything planned! Some of my favorite memories from the summer are from the times when I just decided to get out and walk around the city, and I stumbled across so many fun places and events that I never would have known about if I hadn't gone exploring. Don't be afraid to go on an adventure!