Published on October 21, 2015 by Jimmy Lichtenwalter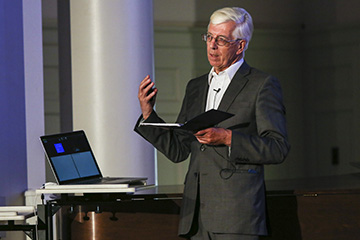 Samford University's Center for Science and Religion hosted renowned scholar and academician Denis Alexander from Cambridge University in England for several events Oct. 19.
Alexander is emeritus director of the Faraday Institute of Science and Religion at St. Edmunds College in Cambridge, a molecular biologist and devout Christian.
Alexander gave a major lecture titled "Science and Religion: More Similar Then You Think," which covered the similarities between the disciplines of science and theology.
"There are fuzzy boundaries between science and other studies," Alexander said. "And these boundaries are shifting."
According to Alexander, while science explains the properties and laws of the physical world, it "excludes the question of ultimate purpose, value and meaning."
In contrast, theology and religion both "generate a different kind of meaning."
"Science cannot explain itself," Alexander concluded, "you need faith that the universe is comprehensible."
Following the lecture, Alexander answered questions from the audience that ranged from evolution and religion to creationism.
Earlier in the day, Alexander led a workshop for ministers on "How to Respond to Atheists."
Jimmy Lichtenwalter is a journalism and mass communication major and a news and feature writer in the Office of Marketing and Communication.