A Path Forward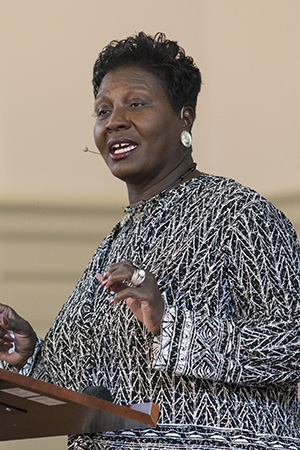 Elizabeth Sloan Ragland became the first woman to integrate campus housing at Samford. Ragland was a viable part of campus as a leader and student. After graduation, she stepped into a successful career in telecommunications and radio. With a warm heart and bright spirit, she went on to be a woman of impact and influence in her beloved community.
A Purposeful Community
The Ragland Scholarship exists to cultivate academic and social support for Black, Indigenous, and People of Color (BIPOC) entering Samford. The students, faculty and staff that comprise the Ragland Scholars program aim to empower, foster and promote the leadership and academic excellence of Elizabeth Sloan Ragland. In her memory, Samford seeks to orchestrate an intentional community designed to connect ten multicultural student leaders with an enhanced Samford experience.
2023-2024 Cohort
Nyah Anderson 
"Samford is not only a place where I can actively practice my faith and get an education but it's a place to be in community and make lifelong friends."
For Nyah Anderson, Samford is a place where her passions for faith and education can be combined into the catalyst for her growth.
"When first visiting Samford, I knew that this would be a place of growth for me," said Anderson. "I heard some of the Ragland Scholars speak and knew right then this was more than just getting plugged in to people who feel the way I do. I knew at that moment that this program was about preparing students to achieve high levels of success."
The Dallas, Texas, native is majoring in public health and hopes to send an important message to future generations and her peers.
"My goal is to take what I learn as a Ragland Scholar and apply it on campus. I want people to know that it is okay to be different and it is okay to grow up from different backgrounds," said Anderson.
Blake Andres 
"Samford was the right university for me to grow intellectually and improve my relationship with Christ. Additionally, being accepted into the Ragland Scholars confirmed that I could be a valued member of Samford's community in a manner that wasn't possible at other colleges I applied to."
Originally from Orlando, Florida, Blake Andres is studying business management with a concentration in sports marketing and analytics; Andres is also a University Fellow and a Global Missions Scholar. It was the wide array of opportunities at Samford that made Andres feel so welcome.
"Learning of programs like Ragland Scholars and IMPACT confirmed for me the efforts of Samford to make every one of their students comfortable on campus, even those that look like me," said Andres.
The son of two first-generation college students, Andres wants his time as a Ragland Scholar to be in honor of his family who came before him and were unable to attend college.
"Overall, being a Ragland Scholar represents a culmination of all the hard work my family and I have done to get where we are today," said Andres, "When considering all of my relatives that were not able to attend college due to socioeconomic circumstances, I realize how fortunate I am to be attending Samford. I will aim to excel as a Ragland Scholar so they can live through me and share in my success."
Olivia Douglas 
"I chose Samford because of how valued I felt the moment I stepped on campus. There is this energy that the campus and its students emit that makes you feel wanted and appreciated. Many colleges can look good on paper, but Samford tapped into a moral aspect of education and self-growth that I do not think I could get anywhere else. Samford gave me options no one else offered and opened a door I thought was previously closed."
Olivia Douglas is from Alabaster, Alabama, and is on the pre-medicine track majoring in sports medicine. Douglas says the Ragland Scholars experience is all about inclusivity and community.
"Being a Ragland Scholar means the opportunity to succeed not only academically but socially," said Douglas, "It means inclusivity and empowerment. It means representation and acknowledgement. To be seen, heard and chosen. It means a chance for me to be included."
Douglas believes the Ragland Scholarship is about more than easing the burden of the cost of tuition; it is about growing into the leader she knows she can be.
"I am utilizing this opportunity to become more involved on campus. I hope to become a better leader and mentor to those who are underrepresented. The values I learn on campus are ones I hope to use and translate into skills for my future. I want to trailblaze and set a new path for first-year students and carry that with me into the workforce," said Douglas.
Elena Escobar 
"The Ragland Scholarship stood out to me because of the leadership opportunities it presented. As a diverse Samford student, I want to raise the standard of what being in the minority means on campus by cultivating a community of students who admire and recognize each other's abilities and differences."
Originally from Houston, Texas, Elena Escobar came to Samford to study nursing. At first, she was hesitant about leaving her home to attend school, but after visiting Samford, she knew this was where her passion could meet its purpose.  
"With my education, I want to give back by identifying future problems, specifically regarding the lack of excellent healthcare in countries, and equipping students with the tools they need to then go out and solve these problems as a team," said Escobar.
Escobar wishes to demonstrate her passion for serving others as a Ragland Scholar, hoping to expand opportunities for students and to encourage them to step out of their comfort zone and to be empowered.
Sofia Marrufo 
"Being a Ragland Scholar means that I get to set an example for others. I am proud to be a Ragland Scholar and I hope to make God, my parents and the Samford community proud."
Sofia Marrufo from Alabaster, Alabama, chose to pursue her passion at Samford in part because of Brock School of Business's incredible sports marketing and analytics program and because she felt like Samford was home.
"I felt welcome and wanted by each person that I encountered throughout my application process," said Marrufo.
Marrufo intends to make an impact at Samford by increasing the percentage of Latino and Hispanic students on campus and spreading awareness about her faith and other cultures.
"I want to use my voice as a Ragland Scholar to reflect God's grace and the Hispanic population outside of Samford on campus," said Marrufo.
Nia Settles 
"As a Ragland Scholar, I get the unique opportunity to carry on Elizabeth Sloan Ragland's legacy. I get the opportunity to empower, foster and promote leadership while maintaining excellence on Samford's campus."
Originally from Hoover, Alabama, Nia Settles came to Samford to study nursing, but says her initial attraction was the university's student engagement, organization and ministry. She now intends to show other students the same thing.
"I would not be at Samford if it wasn't for my peers and mentors encouraging me to take that leap," said Settles. "It was not easy getting here and I hope that I can be that person others seek out when they are ready to take the next step."
For Settles, being a Ragland Scholar is about improving Samford for the sake of others and building up the community that she fell in love with.
"It is an honor to be a Ragland Scholar, and I feel special being able to work so closely to improve diversity efforts. I hope to make an impact at Samford by getting involved and by simply encouraging others who like me," said Settles.
Aileen Soto Campero 
"When I found out that I was a Ragland Scholar the first thing that came to my mind was the ability to say that a person like me belongs at Samford."
Aileen Soto Campero from Hoover, Alabama, is beginning her Samford career studying architecture. Soto Campero chose Samford for several reasons: she felt wanted here and she knew she could grow spiritually and professionally here. Soto Campero believes this will empower her to make an impact on her community.
"I want to grow and apply my faith into my profession to be able to one day become an architect that gives back to my community," said Soto Campero.
To Soto Campero, community is about belonging and she intends to use her position as a Ragland Scholar to cultivate meaningful relationships and lead others.
"I hope that as a student and a Ragland Scholar, I am able to be an example to future students and prove that they too belong here," said Soto Campero.
John Summerville 
"To me being a Ragland Scholar means setting a good example and paving the way for future scholars on the road of diversity on campus. I chose Samford because of the kinds of people here, the tight-knit community, and the specific major being offered here."
John Summerville is from Bessemer, Alabama, and he chose to come to Samford to study 3D Animation & Game Design.
"I chose Samford because of the kinds of people here, the tight-knit community, and to pursue my passion in the specific major being offered here," said Summerville.
To Summerville, being a Ragland Scholar is about service to others, and he intends to do just that in this position.
"I want to do what I can to help others achieve their goals, whether they be simple or extremely daunting. I want to help, as long as I can be of assistance and not hold anyone back from being their best," said Summerville.
2022-2023 Cohort
2021-2022 Cohort
Caley Ingram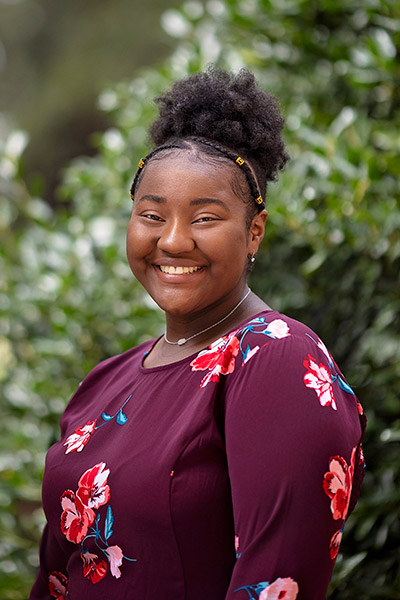 "I cannot wait to see how God works through the wonderful people who comprise the Ragland Scholars program as we work towards cultivating an environment that embraces our beautiful differences as well as seek to make a meaningful impact on campus and beyond."
Gabriela Aleman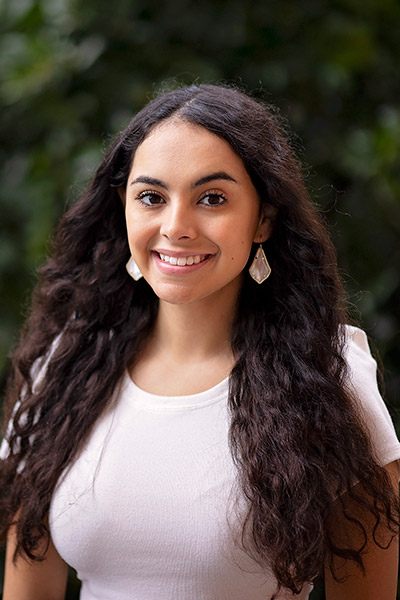 "As a Hispanic student and understanding that there is a small population of us present at Samford, I knew that I would love to be part of promoting diversity on this campus."
Hannah White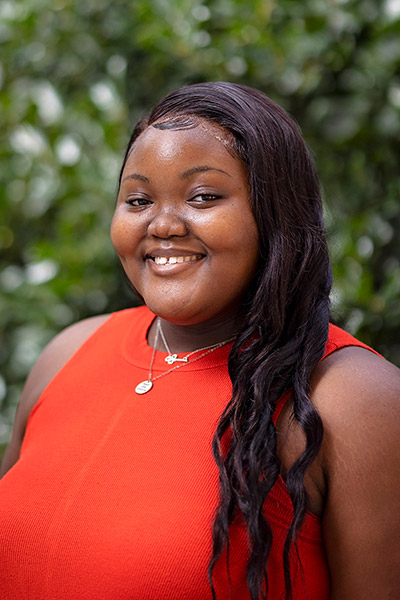 "Being a Ragland Scholar feels like I just got hired and already received a promotion. I'm grateful for the staff deeming me worthy enough to be a Ragland Scholar…I know that I'm going to excel in this program because I have people, that look just like me, here to support me."
James Jefferson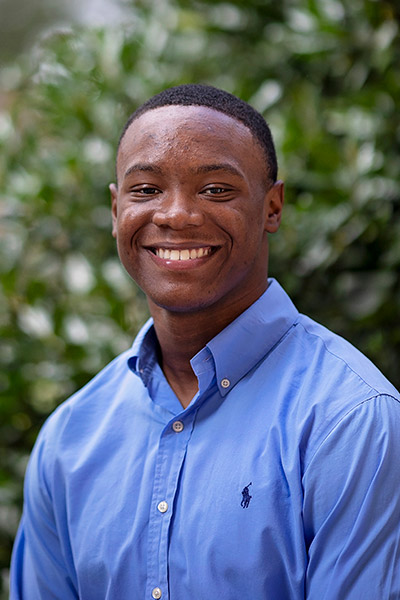 "The Ragland Scholars Program not only offers diversity but being able to hear, understand, and empathize with different perspectives and backgrounds ultimately helped drive my interest in the program."
Myles Wynn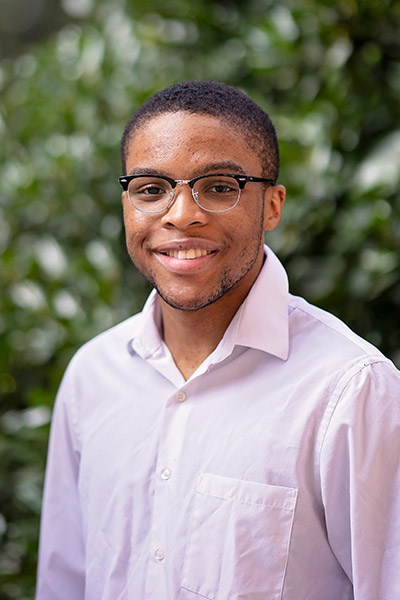 "The Ragland Scholars program wasn't just a good way to start relationships with others. It was also a good way to build relationships with people with similar backgrounds as mine. I found the Ragland Scholars as a good way to get outside my comfort zone and build connections with others."
Jon Coley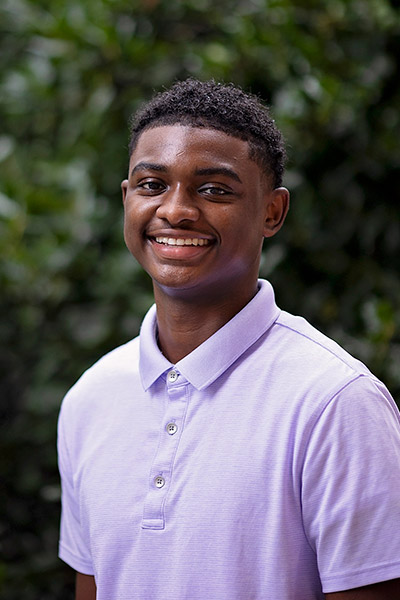 "I am looking forward to the academic enrichment and excellence standards that will help me to work harder from the Ragland Scholars Program. I am also looking forward to meeting a new community of people who appear similar to me while having the same academic intentions and desires."
Program
Participants of the cohort commit to maintain a 2.0 GPA in Samford coursework and play an active role in furthering diversity initiatives on campus. Students will enroll/participate in IMPACT, Introduction to IMPACT (I2I), Office of Student Success and Diversity Foundations course, Cultural Arts (CA) and Cultural Perspective (CP) and in exchange be secured with:
A competitive scholarship award
Intentional learning communities
Peer-to-peer mentoring
Priority class registration
Multicultural experiential learning opportunities
Eligibility
Prospective Students
Applicants must meet all requirements for admission to Samford University and must be admitted at the time of any official announcement of award.
Requirements for Admission
Applicants must meet all requirements for admission to Samford University and must be admitted at the time of any official announcement of award.
Leadership
Applicants must demonstrate leadership inclination or capacity, energy, industry and self-reliance in extracurricular activities.
Timeline
February 15: Completed application materials and recommendations deadline
March: Ragland Scholars announced
May 1: Ragland Scholars confirmation deadline
Application
To apply for scholarships, you must have an online Samford account. If you've started your Samford/Common App admission application, you can apply for scholarships using the same login information. If you haven't started an admission application, please log in as a new user.