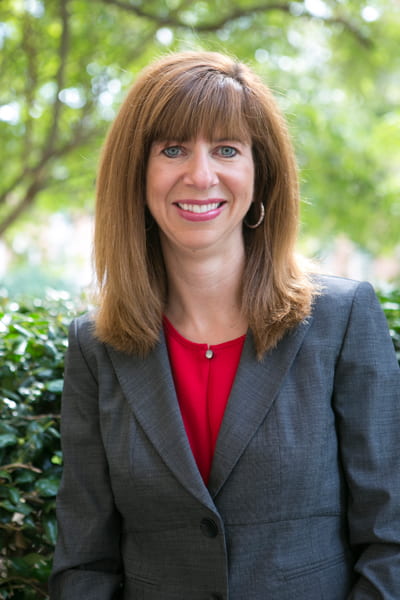 Associate Provost for Student Success and Institutional Research, Associate Professor of Core Curriculum, Interim Registrar
Academic Affairs
Academic Affairs
Office: 311 Samford Hall
As associate provost, Dr. Biggio's chief focus is coordinating University-wide efforts for student success, including student retention programs. Her key responsibilities include oversight of Samford's Career Development Center, Disability Resources, Academic Success Center, Student Records and Global Engagement, as well as Interim Registrar.  
Prior to joining Academic Affairs, Dr. Biggio served as director of Samford's Honors Program, director of its Center for Teaching, Learning and Scholarship and director of the Samford in Mission Grant, a $2 million provision from the Lilly Endowment's Programs for the Theological Exploration of Vocation.
Previously a Samford assistant professor of political science, Dr. Biggio is currently an associate professor of core curriculum. Before joining Samford's faculty, she served as an assistant professor of political science at Birmingham-Southern College and adjunct instructor of political science at the University of Alabama at Birmingham. She holds a Ph.D. and M.A. in political science from the University of Alabama at Tuscaloosa and earned her B.A. in political science from Drew University. She has also completed the Harvard University Graduate School of Education's Institute for Management and Leadership in Education course.
Her past and present service on more than a dozen key Samford committees includes numerous leadership search committees, Samford's Southern Association of Colleges and Schools Commission on Colleges Steering Committee and QEP Planning and Implementation as well as committees ranging from Academic Technology and Learning Resources to Enrollment Management.
In addition to ongoing professional development conferences, Dr. Biggio has also made numerous national presentations reflecting her varied expertise. Her research focus, the rationality of the use of violence by religious and secular groups using an expected utility theory, makes her a frequently-cited source for local media seeking insights on terrorism and international events. She is also a highly-respected speaker for higher education audiences on topics ranging from student retention and advising to vocation formation.  
Dr. Biggio's study and service interests are reflected in her previous work in and through three philanthropic grants. A Samford Experience Education Initiative entitled "Encouraging Vocational Discernment" provided funding for training and faculty development of internships and connections with student vocational goals. An AmeriCorps VISTA grant provided three-year funding for Samford's service work in the Black Belt of Alabama, inner-city Birmingham and Alabama immigrant communities, and the matching Lilly Endowment provided for continuing programs on the theological exploration of vocation.
She regularly shares her professional skill sets with numerous community organizations, currently serving as chair of the Steering Committee of the Youth Leadership Forum of Birmingham. Dr. Biggio is also an active supporter of Homewood Schools' music programs and served as a middle school representative and chair of the Homewood Education Advisory Board. For five years she served on the Junior Board of the YWCA of Central Alabama. 
Dr. Biggio enjoys travel, fitness and great food with her husband, Joey, who is a maternal fetal medicine specialist, son Connor, and daughter Sophia.