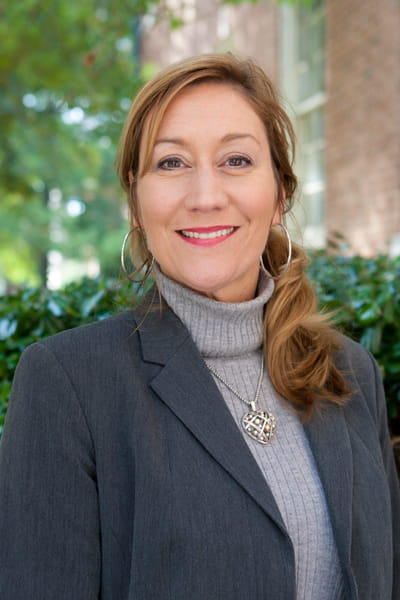 Associate Provost for Assessment and Accreditation, Associate Professor of Pharmacy
Academic Affairs
Institutional Research and Analytics/Assessment and Accreditation
Office: Samford Hall 311
In 2015 Dr. Mintz assumed her current responsibilities as Samford's associate provost for assessment and accreditation, having previously served Samford's College of Health Sciences as associate dean for assessment and associate professor of pharmacy.
In her current role Dr. Mintz employs her decades of experience in accreditation and self-studies to support Samford's assessment and accreditation processes. Those efforts include managing Samford's compliance reports and providing guidance for Samford's Quality Enhancement Plan and other campus-wide committees, including the General Education Committee, University Curriculum Committee and University Assessment and Accreditation Council.  
Dr. Mintz's foundational work for Samford's College of Health Sciences included assisting with the three-year establishment of two new schools housing more than ten new degree programs while supporting those programs' accreditation studies through more than a dozen national councils/commissions' processes.
Prior to joining Samford's faculty, Dr. Mintz was the director of assessment for the masters and bachelors programs at Walden University in Minneapolis while also a contributing faculty member for Reading and Literacy Leadership in Walden's Riley College of Education and Leadership.
Dr. Mintz's academic administration and assessment expertise is supported by her extensive classroom teaching experience, beginning in public school settings and extending to higher education. In addition to the Samford and Walden University faculties, she has also served as an assistant professor of education at Georgia's Berry College, adjunct instructor for Lesley University's Massachusetts-based national language and literacy program and associate professor of secondary education at the University of North Alabama.
Dr. Mintz holds an Ed.D. in curriculum, instruction, and assessment, an Ed.S. in English education, and a M.A. in English education, all from the University of Alabama. Her B.S. in education is from Jacksonville State University. Her post-doctoral credits include coursework with the Association for Institutional Research's Data and Decision Academy and Harvard Medical School's Macy Institute and School of Education courses as well as MBA studies at Walden.
In addition to her professional service as an institutional liaison, institutional effectiveness evaluator and presenter for the Southern Association of Colleges and Schools Commission on Colleges (SACSCOC), Dr. Mintz is a site visitor for SACSCOC. She also serves as a site visitor and reviewer for the Council for Accreditation for Educator Preparation. Her lengthy list of professional conference presentations includes serving as an invited faculty scholar at the Harvard Macy Institute and invited speaker at the American Association of Colleges of Pharmacy. In 2013 she was the keynote speaker at the Jamaican Teachers Association.
Dr. Mintz's research on subjects ranging from language arts to pharmacy education has been published in multiple professional journals. Having previously edited/reviewed for AB Longman, Pearson Education and Currents in Pharmacy Teaching and Learning, she is currently a reviewer for both the U.S. Department of Education What Works Clearinghouse and Prentice Hall's literacy division. Her curriculum and assessment development and design experience spans the B.S., M.S., and graduate certificate spectrum, from programs in middle grade science to educational leadership and administration.
In 2013 the American Association of Colleges of Pharmacy awarded Dr. Mintz its Noteworthy Practice Award. Her range of professional memberships reflect her varied research interests, from the Association for Instructional Research to the American Association of Colleges of Teacher Education. She also generously volunteers her time in community service. Licensed in Equine Assisted Learning, this horse owner volunteers at The Red Barn, which provides equine-assisted therapy for adults and children. 
Dr. Mintz is the mother of two adult sons. An avid runner, she is also a member of Clearbranch United Methodist Church.
Degrees and Certifications
Ed.D., curriculum, instruction and assessment, University of Alabama
Ed.S., English education, University Alabama
M.A., English education, University of Alabama
B.S., education, Jacksonville State University
National Board for Professional Teaching Standards Certification
Expertise
Higher education assessment and accreditation; innovative technologies in higher education teaching and learning; online teaching and learning
Involvement
National Council for Accreditation of Teacher Education/Council for the Accreditation of Educator Preparation Board of Examiners
National Council for Teachers of English Program Reviewer