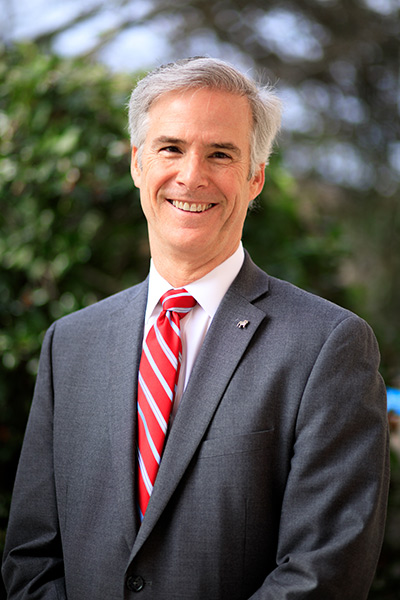 Vice President for Finance, Business Affairs and Strategy
Finance, Business Affairs and Strategy
 Samford Hall
Colin Coyne oversees all facets of the University's financial, accounting, investment, asset management, human resources, information technology, internal audit, institutional compliance, business affairs, campus planning, construction, facilities management, public safety and business affairs functions. Dr. Coyne retains responsibility for creation and implementation of strategy at the university, academic and administrative unit levels; stewards innovation and new growth opportunities across modalities and geography; and, ensures an environment of candid, creative and transparent decision-making to engender sustained evolution of the University.  Dr. Coyne serves on the university's Executive Leadership Team, the President's Cabinet, the University Council (Chair) and represents university administration on the Business & Financial Affairs, Operations & Planning, Audit and Investment Committees of the Board of Trustees. 
With work spanning 19 countries, 35 years and multiple industry sectors, Dr. Coyne most recently served as Chief Strategy Officer at Samford for nine years prior to his current appointment.  Dr. Coyne's career includes extensive experience at the executive level for and within private and publicly organizations in the areas of corporate strategy, internationalization, finance, marketing, investment structuring, capital formation, operations, real estate, sustainability and turnarounds. 
Dr. Coyne earned his doctorate in higher education leadership and policy from Vanderbilt University; his MBA degree from the Kellogg School of Management at Northwestern University with concentrations in Marketing, Finance and International Business; and, his bachelor of science in Economics and Business Administration from Vanderbilt University.  He has served as a member of the Samford University faculty since 2009 and previously served on the faculties of the Kellogg School of Management, Lipscomb University, Birmingham-Southern College, and Auburn University's Economic & Community Development Institute.   Dr. Coyne received the American Association of University Administrators' Donald A. Gatzke Dissertation of the Year award in 2018 for his work, "An Explanatory Model of First Year Retention".
Dr. Coyne is a 2008 graduate of Leadership Birmingham; a 2007 graduate of the Georgia Institute for Environmental Leadership; and, in 2011 outpaced 1,115 entries from 37 countries to claim the Community Foundation of Greater Birmingham's $50,000 Prize 2 the Future competition seeking the best idea to "transform Birmingham into a cooler, more vibrant city".  He has served on a number of local, regional and national civic and industry boards; is a frequent national and regional speaker on finance, global trends and strategy; and, serves as a financial reviewer for the Southern Association for Colleges and Schools Commission on Colleges (SACSCOC).
Dr. Coyne and his wife Leslie, an attorney and Cumberland School Law alumna, live in Vestavia Hills, Alabama.  They have three adult children – Ariana (BS '17), Dallas and Zoe (MSE '22).