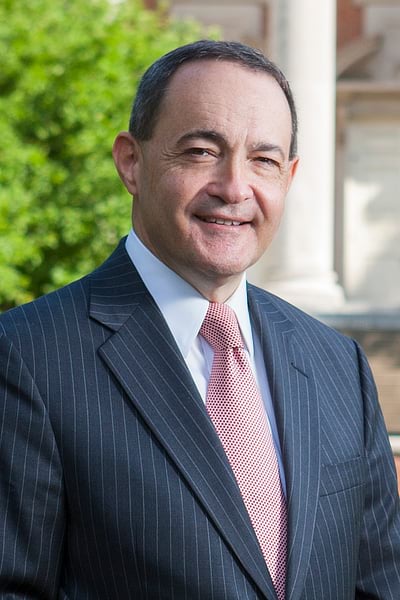 Executive Director
Frances Marlin Mann Center for Ethics and Leadership
Andrew Westmoreland currently serves as president emeritus of Samford University and executive director of the Frances Marlin Mann Center for Ethics and Leadership. Westmoreland served as Samford University's 18th president from June 1, 2006 to June 30, 2021. As Samford's president, Westmoreland led the university to embrace a vision to enrich and expand its service to students, and further inspire their desire to meet the needs of the world. To advance his vision, the university committed to a challenging strategic plan with four priorities: emphasize student success, enhance our community, extend our reach, and ensure financial strength.  Forever Samford, a six-year, $300 million capital campaign, and the largest undertaking of its kind in Samford University's 179-year history, was launched in 2016. Funding from the campaign will help to ensure that Samford continues to prepare and send dedicated, thoughtful and ethical people out into the world.
Prior to assuming the Samford presidency, Westmoreland was president of Ouachita Baptist University in Arkadelphia, Arkansas. Before his selection as Ouachita's president in 1998, he had served on the administrative staff for more than 19 years in various capacities.
Westmoreland holds undergraduate and graduate degrees in political science and a doctorate in higher education administration. A native of Arkansas, he is married to Dr. Jeanna Westmoreland. They have one daughter, Riley, who is a graduate of Samford and of Vanderbilt University.
His career in higher education spans 40 years, including two college presidencies.  In addition to his duties as Samford president, Westmoreland teaches courses in political science as his schedule allows. He serves as a member of many boards for charities and other entities, and he is an author and speaker. He is the past chair of the Board of Trustees for the Southern Association of Colleges and Schools Commission on Colleges, which oversees accreditation for more than 800 colleges and universities from Virginia to Texas. He also served as president of the American Association of Presidents of Independent Colleges and Universities.