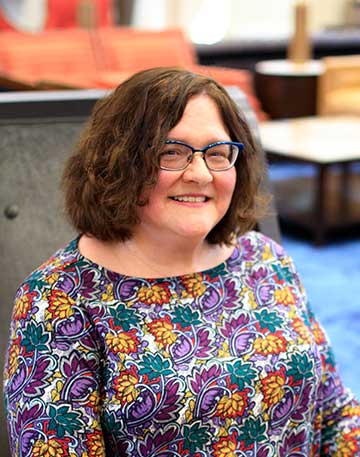 Digital Communication Specialist
Marketing and Communication
Web Services
Office: 402 Samford Hall
Donna has worked at Samford University since 1988. She has been in the office of university advancement since 2000, when she was hired as the campus' first official web designer. She came to the division from the Samford University Library, where she held various positions for 12 years, including catalog librarian, reference unit coordinator and bibliographic instruction librarian. Donna served on the web team there and helped create one of the university's first websites, library.samford.edu, in 1994. She is a past president of the Alabama Library Association. A member of the original pilot group that taught in the Cornerstone curriculum, Donna also taught web design for several semesters as an adjunct professor in the Department of Journalism and Mass Communication.
Donna is a member of Crosscreek Baptist Church, where she sings in the choir. She is the author of two independently published novels, Second Death and The Source of Lightning, as well as the editor of A Thematic Catalogue of the Musical Works of Johann Pachelbel, written by her late stepfather Jean M. Perreault and published by Scarecrow Press.
Degrees and Certifications
Bachelor of Arts, major in art, University of Alabama in Huntsville
Master of Library Science, University of Alabama
Master's Certificate in Web Design & Development, University of Denver
Master of Science in Education, Instructional Design & Technology, Samford University
Awards and Honors
Kappa Delta Pi International Honor Society in Education
1989 EBSCO Award for Excellence in Library Research
Publications
Editor, The Thematic Catalogue of the Musical Works of Johann Pachelbel (2004, Scarecrow Press), by Jean M. Perreault
"Continuous Assessment of the Academic Library: A Model and Case Study," in Delmus E. Williams and Edward Garten, eds. Advances in Library Administration and Organization, vol. 13, 1995
"Turning the Library Upside Down: Reorganization Using Total Quality Management Principles," co-written with Jean Thomason and Elizabeth Crabtree Wells, Journal of Academic Librarianship vol. 19, no 5 (November 1993): 294-299.
Involvement
Horror Writers Association