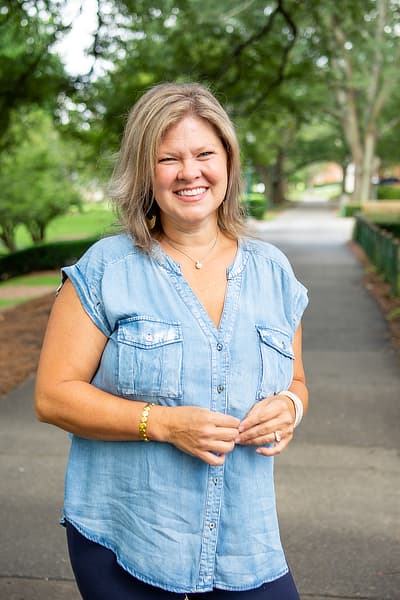 Global Missions Scholars Program Assistant
Office of Spiritual Life
207 Burns Hall
Felicia "Fish" Belter has served Samford as the Program Coordinator for the Global Missions Scholars Program since the Fall of 2014. 
During a search for a Master of Divinity program, Felicia visited Samford. From the beautiful campus to the breathtaking Hodges chapel, Felicia began to sense that God had plans for her and decided to pursue a MDiv degree. After graduating from Beeson Divinity School, Felicia decided to stay in Birmingham to pursue her call to College Ministry at Shades Mountain Baptist Church where she served as the College Associate for 6 years. Felicia has also served as a Children's Ministry Associate in Georgia and a Student Ministry Associate in Alabama. 
Felicia and her husband, Jake, have 3 children; Miles, Will and Lily Ray. They are actively involved in sports, so Felicia spends her time outside Samford training to be an efficient Uber driver and catching up on podcasts when the kids are at practice. Felicia loves to be outside hiking, paddling, biking, and enjoying God's amazing world both across the globe and in her own backyard. When she's feeling really contemplative, she likes to play her guitar or go for walks. 
At the age of 8, Felicia read a book about the missionary, Lottie Moon. The recognition that someone would leave their home and what was comfortable opened her heart to what Christ had done. Since then, her passion to walk alongside college students as they navigate the multiple cross-roads of relationships, callings, purpose and passions has kept her engaged with students. Her desire is to guide students; pointing them to God so that they can pursue Him with clarity, wisdom and hope.
Degrees and Certifications
B.A., double major in Christianity and Program in Service Learning, Mercer University 
Master of Divinity, Beeson Divinity School