Published on February 4, 2009 by William Nunnelley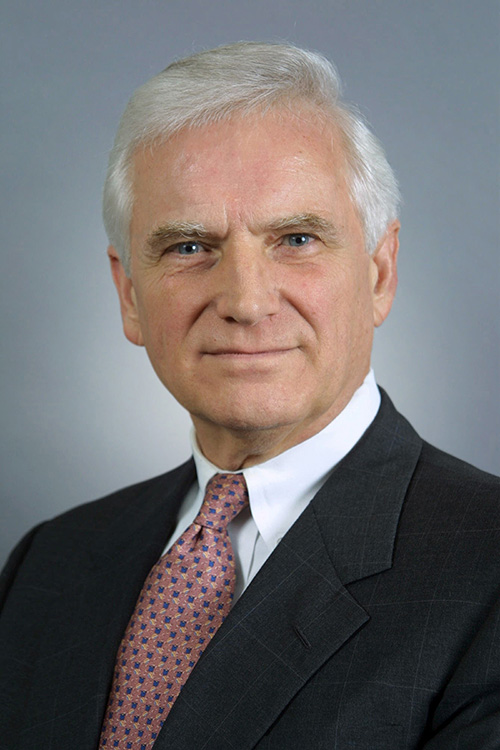 A public memorial service is scheduled for Sunday, Feb. 8, to honor the memory of Samford University President Emeritus Thomas E. Corts.
The 2 p.m. service will be in the Leslie Stephen Wright Center Concert Hall on the Samford campus. The family will receive guests following the service. Burial will be in a private service for family members only.
Corts, who led the Baptist university for 23 years before retiring in 2006, died suddenly of an apparent heart attack Wednesday morning after being taken by ambulance to Brookwood Medical Center in Birmingham. He was 67.
Corts had returned to his Birmingham home in January from Washington, D.C., after serving the George Bush administration as coordinator of The President's Initiative to Expand Education and subsequently as Coordinator of Basic Education in the Office of the Director of Foreign Assistance, U.S. State Department. The program provided aid to four million school children in Ethiopia, Ghana, Honduras, Liberia, Mali and Yemen.
"There is no way to measure the impact of Tom Corts' life and ministry on this university and the thousands of lives whom he touched," said Samford President Andrew Westmoreland, who succeeded Corts at Samford in June of 2006. "We have all lost a great friend. We stand united with Mrs. Corts and the members of the family, and we pledge our enduring friendship to them in the months and years ahead."
The university's official flag was flying at half-staff. Flags at his alma mater, Georgetown (Ky.) College, also were flying at half-staff. Wreaths were placed near Corts' official portrait in Samford's Harwell G. Davis Library and in the grand concourse of Thomas E. and Marla H. Corts Arena in Samford's Pete Hanna Center. On Saturday, Corts attended Samford's basketball game against Davidson College, the first-ever sellout crowd in the history of the two-year-old arena.
About 150 employees and students gathered Wednesday for a late afternoon prayer service in Samford's Andrew Gerow Hodges Chapel. "It's difficult to know what to say," University Minister Matthew Kerlin told the congregation. "There are times when we truly are speechless, and this is one of those times."
Corts became Samford's president on Sept. 1, 1983, and presided over one of the brightest periods in the school's history. Among the highlights were the purchase of Samford's London Study Centre, significant growth in the school's endowment, national recognition in publications, construction of more than 30 campus buildings and enrollment increases.
He personally signed and awarded Samford diplomas to more than 17,000 students during his tenure. At the time of his retirement, about two-thirds of Samford's living alumni had graduated during his presidency.
Corts also served as chairman of the Commission on Colleges of the Southern Association of Colleges and Schools (SACS) and as president of SACS, the American Association of Presidents of Independent Colleges and Universities and the Association of Baptist Colleges. After retiring from Samford, he served briefly as interim chancellor of Alabama's two-year college system and was slated to become executive director of the International Association of Baptist Colleges and Universities when the government appointment was made. He held leadership positions in other education organizations.
Born in Terre Haute, Ind., Corts grew up in Ashtabula, Ohio. He graduated from Georgetown (Ky.) College and held master's and doctoral degrees from Indiana University. After serving as an administrator at Georgetown, he was named president of Wingate College in North Carolina in 1974, serving until his election as Samford president nine years later.
Corts is survived by his wife of 44 years, Marla, two married daughters, a married son and six grandchildren.
The Cortses were members of Birmingham's Brookwood Baptist Church, where he had served as a Sunday School teacher and in other leadership capacities.
Johns Ridout Valley Chapel in Homewood is handling arrangements.
In lieu of flowers, the family has suggested memorial gifts to the Corts Scholarship Fund, Samford University, 800 Lakeshore Dr., Birmingham, AL 35229, or Eddie Gibson International Ministries, P. O. Box 610188, Birmingham, AL 35261.
Samford Leaders Reflect on Dr. Thomas E. Corts
"The sudden passing of Tom Corts is a tremendous loss to all of the Samford Family. Dr. Corts was a great scholar, a gifted education administrator, a wise and prudent leader, and a man whose life was an exemplar of Christian character and integrity. Moreover, he was a faithful and loving servant to his family, his country, his state and most emphatically, his Lord. He made a significant impact upon the lives of countless people, including thousands of students, parents, alumni, faculty and staff at Samford University. His legacy is profound. I count it to have been one of the great privileges of my life to know Dr. Tom Corts and to have served under his great leadership."
W. Clark Watson
Chairman, Samford Board of Trustees
"Tom Corts was a visionary leader, a man of incredible integrity and a friend.  Alabama has lost a man of true greatness.  His imprint on the state will last forever through the lives he changed and the people he touched."
The Honorable Bob Riley
Governor of Alabama
(quoted in the 2/5/09 edition of The Birmingham News)
"Thomas Corts was a multi-faceted individual, not only a great university administrator but a great citizen as well.  He did so much to involve Samford University in the corporate community in Alabama and to help it meet its civic responsibility.  I think the Alabama constitutional reform movement began with him, starting with his speech to the Birmingham Kiwanis Club in 1999.  People went thinking they were going to hear a speech about Samford, but they came away knowing a great deal more about the need for constitutional reform in the state.  And he carried that message all over Alabama.  He was the consummate Renaissance man, and a wonderful family man.  I have such great admiration for him."
Albert P. Brewer
Former Governor of Alabama
Former Professor, Samford University and Cumberland School of Law
Samford University Trustee
"The Samford University family has lost a great visionary and leader today.  As president of the Alumni Association I had the opportunity of knowing Dr. Corts as both a student and as an alum.  It is only appropriate that the Arena at Samford was named in his honor.  For in the arena of life, Dr. Corts showed that a leader with Christian values and beliefs can achieve what others thought would be impossible.  His memory will continue to inspire people around the world."
Greg Powell
President, Samford Alumni Association
"Tom Corts was one of the finest men we have ever known. We have been blessed not only to have known him as president of our alma mater, but also as a friend and brother in Christ through his service at Brookwood Baptist Church. We always will appreciate what Tom did for Samford University, this community, and this state."
Don and Lori Littlejohn Sullivan
Co-presidents, Samford Parents Association

"The passing of Dr. Corts is a sad day for Samford and the entire community.   Samford is better academically, spiritually and intellectually because of his presidency, and we all benefit today from his visionary leadership.  It also is a sad day for constitutional reform in Alabama, where his commitment never wavered to making our state better.  The thoughts and prayers of the Samford faculty are with the Corts family."
Robin Snyder
Chair, Faculty Senate
"It is impossible to imagine Samford and the world without Dr. Corts.  His tireless energy and commitment to excellence made Samford the great university that it is today.  Dr. Corts made such a positive impression on the people around him and his good works will live on through them.  The Corts family is in the thoughts and prayers of all Samford employees during this difficult and sad time."
Ken England
President, Staff Advisory Council
"It was my privilege to be student body president during Dr. Corts' last year as Samford president, and that allowed us to have a special relationship.  I never doubted that he always had the students' best interests in mind with every decision that was made.  He truly touched the lives of thousands in so many ways, and our lives are richer because of that.  The prayers of all Samford students and alumni are with Mrs. Corts and the Corts family."
Matt Harrison
Student, Samford's Cumberland School of Law
Student Government Association President, 2005-06
"Tom Corts was the most intelligent and eloquent man I ever met.  Samford made an awful lot of progress under his strong leadership.  He was the architect of Samford's current, effective governance structure.  He was the perfect leader for the time he was called on to lead Samford."
Harry Brock
Life Trustee
Chairman, Board of Trustees, 1985-89
"In the summer of 1991 as a junior in high school I attended Boy's State; that year it was held at Samford University. Two things happened to me on that occasion that have forever changed my life . I was elected governor of Boy's State, and Samford University President Dr. Thomas E. Corts took the time to have a conversation with me. That was the beginning of a 19-year friendship. In the quiet and noisy moments of life I could always hear his voice. He has always been near - encouraging me, teaching me, editing out the excesses. I have had no dearer friend nor greater example. Because of him I am a better man. Tom Corts was a man after God's own heart."        
Eric L. Motley, Ph.D.
Vice President, The Aspen Institute
Washington, DC
Student Government Association President, 1995-96
"Our thoughts are with the family of Samford's President Emeritus, Tom Corts.  Tom not only served the University with great distinction, advancing its Christian mission as well as its academic reputation,  but he also established the Board of Overseers and provided special opportunities for service on the part of all our members.  The entire Samford University family shares a deep sense of loss for a visionary leader and a great friend.  Samford, and indeed the world, are so the much better for his life of service, witness and inspiration."
Gregory R. Hodges
Chair, Samford's Board of Overseers