Published on August 17, 2011 by William Nunnelley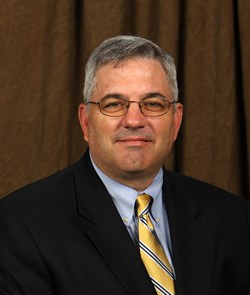 Dr. J. Howard Finch, the new Dean of Samford University's Brock School of Business, will speak to the Samford Business Network as it opens its 2011-12 schedule Wednesday, Aug. 24.  The quarterly breakfast meeting will be at The Harbert Center in downtown Birmingham at 7 a.m.
His topic will be "The Moral Imperative of Free Enterprise Education."
Finch was named Dean last spring and joined the business school July 1. He also holds the rank of full professor.  He taught previously at Florida Gulf Coast University in Fort Myers, Fla., where he held the Alico Chair of Financial Management and Planning and served previously as associate dean of the FGCU business school and department chair in economics and finance.
The Dothan, Ala., native holds master's and Ph.D. degrees in finance from the University of Alabama, Tuscaloosa, an M.B.A. from Mercer University and business degree from North Georgia College and State University.
Before joining FGCU in 2000, he taught finance and directed the M.B.A. program at the University of Tennessee, Chattanooga.
The Samford Business Network breakfast is free, but registration is requested.