Published on October 13, 2012 by Mary Wimberley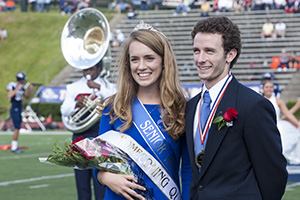 Abby Sander and Tim Foote were named 2012 Homecoming queen and king at Samford University Saturday, Oct. 13.
The honorees, chosen by vote of the Samford student body, were announced during halftime of the Samford homecoming game against Appalachian State.
Sander, a senior Spanish major from Jacksonville, Fla., is the daughter of Jane and Dr. Ricky Sander.
Foote, a senior religion major from Gulf Shores, Ala., is the son of Jane and Steve Foote.
The 2012 Homecoming court also included freshmen Greta Mosteller and Brooks Hanrahan, sophomores Rachel Stanback and Trey Ingram, juniors Mary Elizabeth Butts and Jeffrey Ferrell, and seniors Leah Clements, Cameron Collins, David Reece and Sarah Waller.