Published on October 23, 2012 by Sean Flynt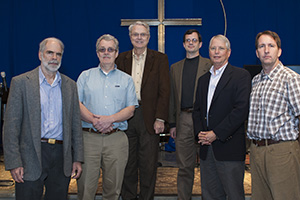 The Samford University Center for Science and Religion presented a free conference on "Science, Religion, and the Church" at Dawson Memorial Baptist Church in Homewood, Ala. Oct. 20. Organizers presented the event as a challenge to the perceived conflicts between science and belief that trouble many Christians and alienate many non-believers.

More than 70 attendees from 24 churches, and from as far away as Tennessee, attended the event, which was supported by a grant originating with the Templeton Foundation.

Birmingham marketing executive Marc Beaumont attended the conference and was impressed by the way it addressed complex and interrelated themes. "It served as a great primer for those interested in the foundational elements that underlie the science and faith controversy," said Beaumont, who also participates in Samford's Science and Christianity Cadre reading group and leads related discussions at Trinity United Methodist Church, next door to Dawson.

Dr. Karl Giberson, former professor at Eastern Nazarene College and former executive vice-president of BioLogos Foundation, opened the conference with an examination of the history and consequences of the supposed "war" between science and religion. That conflict, often overstated, certainly was not evident at this conference in spite of its exploration of topics likely to polarize believers in coming decades. "Evolution is minor compared to some of these issues," said conference organizer Steve Donaldson, a Samford Mathematics and Computer Science professor.

Other conference sessions included:

Can there be Purpose in a World of Chance? (Dr. Tom Woolley, Samford University)
 
Where Do We Come From? (Dr. Wilton Bunch, Samford University)

Is There a Place for the Soul in a Physical Brain? (Dr. George Keller, Samford University)

What Difference Does Interpretation Make? (Dr. Todd Harrington, Dawson Memorial Baptist Church)

The Seven Deadly Sins of Science and Religion (Dr. Steve Donaldson, Samford University)

Donaldson said that, as part of the grant, most of the sessions will soon be made available online as free instructional materials. Beyond that project, the Center plans to grow significantly if it wins any of the grants it is currently pursuing. One of those grants, to be announced in December, could fund further online projects and support as many as eight more events for church, academic and general audiences. "If we get this grant that's pending," Donaldson said, "for the next two years we'll be doing stuff like this".