Published on May 8, 2013 by Mary Wimberley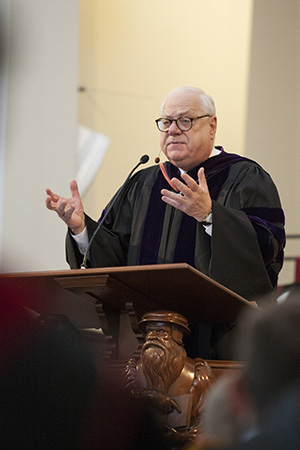 The 32 newest graduates of Samford University's Beeson Divinity School have been blessed, so they in turn should be stewards of the blessing that God bestows on His people, commencement speaker Daniel O. Aleshire said on May 8.
 "The Christian witness is very clear about what blessed people are supposed to do with their blessing, and that is to be faithful to the call to bless others," said Aleshire, executive director of the Association of Theological Schools in the United States and Canada.
"The blessing you will receive in this service will mold your soul far more than the diploma you have received," he said.
Aleshire's remarks came between the awarding of diplomas and a prayer of consecration and blessing of the students, in which each Beeson faculty member blesses each new degree recipient. Combining commencement and consecration, explained Beeson dean Dr. Timothy George, brings together Beeson's purpose as a place of faith and of learning.
The speaker based his thoughts on scripture from Genesis 32: 22-32, in which Jacob received the blessing of a new identity. "Street smarts and a shrewd business acumen helped him get rich, but they were not what Jacob needed to be the heir of God's promise to Abraham," said Aleshire. "Jacob was blessed by being changed."
A blessing is something everyone needs, he said.  "Human beings cannot live apart from the grace and good will that God extends to us.  God's blessings are not some extra-credit that God hands out every once in a while," he said. Rather, they are a necessity of life, and should be sought after.
The religious issue is never about seeking a blessing, but is always about the kind of blessing sought, he said. "The struggle for many of us is that we wrestle for the blessing we want rather than the ones we need," he said. And while material wealth and wisdom are both worth pursuing, neither is needed as much as the blessing of a new identity such as Jacob received.
This commencement was special because it comes during the divinity school's 25th anniversary year, noted George, who introduced Master of Divinity degree recipient Chuck Lee Oliver as the 1,000th student to receive a Beeson diploma.
The graduating class included five Master of Arts in Theological Studies degree recipients, 26 Master of Divinity degree recipients and one Doctor of Ministry degree recipient. In addition to their diplomas, each graduate received a copy of the Holy Scriptures.
In keeping with a Beeson tradition, a supply of Bibles will be sent to a place of need in honor of the graduating class. This year, 40 Bibles will enable 2004 Beeson graduate Awon Shanglai to enrich and expand her Christian discipleship ministry in northeast India.
The Class of 2013 roster includes the late Paula Denise Davis, who died in February.  A Master of Divinity diploma was presented posthumously to her family at a special memorial service in March. Davis also was a 2004 graduate of Samford's Cumberland School of Law.