Published on April 18, 2013 by Mary Wimberley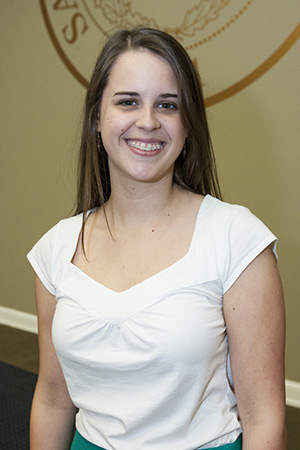 Caroline Harbin, a senior English major who was cited for her "extraordinary loyalty, commitment and efficiency" is Samford University's 2013 Student Employee of the Year.
Harbin, an employee in Samford's English department since September, received the award at a ceremony Thursday, April 18.  She was presented a $200 cash award and other gifts by Samford president Dr. Andrew Westmoreland.
In her job, Harbin tackles duties that include making copies, delivering mail, running errands, answering the phone, and setting up meeting rooms. She is well-known for her punctuality, dependability and accuracy.
But, perhaps her most appreciated quality is her adaptability. When Harbin had only been on the job for a week, the department's administrative assistant, who was her immediate supervisor, retired. For about eight weeks, Harbin was the lone support for the department, said English department chair Dr. Mark Baggett.
"She became the face of the department," said Baggett, likening the honoree to Radar, the M.A.S.H. television series character "who always knew where to find a needed form and how to fill it out."
Harbin singlehandedly organized an English honor society picnic, resurrected a book sale and initiated a series of coffee conversations with alumni, said Baggett, citing her "extraordinary loyalty and commitment to Samford and to the efficiency of the department."
"When the new administrative assistant arrived, Caroline's knowledge and experience were instrumental in helping outline some of the responsibilities of the post as she passed along the information she had gleaned," said Baggett.
Harbin, who is from Dalton, Ga., is the daughter of Mary Sue and Dr. Tony Harbin.  She will now compete for regional honors in a program sponsored by the National Student Employment Association.
Finalists for the honor were Melissa Belflower, Chelsea Brown, Brennen Febles, Christen Greer, Drew Hall, Tanner Hixson, Kevin Holley, Diana Hudson, Ben Johnson, Anna Morrison, Courtney Phares, Chase Trautwein, Chloe Wilson and Lauren Ziemer.
Westmoreland thanked all the nominees for their service, noting that he had held a campus job when he was a college student. "I learned more about higher education at that job than probably anything else I've done," said the veteran college administrator.  "I hope your service has been equally rewarding. We very much appreciate what you've done."
The annual Samford student employee recognition program is in celebration of National Student Employee Week.  More than 900 Samford student employees serve in a variety of areas on campus and off-campus at non-profit agencies through the Federal Work Study/Community Work Service program.