Published on March 19, 2013 by Sean Flynt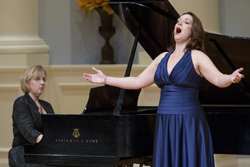 School of the Arts students and faculty will return from spring break with renewed energy for the remaining arts calendar.
The spring schedule continues with a free faculty recital by professor Christina Villaverde, soprano, March 26 at 7:30 in Brock Recital Hall.
On March 28 the School of the Arts presents "The Good, The Bad and the Old," a cabaret featuring professor Randall Richardson, tenor, and his students. Join us at 7:30 p.m. in Bolding Studio for another free and fun evening of music.
We'll have more to say next week about "Momentum, " our premier annual dance concert and part of the Michael J. and Mary Anne Freeman Theatre and Dance Series. For now, you can mark you calendars for April 4-7 for that event and reserve your tickets online.