Published on April 4, 2013 by Mary Wimberley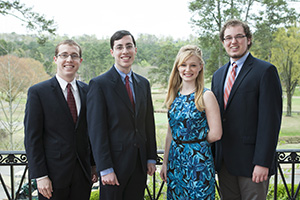 Four Samford University students received cash awards from the Birmingham Center of Colonial Dames of America for outstanding papers written in Samford history classes. All honorees are history majors.
Nicholas Paul Martini, a senior from Alpharetta, Ga., won first place and a $1,000 cash prize for his paper, "Blood Will Out: the Trial of Thomas Lutherland and the Quaker Idea of Criminal Justice in Colonial America, 1692."
Rebecca Nicole Wilcox, a senior from Chesterfield, Mo., won second place and an  $800 prize for her paper, "Puritan Captivity Narratives."
Evan Musgraves, a senior from Yucaipa, Calif., placed third and won $600 for his paper, "Brethren We Have Met to Worship: The Sacred Harp and Evangelical Theology."
Franklin Lowe, a sophomore from Fayetteville, Ga., won fourth place and $400 for his paper, "Propaganda: Patriotic and Socially Progressive, a Comparative Analysis of Common Sense and the Narrative of the Life of Frederick Douglass."
The award winners gave brief presentations on their paper topics at a luncheon at Mountain Brook Country Club on Wednesday, April 3. A bound volume of the papers was dedicated to Samford history department chair Dr. S. Jonathan Bass.
Mrs. C. Lawrence Whatley is president of the Colonial Dames' Birmingham Center.