Published on April 24, 2013 by Sean Flynt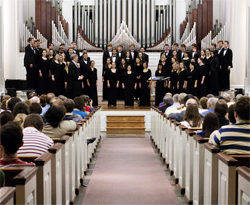 There's still time to join in the fun of The Pajama Game, starting this Thursday.
Get your Pajama Game tickets here!

On Tuesday, April 30, enjoy Melissa Carson's Junior Voice Recital at 5:30 p.m. in Bolding Studio.

The Jazz Ensemble will conclude its season April 30 at 7:30 p.m. in Brock Recital Hall
We will present a choral performance May 3, 7:30 p.m. in Reid Chapel.

Our opera work continues to impress, both on campus and in the larger Birmingham arts community. Music professor Christina Villaverde will sing the lead role of Hanna in the Birmingham Music Club production of The Merry WidowMay 3 and 5. She will be joined in the production by eight other School of the Arts faculty, students and alumni including:
• Theatre and dance student Brianne Bailey (DoDo)
• Theatre and dance student Mary Brzezinski (LoLo)
• Music professor Kristin Kenning (Valencienne)
• Theatre and dance student Carin Lagerberg (JouJou)
• Theatre and dance student Elizabeth Ann Naro (CloClo)
• Graduate piano alumna and School of the Arts accompanist Diana Preoteasa (rehearsal pianist and orchestra member)
• Piano graduate student John Robertson (Camille)
• Preparatory music voice instructor Rebecca Worthington (Olga)