Published on January 29, 2013 by Sarah Waller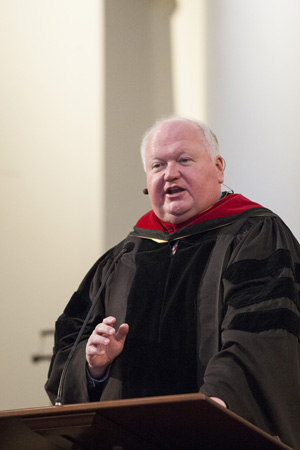 Dr. John Killian, pastor of Maytown Baptist Church and president of the Alabama Baptist State Convention, encouraged the students, faculty and staff of Samford University's Beeson Divinity School to seek the Godly wisdom that is described in the story of Queen of Sheba and her interactions with King Solomon.
"Consider that Godly wisdom understands biblical truth about the human nature," Dr. Killian said.  "Godly wisdom can discern the events of the world around us and grasp the issues involved."
Preaching on scripture found in 2 Chronicles 9, the pastor spoke Jan. 29 in the opening convocation of the spring semester in Hodges Chapel at Samford. 
"God's wisdom is ultimately the answer for every trouble and every concern," Killian said.
He challenged the audience to seek Godly wisdom in every aspect of their lives.  "There are no compartments of life between secular and sacred," he said.  "All of life is lived before the very face of God."
Dr. Charles T. Carter, the James H. Chapman Fellow of Pastoral Ministry at Beeson, welcomed new and returning students and reminded them of the convocation's purpose, "to begin each new semester by calling on God's help."
Sarah Waller is a journalism and mass communication major who writes news stories and features for the Samford Office of Marketing and Communication.