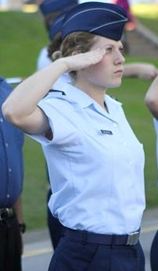 Samford University Air Force ROTC cadet Kaley Cusumano received multiple top honors and citations at the conclusion of summer field training, held June 27-July 23.
A junior in Samford's Ida V. Moffett School of Nursing, Cusumano received the Distinguished Graduate Honor and Physical Fitness award, was ranked number one out of her flight of 24 cadets, and was in the top five percent of more than 300 competitively selected cadets from around the nation. She also scored a perfect 100 on her physical fitness test and garnered the highest possible rating on her leadership evaluations.
Throughout her field training experience, cadet Cusumano demonstrated unparalleled adaptive and servant leadership skills as she enthusiastically tackled every mental, physiological and physical challenge the Air Force threw at her, reported Air Force Major Alexander Hawthorne, one of Cusumano's flight training officers.
"Her professionalism and unparalleled performance resulted in the Air Force recommending her as a trainer and evaluator for future field training camps," said Samford AFROTC commander Lt. Col. Travis Dixon. "It took a great amount of effort and commitment for her to achieve these prestigious honors. Her performance reflects great credit upon herself and Samford University."
Cusumano, from Fairburn, Ga., was cited specifically for her qualities as a strong motivator and leader who performs well in high stress situations and shows focus, humility, perspective, maturity and other positive traits.
The four-week field training exercise was divided between Maxwell Air Force Base in Montgomery, Ala., and Camp Shelby in Mississippi.