Published on October 14, 2013 by Mary Wimberley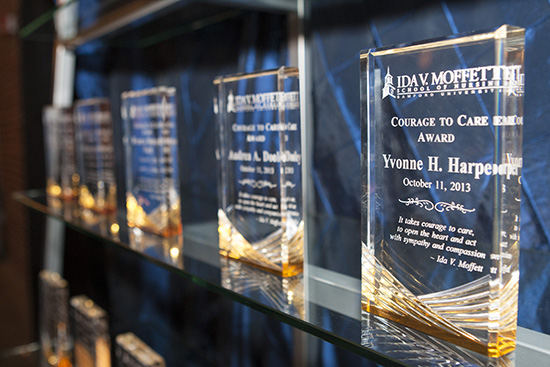 Samford University's Ida V. Moffett School of Nursing honored 17 alumni at its annual Courage to Care awards gala Friday, Oct. 11. The honorees, including Living Legacy award recipient Frances Mellett Robinson, were cited for their adherence to the maxims of the school's namesake, the late Ida V. Moffett.
"In Alabama, Ida V. Moffett is synonymous with service and compassionate nursing care," said nursing school dean Nena F. Sanders in reference to the late nursing educator's oft-quoted belief that "It takes courage to care, to open the heart and act with sympathy and compassion."
This year's honorees, representing vastly different career paths in nursing, were selected from a record number of nominations, Dr. Sanders noted.  They all hold degrees from the School of Nursing or its forerunner, Birmingham Baptist Hospital.
"The name and location of the school have changed, but what it means remains the same," said Sanders. "Ida V. Moffett's commitment to compassionate care is modeled in our students.  When they graduate, they are not just a nurse, but a Moffett nurse."
Last year, in celebration of its 90th anniversary, the school established the Living Legacy Award to highlight a graduate whose local touch has a global reach through leadership and service to others.
Robinson, who has worked for 35 years at San Juan Regional Medical Center in Farmington, N.M., was cited for her efforts to educate the area's large Native American population about cancer prevention and early detection.
"I believe in everything Ida V. Moffett believed in," said Robinson, adding that she was deeply honored by the award and hoped she had done everything the late Mrs. Moffett would want her to do.
"When I graduated 40 years ago, I didn't realize the impact I could have on people," said Robinson, a 1973 graduate who spent the first four years of her career as a charge nurse at Baptist Montclair in Birmingham.
Her career in New Mexico has included opening a national training site for MammaCare clinical breast exam program and a nursing department at a regional cancer center.  She has directed and produced three educational videos in the Navajo language and developed a high school program to teach teens the importance of lifestyle choices to reduce cancer risk.
Courage to Care honorees are:
Rosemary Cox Bamberg, retired charge nurse and supervisor who served 47 years at Princeton Baptist Medical Center in Birmingham.
Roxane Cobb, palliative care coordinator, Princeton Baptist Medical Center in Birmingham.
Audrea A. Dooley, family nurse practitioner, Hatfield Medical Clinic in Winfield, Ala.
Frances Dobynes Ford, health-care coordinator, Perry County, Alabama, and executive director, Sowing Seeds of Hope ministry.
Yvonne H. Harper, cardiovascular intensive care unit charge nurse, Trinity Medical Center in Birmingham.
Robbie Smith Heaton, clinical educator, Princeton Baptist Medical Center in Birmingham.
Susan Tucker Hornsby, retired clinician and executive, Baptist Montclair Hospital and Baptist Health System.
Lisa A. Jones, operating room nurse supervisor, Trinity Medical Center in Birmingham.
Lisa Kuntz, nurse practitioner, Alabama Weight Loss Surgery, and clinical adjunct nursing faculty member, Samford.
Rebecca G. McAnnally, retired outpatient/specialty care clinics division director, Children's Health System.
Ann Hughes McEntire, chief nursing officer, Citizens Baptist Medical Center in Talladega, Ala.
Pennie Nichols, certified registered nurse anesthetist, Children's of Alabama, and volunteer medical mission team leader, Kenya Relief.
Rebecca Dick Peinhardt, director of graduate nursing programs, orientation coordinator and evidence-based practice mentor, Lurleen B. Wallace College of Nursing at Jacksonville State University in Jacksonville, Ala.
Kelly Snow Preston, congregational health and parish nursing educator, founder and co-director, Raising Awareness, Compassion and Education (RACE) for the Orphans 5K.
 Molly Shaw, certified registered nurse anesthetist, Brookwood Medical Center, and volunteer medical missions coordinator, Kenya Relief.
Joan Wolfe Williamson, nurse practitioner, Huntsville Hospital Physician Care at Bailey Cove, and retired professor, University of Alabama in Huntsville College of Nursing.
The event also recognized a roster of dedicated supporters:  gold sponsor Princeton Baptist Medical Center, benefactors Jo and Robert Kicker and Money Family Trust; and patrons Anesthesia Resources Management, Inc., Cyndi and Johnny Bass, Children's of Alabama, Dr. Jill Cunningham, Employment Screening Services, Paula and Kerry Gossett, Gloria and Carl Schaefer, Dr. Sharron Schlosser, Sherlock, Smith & Adams, St. Vincent's Health Systems, Sylvia Rayfield & Associates, Inc., and Trinity Medical Center.
Samford nursing school advisory board member and retired professor Barbara Money was chairperson of the awards gala, held at B & A Warehouse in Birmingham.