Published on April 11, 2013 by Sean Flynt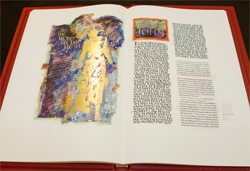 Samford University Library will host a free public reception to showcase a major new gift to its collection Monday, April 15 at 10:30 a.m.
Samford employees Lori and Jeff Northrup have donated a seven-volume Heritage Edition of the famous Saint John's Bible. The Saint John's Bible Heritage Edition, which takes its name from project commissioner Saint John's Abbey and University, is a monumental work of art that captures the spirit, scale, materials and techniques of the great medieval European Bibles, while bringing them into the present with a New Revised Standard Version (NRSV) text. It is the culmination of more than 40 years of research and artistic labor by Welsh artist Donald Jackson and a host of theological advisors and craftspeople.
The Northrups made the gift in honor of their parents, Celia S. and David L. Adams, Sr. and Gertrude H. and James H. Northrup. "We are both blessed by the examples of our parents and what they sacrificed to make us what we are, and we are very happy to honor them and their Christian witness to us and their communities with this gift," said Lori Northrup, collection management chair and associate dean of Samford's University Library.
"Samford nurtures conversation at the intersection of faith and our modern world, and this Bible with its astounding modern illustrations and ancient techniques fits here," said Jeff Northrup, assistant professor in Samford's history department. "We like the idea of the general public, students and faculty from Samford and other institutions, members of religious communities in the area, and independent scholars, all having access to it on Samford's beautiful campus."
The April 15 reception will be in the lobby of University Library, where the Saint John's Bible Heritage Edition will remain on display in its custom-built case before traveling to other locations on Samford's campus.