Published on October 8, 2013 by William Nunnelley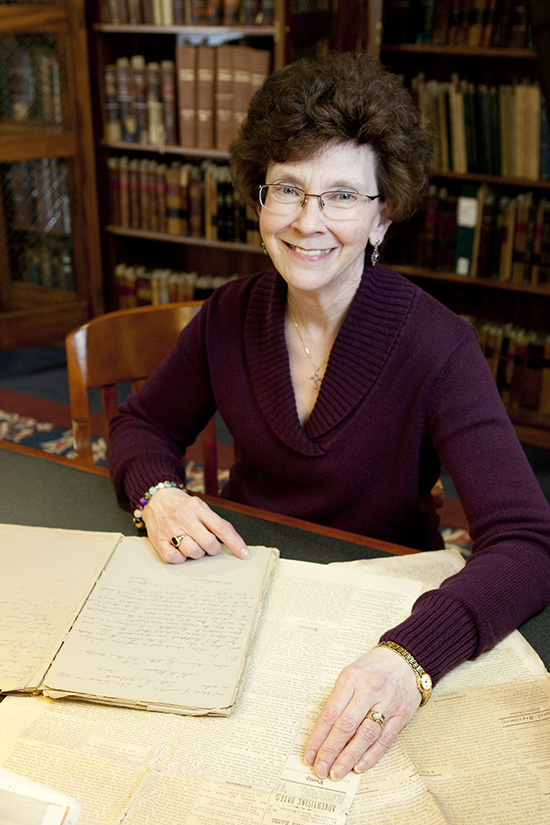 Samford University archivist Elizabeth Wells has received the Marvin Yeomans Whiting Award from the Society of Alabama Archivists for significant contributions to the preservation and dissemination of local history in Alabama.
Wells recently was named Processing Archivist in the Special Collection and Archives department of Samford's University Library after serving as chair of the Special Collection for the past 38 years.
"Her work and commitment have contributed to making the Samford University Library Special Collection one of the finest in the state and southeast," said Kim Herndon, dean of the University library.
Marvin Yeomans Whiting was the Birmingham Public Library's first archivist (1976-1996), a founding member of the Society of Alabama Archivists and a pioneer in the professionalization of archives in Alabama.
Wells joined Samford in 1974 when archivists were using typewriters and index cards for their work.  Paper was and is the primary collectible, she says, but archivists over the years have added audiovisuals, photographs, slides, CDs, DVDs, email messages and streamed items.
Samford archives are especially strong in three areas--the history and heritage of Samford, the Alabama Baptist Historical Collection and Alabama history.  It also houses notable Irish genealogical holdings in the Albert E. Casey Collection and Other Irish Materials, and a literary authors collection of materials and first editions by British authors John Ruskin, John Masefield and Alfred Lord Tennyson.
Wells holds a bachelor's degree from Judson College, master's in history from Auburn University and master's in library science from the University of Alabama.