Published on November 25, 2013 by Philip Poole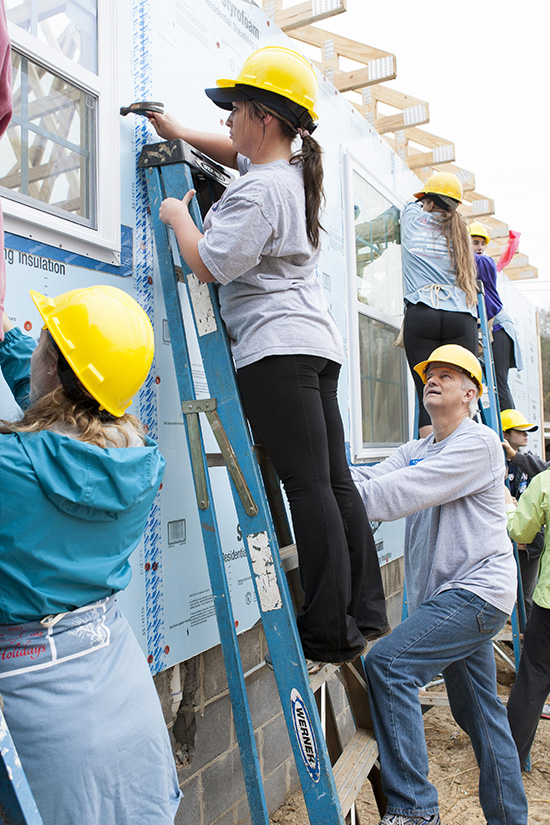 The Samford University community is supporting a special "home for the holidays" project during December in conjunction with Habitat for Humanity and Birmingham's ABC 33/40.
Students, employees, alumni and their families will work Saturday, Dec. 7, to help build a house in the northeast Jefferson County for Ivory Prince and her daughter, Janiya, who is 5.  At least 50 volunteers are needed for the day.
Volunteers can register at http://www.eventbrite.com/e/habitat-for-humanity-tickets-9434152805.
Volunteers are needed between 7:30 a.m. and 4 p.m. and can work all day or a morning or afternoon shift. Campus Dining, Inc. is providing lunch for Samford volunteers. Also, volunteers must be at least 12 years old and must complete a volunteer waiver form. No previous building or Habitat volunteer experience is necessary.
Since 2003, Habitat and ABC 33/40 have teamed to build a house in December for a deserving Birmingham-area family. They enlist 10 corporate sponsors who build the house in 10 days and then present it to the family as a holiday gift. Samford is the only corporate sponsor that has participated all 11 years that the holiday build has been done.
"This has become one of Samford's favorite holiday time traditions," said Molly McGuire, Samford's associate director of alumni programs. McGuire is working with Laura Valentine, community engagement coordinator in the student affairs office, and David Osula, student coordinator for Samford's Habitat involvement, to enlist volunteers.
"Samford's mission fits well with Habitat for Humanity's mission, and we've had a long-standing partnership with them. We're excited to be one of the corporate sponsors for the special 'home for the holidays' project for the Kimbell and Boyd families," McGuire added.
Prince works at Crestline Early Learning Center and hopes to pursue a master's degree in education. Janiya is a student at Glen Iris Elementary School.
 "Thank you for giving me the opportunity to become a homeowner," Ivory said. "This means so much to Janiya and me. I can't wait for her to see that I'm able to make our dream come true!"