Published on February 7, 2013 by Jack Brymer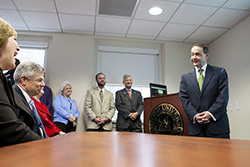 Renovated and outfitted with the latest technology, thanks to a generous gift by the ALFA Foundation, Room 214 of the Harwell G. Davis Library was dedicated Feb. 7 as the Practice Presentation Room.
"Small room, big impact," was how Samford University President Andrew Westmoreland (at left in photo) described the facility at the dedication.
Earlier, Kim Herndon, dean of the University Library, had described the room as the first space of its kind on the campus and said it would meet a critical need for the students in preparing and refining their presentation and communications skills.
"Communication is key especially in a global community," Herndon said, "given that oral communication is one of Samford's Transformative Learning Abilities and that all schools are required to demonstrate that their students attain that ability." She added. "The ability to have a recording and have others review it for feedback is extraordinarily helpful, and as we all know reflection and practice are key to learning and mastery. "
Randy Pittman, Samford's vice president for University Advancement, introduced and thanked Jerry Newby, retired chairman and CEO of ALFA, and his wife, Dianne for the generous gift.  He shared that it was Newby who initially contacted him about doing something related to technology.
Pittman also introduced Al Scott, ALFA's general counsel, and his wife, Billie. Scott is an alumnus of the Cumberland School of Law. "We owe you a great debt," Pittman expressed to the two ALFA representatives.
David Hakanson, Samford's chief information officer, added: "The gift from the ALFA Foundation has enabled Samford University to provide state-of-the-art technology to students, allowing them to practice and fine-tune their presentation skills."
Hakanson shared that the need for a presentation room was identified over a year ago when Herndon brought together a group to evaluate the latest advances in flexible learning spaces. The room includes a video camera, confidence monitor in the back, which mirrors the projection screen to allow students to be able to see their presentation materials without looking at the screen. It also includes recording equipment, and connections for students to bring their own device. The presentation can be saved to a USB stick, DVD, or even uploaded to YouTube.
"I look forward to seeing this space used by our students and I am grateful to the ALFA Foundation for their gift to make this room a reality." Hakanson said.