Published on November 13, 2014 by Kara Kennedy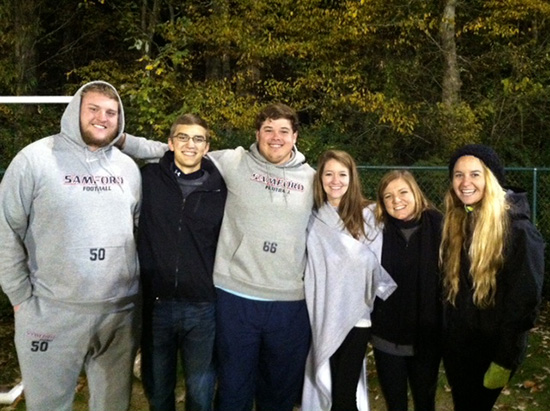 Members of Samford University's Brock School of Business Beta Alpha Psi, an honors organization for financial information students, braved the cold to play kickball with area accounting firms to help raise money for the Salvation Army Angel Tree Nov. 12 at the Samford's intramural fields. Professionals from area accounting firms who recruit Samford students were invited to participate along with students. About 40 accounting professionals and 35 students participated in the event.
The tournament was highly successful with $920 being raised for Beta Alpha Psi to "adopt" seven children for this year's Angel Tree program.
"We've raised money every year for the Salvation Angel Tree program held each Christmas," said Sharon Jackson, Beta Alpha Psi faculty adviser and assistant professor of accounting. "We changed our fundraiser to a kick-ball tournament in order to get our area accounting firms and students working together for a common cause. As a result we raised more money and we are able to help more children this Christmas because of our efforts."
The winner of the tournament was Team Belski.