Published on September 9, 2014 by Emily Duval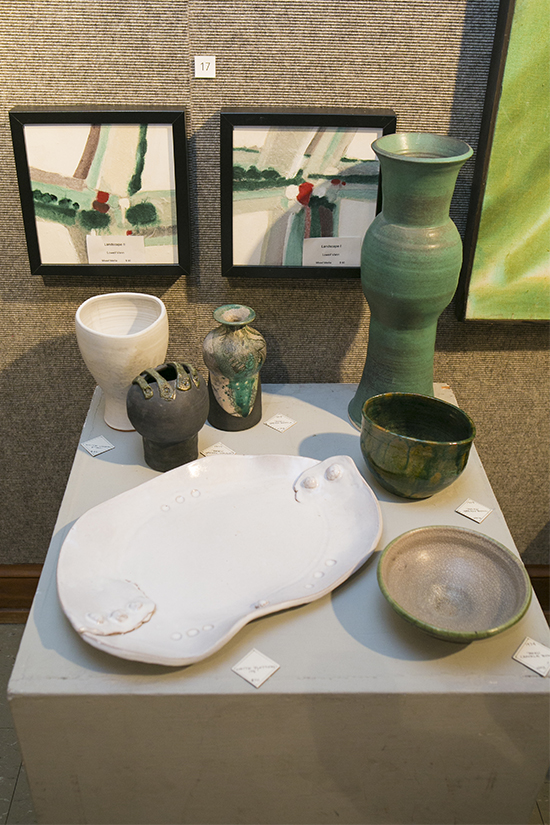 A new collection has come to Samford University's Art Gallery.  Through Sept. 23 the gallery is showing a retrospective art exhibit of retired faculty member Lowell Vann.

The exhibit, "Quiet Places & Loud Thoughts," is a collection of 60 pieces of art representing the 60 years of Vann's teaching. The collection includes paintings and pottery that have been borrowed from friends, family and his own home. Most of the pieces are from his personal collection, but some are also for sale.

Alongside award-winning pieces sit ones with memories of Vann's time at Samford such as the hand-thrown pottery chess set that was made during the several snow days last winter or the drawings of United Kingdom streets while teaching abroad. Even fans of Auburn or Alabama football can relate to the "Split Loyalty/ A House Divided" painting in the collection.

Vann, a 1957 Howard College (Samford) graduate, was art department chair until 2007.  He retired from the faculty last year after serving 44 years.

Gallery Director Robin Snyder said, "The exhibit is an appreciation for someone who was so prolific and important to the Samford art department."

Regular gallery hours are Monday-Friday, 9 a.m. to 4 p.m. The gallery is located on the first floor of Swearingen Hall.
Emily Duvall is a journalism and mass communication major and a news and feature writer in the Office of Marketing and Communication.