Published on March 14, 2014 by Cassady Weldon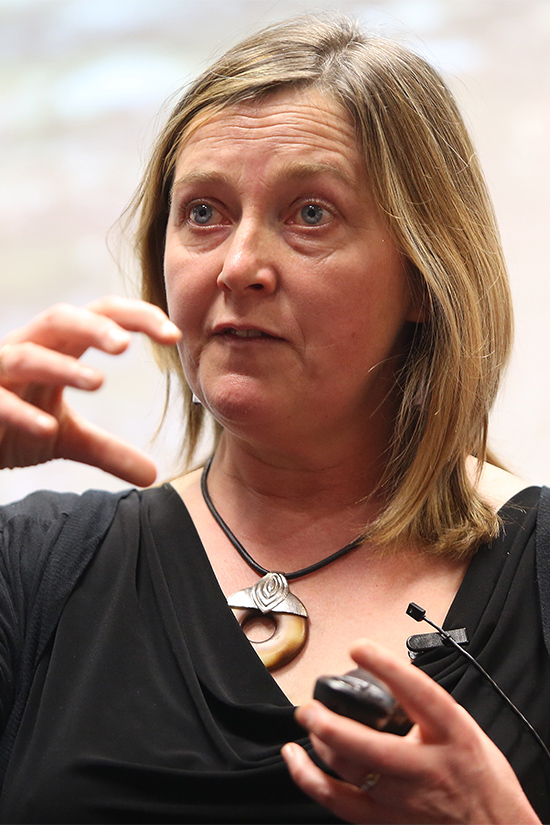 Differences in tax rates and celebrating St. Patrick's Day were among the diverse topics discussed by a prominent economist from Ireland at a March 13 presentation at Samford University.
The Brock School of Business International Speaker Series featured Sheila Killian from the University of Limerick as she spoke on the myths and legends of Ireland.
The lecture discussed the economic, cultural and political state of Ireland and the benefits of conducting business in and with Ireland. But, Killian is not the only one who thinks Ireland is a great place to conduct business. In 2013, Forbes named Ireland the "best country to do business with." She mentioned that nine of the world's 10 largest pharmaceutical firms are based in Ireland.
Killian spoke extensively about the high tax rates in Ireland and joked that "long after the flag is gone, there will still be a 12.5 percent tax rate in Ireland."
She also tackled the misconceptions of St. Patrick's Day and discussed the differences between the celebrations in America versus Ireland.
Killian has taught at the University of Limerick since 1994, and has taught at the University of Witwatersrand, Johannesburg, South Africa; Rhodes University, Grahamstown, South Africa; and Helsinki School of Economics, Mikkeli, Finland.
Killian has a primary degree in mathematics, a master's degree in business studies and a Ph.D. in taxation. She qualified as a chartered accountant in 1992 and was a national prizewinner in the final admitting exam. She has been published widely in academic journals, and is the author of Corporate Social Responsibility: a Guide with Irish Experiences.
Cassady Weldon is a journalism and mass communication major and a news and feature writer in Samford's Office of Marketing and Communication.