Published on May 19, 2014 by Jimmy Lichtenwalter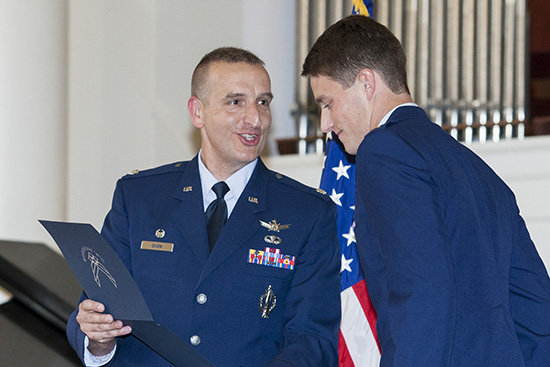 Samford University's Air Force ROTC Detachment 012 commissioned nine cadets during ceremonies in Reid Chapel May 16, the largest number in the history of the detachment.
Earning commissions were Stephen Richard Brown, Justin Matthew Campbell, MSgt Joe Canteen, Jr., MSgt Marisa Guzman, Dylan Philip Lempp, Selton Trent Little, Shelby Ann Mullins, Casey Talbot Ryan and Jordan Bret Valdez.
Video: Samford Commencement 2014
Little (right) was recognized as a Distinguished Graduate, being ranked in the top 10 percent of all newly commissioned graduates throughout the nation.
Canteen and Guzman will attend the Nursing Enlisted Commissioning Program.
Lt. Col. Travis Dixon (left in photo), Commander of Detachment 012, told the cadets and an audience of family members and friends that the military is an institution that the American people hold dear. "The U.S. military sits at the top of what Americans believe in," said Col. Dixon. "Don't ever stop believing," he said. "Don't ever stop believing in the words of the oath which you will take or in yourself."
Following Col. Dixon's remarks, the cadets took the Oath and were presented with the Commissioning Certificate. They were pinned by their respective families and gave their first salutes.
Jimmy Lichtenwalter is a student writer in the Samford University Office of Marketing and Communication.