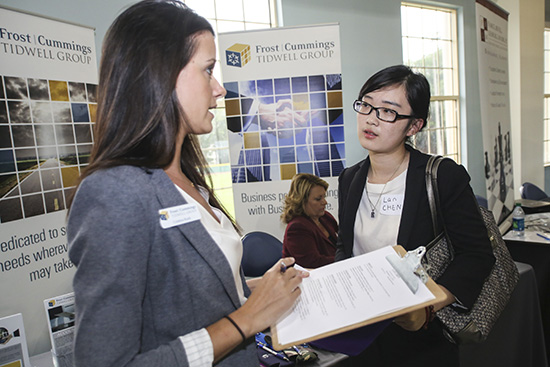 Posted by Philip Poole on 2014-11-19
By Kelsey Clark
Samford University has received a $10,000 NetVUE Professional Development Award from the Lilly Endowment Inc. that is supporting the Samford Experiential Education initiative (SEE) in the Career Development Center (CDC).
The SEE initiative was launched in August as a collaboration between the CDC and university employees to expand partnerships with local nonprofits and businesses, educate a cohesive and knowledgeable group of faculty and staff, and lead conversations with students on vocational planning and experiential education, according to Nancy Biggio, Samford's associate provost for administration.
The grant will "further conversations and improve dialogue about experiential education and vocational discernment among Samford's stakeholders," Biggio said.
The team leading the initiative and that applied for the grant included Dana Basinger, assistant dean in Samford's Howard College of Arts and Sciences, Heather Averett, CDC director of employer relations, Ashley McDuff Cacioppo, CDC director of experiential education, and Biggio.
"Samford realizes that employers, faculty, students and their families are looking for more "real world" opportunities for students to connect their classroom experiences to their future," said Biggio. "This NetVUE grant allows us to develop those relationships which will benefit our students in their professional, personal and spiritual development throughout their lives."
Six events have been planned for the 2014-15 academic year. In October, Samford faculty and staff participated in a workshop to learn more about the U.S. Department of Labor's guidelines for internship compensation. In November, local businesses and nonprofits were invited to campus to engage in conversation about Department of Labor guidelines and to listen to a presentation from Southern Baptist Women's Missionary Union staff on the do's and don'ts of internship programs.
Additional events will include workshops and panel discussions for students, a spring 2015 conference, and a culminating luncheon where students and employers who have had experiential opportunities over the academic year can share their experiences. These events will focus on building knowledge as well as deepening relationships with organizations that value the Samford University community.
Past events include a visit to the Southern Baptist Women's Missionary Union and M-Power Ministries to glean more information about internship opportunities available to Samford students. 
Kelsey Clark is a journalism and mass communication major and an intern in the Career Development Center.